We Must Fight to be Equal
The Texas Story Project.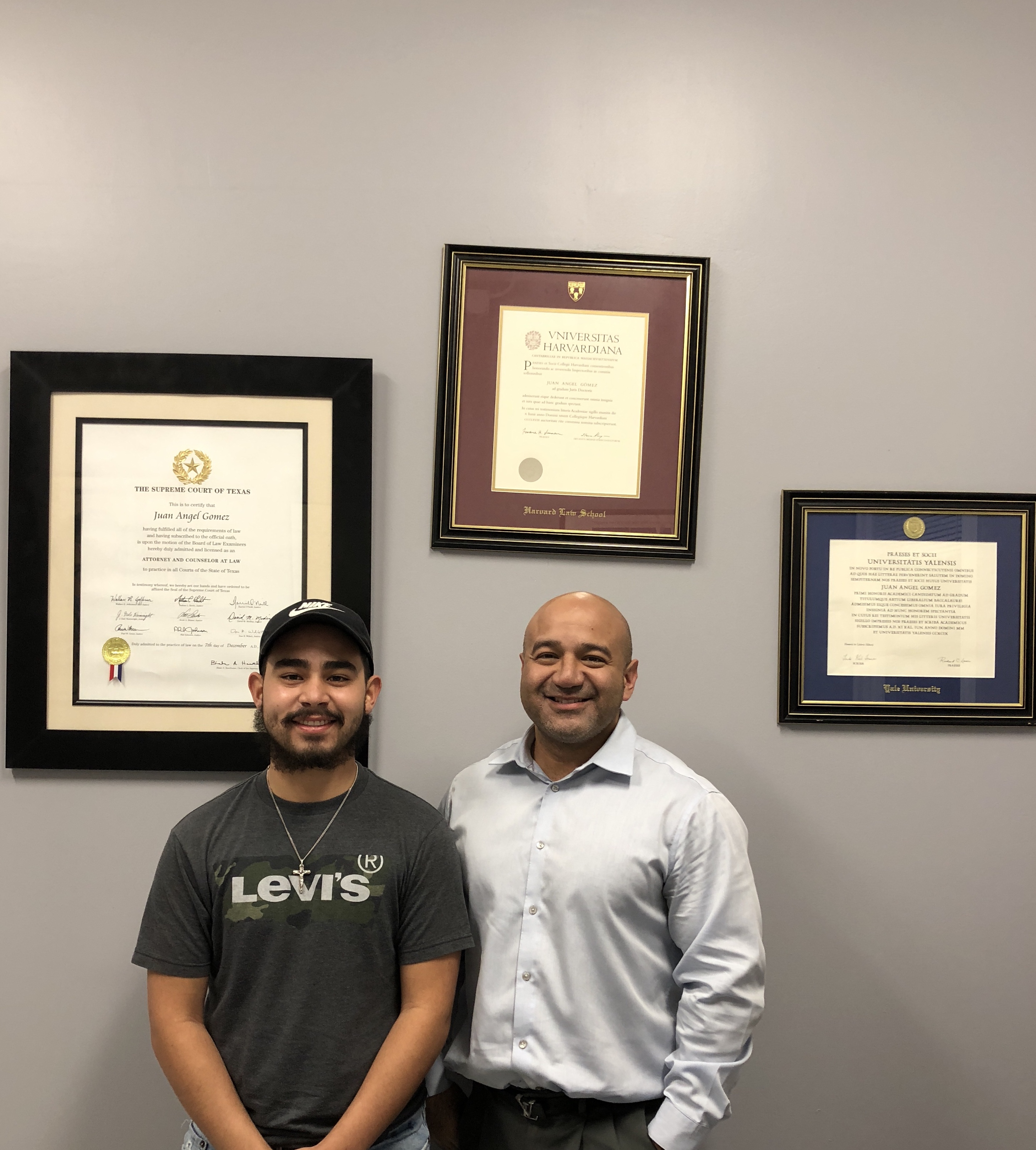 Andrew Arizola poses with his uncle, Juan Angel Gomez
As a young boy growing up on the west side of San Antonio, my mother's brother, my uncle Juan, remembers having to deal with things that would probably be considered out of the ordinary for most American children. Westside San Antonio in the late 1970's seemed to be a place that was heavily burdened with obstacles that children had to overcome to try and progress in their education. The family was very poor and growing up in that household was not without its difficulties. Three siblings shared one bedroom, the family of five shared one bathroom, and they literally had to walk on plain dirt inside their home.
While I can only imagine that the level of poverty he endured as a child was difficult, he did not seem troubled by it. Overall, his childhood was happy. Instead, he remembers stressful times caused by my grandparents' immigration status. My grandparents are from Mexico and they did not speak any English. At that time there were not many people who could answer my grandmother's questions where she could understand. Even though my uncle was very little, he had to be a translator for my grandmother in order to handle the family's affairs.
As a part of this duty assigned to him, Juan remembers clearly about the anxiety and fear the family faced when they were undergoing their immigration process. Stories abounded in the media at the time that border patrol officers would wait outside immigration offices to capture and deport anyone trying to apply for amnesty. My grandparents were undocumented at the time and had to apply for this protection in order to become legal permanent residents. Every time my grandparents had to go to the immigration office they would take Juan with them. Even though Juan was only about eight years old, he remembers that the office was located in the south side of San Antonio near Palo Alto College. Each time they had to visit that office my grandparents would park their vehicle some distance away. Because he was a citizen they would make Juan scout the area to check if there were immigration officers waiting to ambush and deport them. Although he was quite young he knew how important it was to be thorough and vigilant or it would mean that the family would be deported to Mexico. Those days have been drilled in Juan's mind forever because even though there was a legal process available for immigrants to have a chance to become residents, the reality was that the government was trying to circumvent their opportunity and prevent immigrants from completing their process simply because they didn't want them in Texas.
Another thing Juan remembers clearly is his sixth grade at Gardendale Elementary. At Gardendale the funding was not enough to give the students a quality learning environment. This was due to the poverty of the community around Edgewood Independent School District, the district where the school is found. Lower property values of the area meant fewer taxes were collected compared to other school districts in San Antonio. Their books were extremely old, torn up, and outdated. During the hot months, the students suffered through extreme and sometimes dangerous heat because they had no air conditioners in the school. Instead, the school used huge fans that were drilled to the walls. Once the teachers turned the fans on, Juan was unable to hear the teachers' lectures. The fans were so disruptive that there was no way that he could think.
Every student at Gardendale elementary knew that they were waiting for a court decision to fix those problems. Although they didn't know the intricacies of the pending legal battle, they knew that it was going to be the difference between having air conditioning and books that were readable or not.
One morning, while Juan was sitting in Ms. Flores' class, the school's principal Ms. Cristadoro, went from door to door to every single classroom and proudly announced in her thick Italian accent, "We won!" Classroom by classroom the school erupted in applause. Although he was a little boy, he knew that they were finally going to have things that other kids in other parts of San Antonio already had. From that moment, Juan learned that the law can be a very powerful thing. It allowed people who did not usually have a chance to be able to have the same rights and opportunities as other people. That's why Juan decided to become a lawyer. We wanted to fight for people who can't speak for themselves. He's learned that sometimes even having the law on your side is still not enough. But once in a while it is possible to even out the playing field and produce real impactful change.
After interviewing Juan, I asked him two questions. The first one was what advice he had for Texans. He mentioned that Texas is a big tapestry made up of different people and different cultures. He also said that he's honored and humbled to be a Texan. The second question I asked him was what advice he had for newcomers to Texas. His response was that although there are many differences within Texas, he knew one thing that all Texans have in common is that everyone is welcoming and kind. He also said the one thing he would tell anyone coming to Texas is to look beyond what is normally thought of as the traditions of Texas because there is more to it than just cowboys and rodeos.
Biography of Juan Angel Gomez:
He is a solo practitioner specializing in immigration and nationality services. Mr. Gomez graduated from Edgewood High School (1996), and Yale University, B. A. with distinction (2000). He received a J. D. degree in 2004 from Harvard Law School. Prior to going into private practice, Mr. Juan worked for eight years practicing immigration, employment, and housing law all with an emphasis on assisting the LGBTQ and immigrant communities. Currently, his primary emphasis is removal defense with an emphasis on asylum and family reunification.
---
Author Andrew Arizola is a Mexican-American born and raised in San Antonio, Texas. Currently a freshman at St. Mary's University, Andrew is working on his bachelor's degree in Spanish.
Posted March 22, 2018
Join 11 others and favorite this
TAGGED WITH: St. Mary's University, stmarytx.edu

Read stories from people across Texas
Browse All Stories