From Palestine to Texas - The Wonderful Thing About Culture
The Texas Story Project.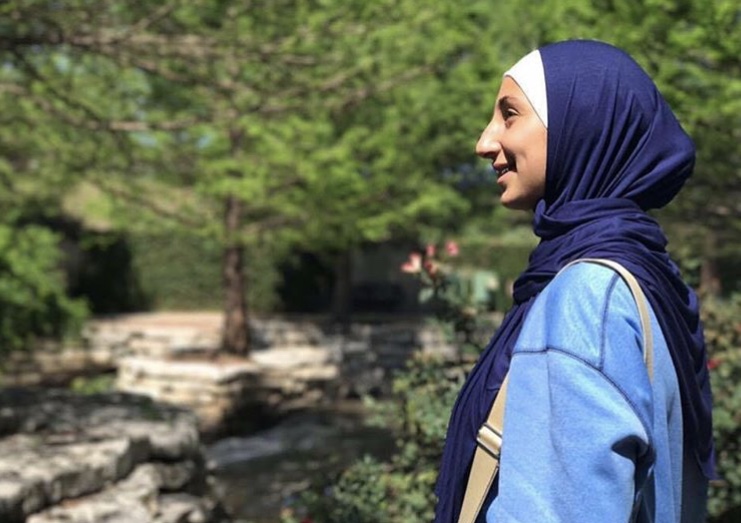 Photo of Bylasan Shalabi, the subject of this story.
Culture is everything to us. It is what defines us long before we begin to define ourselves. It molds us, forms our morals and reasoning and, to a certain extent, our sense of identity. Though it molds our foundation, culture isn't so concrete. The beauty of culture is its ability to be blended, making it unique for every individual. Bylasan Shalabi, a longtime friend of mine, is the perfect example of equally distinct cultures fusing together to create her own unique culture.
A six-year resident of San Antonio, Bylasan moved here in the summer of 2012 from the country of Palestine. She and her siblings enrolled in the same school so none of them would be alone. "We all took ESL at the same time so we could help each other learn and because it was a way for us to have time with people we knew," she says, showing me a picture of her and her siblings. "We wanted nothing more than to finish learning English. It was very hard. I still struggle now, even though I'm fluent!"
As the years progressed, both the language and cultural barrier began to fall between Bylasan and the world around her. Despite this, she was very shy and chose to keep to herself. "I used to get nervous even though I never really had a real reason to. Everyone around me was so nice, too!" As high school continued, Bylasan joined clubs like our high school's SAWS Confluence team, National Honor Society, and became captain of our varsity soccer team. "I just had to keep reminding myself that I belonged here; that I didn't go through the struggle of transitioning and learning English just to sit on the sidelines."
Sher and her family continue to celebrate Ramadan and Eid, visiting family and friends here and calling family and friends in Palestine. If there's anything she misses most about Palestine it's her neighborhood friends. "We were so close! I miss them and my neighborhood a lot."
Bylasan says it is through her faith, optimism, and San Antonio's diversity that she has transitioned so well. She describes San Antonio as a "melting pot" of cultures and lifestyles, including her own. "I was so scared of moving but I have never truly felt out of place or like an outsider even when I was learning English. The transition was not easy at all but I feel a strong sense of belonging here."
Like adding pins to a collection, Bylasan says the cultures she's been surrounded by in life have impacted just about every part of her. Though she continues to learn more about Texas through experiencing the cultures that make up San Antonio, she'll never forget the culture from home. "I've picked up new parts of Texan cultures and have blended them with Palestinian culture," she says with a small smile. "I now know how to adapt to a completely different world without losing sight of the world that brought me here."
Bylasan currently attends the University of Texas here in San Antonio as an architecture major. Her goal is to become a licensed architect and open a firm of her own and dreams of building a life in Austin or right here at home, in San Antonio.
---
Mia Martinez currently attends St. Mary's University in San Antonio.
Posted March 29, 2018
Join 22 others and favorite this
TAGGED WITH: St. Mary's University, stmarytx.edu

Read stories from people across Texas
Browse All Stories