San Antonio Skyline
The Texas Story Project.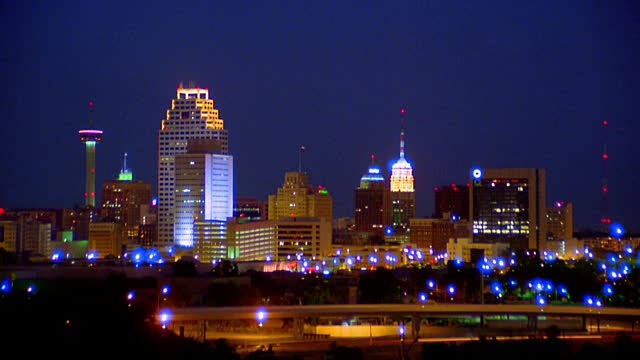 The San Antonio city skyline at night.
All her life, Maryam Khezri has never considered herself to be a true Texan. Being born in San Antonio, Texas, there has always been a disconnect with her and anything dealing with Texas. As she grows, she is realizing that her original home is the most important one that impacts her life.
Although born in San Antonio and living in the city ever since, Maryam spends the majority of her time outside of Texas and the United States. Her immediate family members along with her extended family members live in Iran so this is where she tries to spend most of her time throughout the year.
Growing up, she already viewed herself as very different compared to the rest of her peers. With her blood being Persian, her customs and traditions are much different compared to those of the typical Texan. Having very different ideas, interests, and dislikes, compared to most in Texas has been hindering to her ability to try and fit in with the rest of American society.
Her parents and siblings being overseas has given her birth city a feeling of emptiness throughout the years. Home is where the heart is and since the biggest aspect of her life is her family, her true home is Iran. As a girl growing up with no family physically there with her, Maryam has always looked for a way to connect with them and get out of Texas. Staying in the state had always felt as if it were a mandatory task. Feeling trapped in Texas, she has been here the whole time to complete her education beginning with grade school and now currently attempting to earn her Bachelor's Degree in San Antonio. Other than her education, she had never seen a reason for willingly wanting to live in Texas.
Along the years of completing elementary, middle, and high school she has made many different relationships with all kinds of people. Some of the friendships here have impacted her life entirely. Meeting her closest friend to date in San Antonio, Maryam has slowly been creating her own new family here in the United States. With an ongoing friendship of five years, she now has somebody she can consider the sister she never had. Considering no real family members are here, having somebody she can look to as family has been something that she has desperately been needing in her life here in the U.S.
Frequently traveling to Iran to visit family has sparked a love for traveling the rest of the world. She has found an interest that would get her out of the city that she felt she always needing a break from. Now spending even less time in Texas than before, her little love for the state has been slowly growing into something huge. One of Maryam's favorite things about the entire world is the view she gets of San Antonio on the flight back here from anywhere. The San Antonio skyline, especially in the nighttime, has given her a reason to enjoy coming back home. She is actually starting to feel happy about being home.
Coming back home frequently has given her realizations of what she loves about the city. People around the city are very friendly and genuine. In the back of her mind her love for Texan and Hispanic culture had always been lingering. Being surrounded by all different kinds of people around the world has strengthened the secret joy she gets from reuniting with the culture back home in Texas. Her love for the food back home, specifically tacos, is what has grown the connection with the local culture. Whenever she visits Iran now, she tries to get all her family members to be a little more into their Texan culture although none of them have even set foot in the state.
College is where somebody really starts to figure out where they're from and who they truly are. She is slowly starting to realize her love for her birthplace and Texas as a whole. Although the only time spent in these parts were during the school year, the little amount of time has molded her into the beautiful person she is today, with much success yet to come.
Posted March 22, 2018
Join 6 others and favorite this
TAGGED WITH: St. Mary's University, stmarytx.edu

Read stories from people across Texas
Browse All Stories