Running in the South
The Texas Story Project.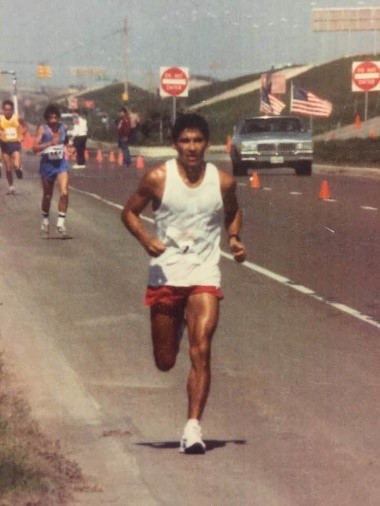 David Chavanna running in the Edinburg, Texas City Run.
How does a regular, everyday citizen become celebrated for organizing a ten-kilometer run in which people from other countries participate? This is the story of my uncle, David Chavanna.
During the 1980s, my uncle, David Chavanna, was given the terrible news that he was diagnosed with diabetes. This motivated him to change his ways and improve his health and lose weight by running every day. This became a defining moment in my family's history for my uncle began planning in his head an organized city run. In 1982, my uncle got the approval from the city of Edinburg, Texas to go on with his idea and sponsor a city run. Many people living in the city did not receive the news so the first annual event was just my family of forty. This was the beginning of something big, for no one had ever attempted to organize a city run in South Texas. This was officially the first ever city run in South Texas.
Over the next ten years, more and more of the community started hearing about the event and started participating which provided more funding for future runs and more recognition of the city from other parts of the nation. This brought in more sponsors and new businesses to the city of Edinburg because of the growing interest that the annual race provided. My uncle went from working as a construction worker to the city of Edinburg giving him the position of high school coach.
Over the next few years, the run registered thousands of runners and many local sponsors spread the news about the city race. My uncle participated in all the races, maintaining his leadership of the event. This gave my uncle so much publicity in not only Edinburg but across the Rio Grande Valley.
All this publicity gave my uncle the confidence to run for office. He ran in 2006 for an Edinburg City Council position where he lost by a small margin. This loss increased my uncle's popularity across our city, giving him more opportunity to have an effect in the city's policies and politics. Politicians began to contact my uncle for support to gain votes for upcoming elections.
Not only did this city race leave a mark on the city of Edinburg, but it also left a mark on our family by making the Chavana name known not only by our neighbors but by strangers too. Every day, my uncle wakes up at five o'clock in the morning and runs ten kilometers. No matter if the weather is an obstacle, he would finish his run every single morning. This has motivated Edinburg to change the annual ten-kilometer city run to be not just a race but also a motivation for people to try and get in a healthier physical shape.
In July 2016 my uncle was recognized by the Texas Capital at the House of Representatives. He was also introduced to Senator Eddie Lucio. In February 2018 my uncle has concluded his involvement in the event and has retired from this leadership role.
---
My Name is Rene Palacios Jr. I am an accounting and data analytics major attending St. Mary's University. My connection to this story is family-oriented based on my uncle, David Chavanna's accomplishments.
Posted April 03, 2018
Join 4 others and favorite this
TAGGED WITH: St. Mary's University, stmarytx.edu

Read stories from people across Texas
Browse All Stories