Our Handmade Home in the Valley
The Texas Story Project.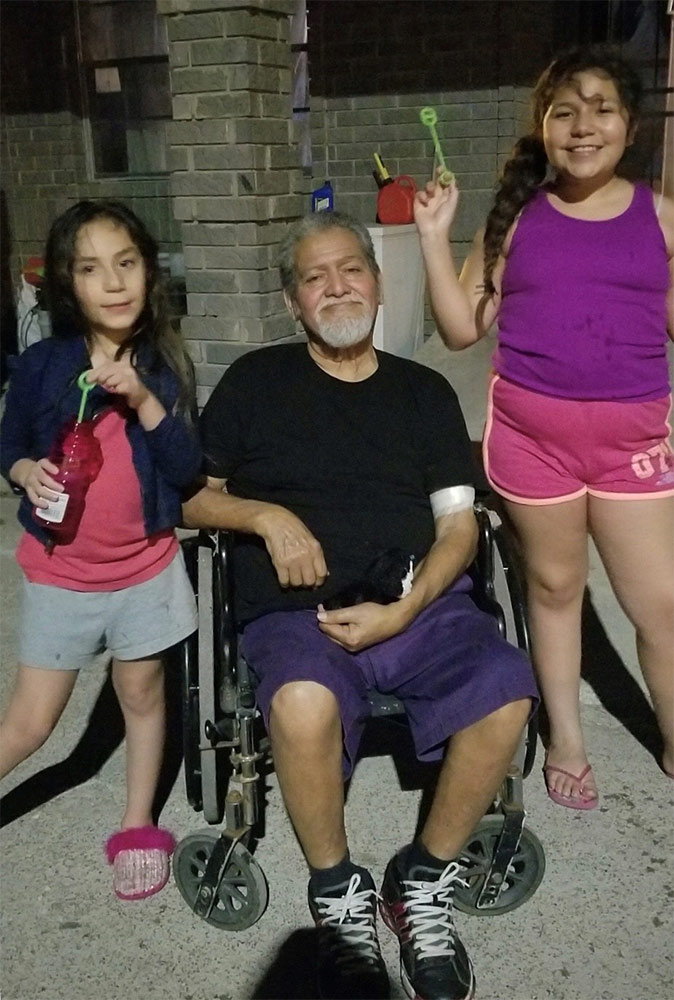 Raul Christian Guerra's grandfather.
After he and his eight siblings lost their father at young age and were raised single-handedly by their mother, a lost little boy swore that when he had a family, they would be given a home and not have to live through the harsh realities of life. Moving from state to state, my grandparents found their home in Texas after Hurricane Andrew in 1992. As my grandfather told me, "I found out power and utilities would not return to the area for almost a year," so he realized, "my life in Florida was lost as it perished in that horrible storm."
My grandfather, a strong man back in his day, worked were the wind took him to support his wife and five children. With his family on the verge of homelessness, he was determined to set his family on a new path to make new memories. His chosen location was South Texas in his hometown Weslaco. My grandpa was determined to keep the promise he made to himself so long ago. I admire my grandparents for their sacrifices. They are amazing people. My grandpa, Filiberto Cabrera, shared his story with my mother on how his family came together to help him in his time of need. Making this house was going to be no easy task. They had to balance buying materials and putting food on the table, but finally they bought a piece of land out in the country. It was farmland with no paved roads. When it came to leveling the land, it took sixteen trucks. It was a field day for all the kids and relatives. Everyone took turns unloading the trucks. It made the whole family come together.
Little by little, the house started taking form. The first thing to take form was the frame. My mom describes it as a big box. No walls, no divisions, only a big square. From here, he got help from a home builder, one of the uncles, Benito Izaguirre. Money was tight and it kept the house from being completed. Being migrant workers, the family was off to Michigan for the summer picking blueberries. This was the revenue needed to finish the house, so any spending money they received was sent back to Texas to complete the house.
My grandfather tells my mother how he kept a secret about making sure the house was almost done before the family arrived back in the Rio Grande Valley. It was a surprise when they returned to their new home that it was basically done. Only a few things were still missing. They went to Edelstein's to find furniture and collected light fixtures that were also needed. When the furniture was being delivered, the delivery trucks got stuck because the road to our house was unpaved dirt. So a tow truck had to come to haul them out. This tow truck also got stuck. A second tow truck had to come to release both the first tow truck and the delivery trucks. This completed the house and over the years they made it a home. The house was a no-luxury, humble something built by a family with hard work and dedication. It's seen so much until this day and stands as the rock, our home, in our ever-moving family.
Something my grandfather would want the world to know and pass on to the younger generations is "dedication". From a young age he lived in poverty in Mexico and sold gum on the side of the road. He never thought he would ever have a home of his own. Yet, today he has a home to call his own that he shared with his beautiful wife, my grandmother. He wants to let the world know that with willpower all things are attainable in life. Our dreams are just dreams until we make them come true.
---
Raul Christian Guerra is a Sophomore studying Biochemistry at St. Mary's University. He is from the Rio Grande Valley area and enjoys exploring the best that St. Mary's has to offer.
Posted March 29, 2018
Join 2 others and favorite this
TAGGED WITH: St. Mary's University, stmarytx.edu

Read stories from people across Texas
Browse All Stories