My Craft
The Texas Story Project.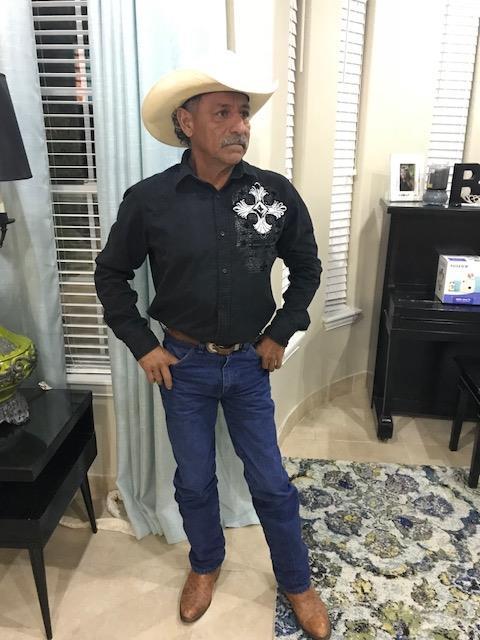 Valentin Hernández
Waking up early, sleeping late at night, doing everything he could to help his father, but more importantly his family.
Valentine Hernández is a hard-working Texan, born on February 14th and raised in Harlingen, Texas. Hence his name — Valentine. He grew up alongside his thirteen siblings on Tony Butler Golf Course. Growing up, he had the privilege to work side-by-side with the greatest role model he could have ever ask for — his father.
His father would wake up his brothers and him at 5:00 every morning to get ready to begin their day of getting the golf course greens ready. He remembers clearly that, once he woke up, he had to change as fast as he could because if he was the last one out of the house it was his duty to then rake the sand bunkers. If he was able, by the grace of God, to beat all of his seven brothers out the door he got the duty of filling bunkers with sand.
After working on the greens for a couple of hours in the morning it was off to school where he was able to get an education. After an 8-hour school day he went back to the greens where he would get golf lessons from his father along with his siblings, trying to get better at the craft they so truly loved. He spent hours after school each and every day learning what club to use in every situation and whatnot. He says most days he played until his mother called him in for dinner or till there wasn't any light out.
After high school he got a full-time job at the golf course. Mr. Hernández later went on to get married and have a son, later getting divorced. Learning from his father's teaching, he taught his son his craft and taught him everything he knew. Working full time at the course didn't give him much opportunity to work with his family, so he quit his job and started to work alongside his brothers doing manual labor jobs here and there, earning whatever money they paid him.
Mr. Hernández came into my life when I wasn't even born yet. My father hired him to do some fencing about 25 years ago and ever since then he has been around my family. Mr. Hernández actually is more than just someone that does manual labor. He's a friend. Mr. Hernández, or "Val" as we call him, is the man that taught me how to play golf. I always heard stories about how his family was known for playing golf and that he was a great golfer, but I didn't believe it until he took me to the Tony Butlers Golf Course and played a round of golf. It was his craft that he taught his son, and which he then taught me.
Every weekend when I'm back in town, Val and I always end up going golfing. In his eyes, I can always learn and improve my golfing skills, but for him it's the chance to pass down his craft and give some important life lessons. Getting this interview was quite fun actually, we sat in a golf cart on Tony Butler Golf Course and just heard tons of stories about growing up there, but my favorite had to be the one about how you should always share your craft.
---
Sami Bouls is an undergraduate student at St. Mary's University in San Antonio, Texas. He is currently majoring in international business.
Posted March 22, 2018
Join 20 others and favorite this
TAGGED WITH: St. Mary's University, stmarytx.edu

Read stories from people across Texas
Browse All Stories