The Post Office Grudge
The Texas Story Project.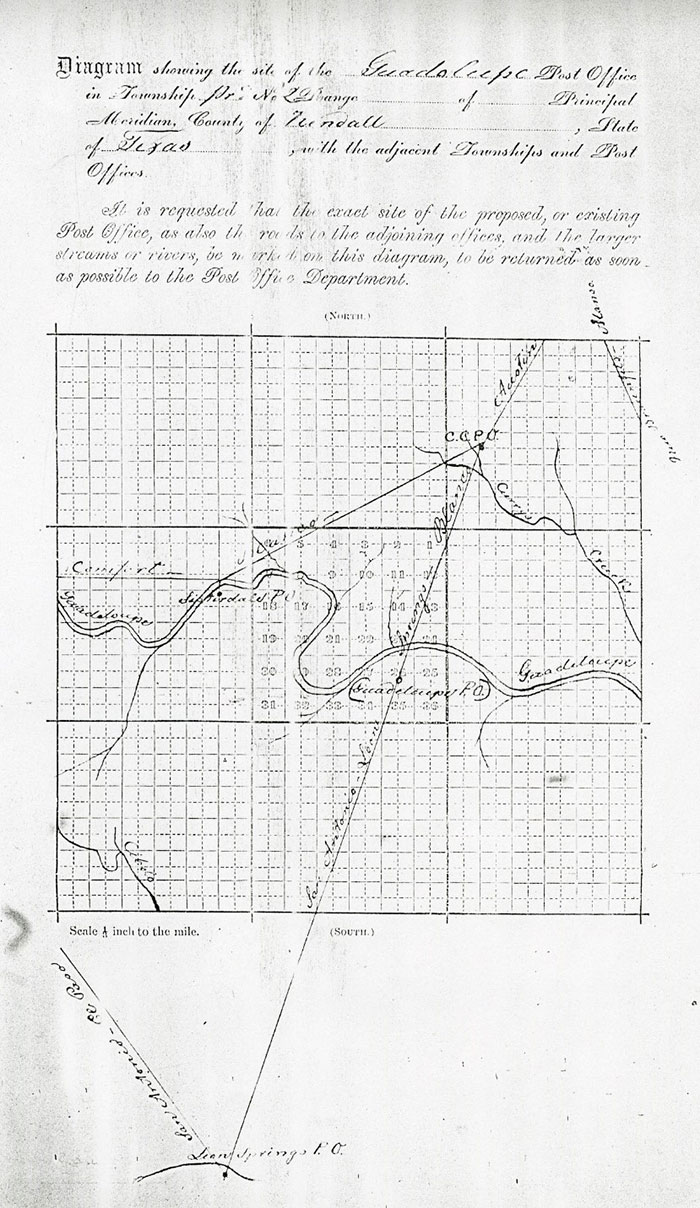 Charles Wenzel's proposal for the Guadalupe Post Office.
In an 1861 letter sent from a San Antonio post office, Mr. Christian Friedrich Bergmann fumed, "I regret that I agreed to order a second wagon since my neighbor Charles Wenzel has not even asked about it yet, and also I am at odds with him. I fenced in five acres of land which bordered my fence and had intended to buy this land later, but Wenzel went to the surveyor and had it surveyed without my knowledge. Of course, this has greatly annoyed me, and I have not gone to his house since then, nor has he come to see me."
In the multiple letters* written by Mr. Bergmann to his family back home in Saxony, he mentioned his neighbor Charles Wenzel only once, despite the fact that they lived next to one another along the Guadalupe River for nearly 23 years. During that time, Mr. Bergmann held a grudge, while Mr. Wenzel opened a post office.
On March 5, 1875, Charles Wenzel opened the Guadalupe Post Office in his home. Wenzel owned two adjacent 160-acre parcels in eastern Kendall County along the Guadalupe River (in what is now the WaterStone subdivision). Until that time, the closest area post offices were at Curry's Creek in Kendall County, and Spring Branch in Comal County. Charles Wenzel ran the Guadalupe Post Office for five years. When Wenzel sold his land and moved to northwest Kendall County in March, 1880, the new land owner, Henry Koch, became the new Guadalupe office postmaster.
During those five years, Mr. Bergmann's grudge against Mr. Wenzel held firm. Mr. Bergmann never used his neighbor's "very nearby" post office, but continued to travel to San Antonio to take care of postal matters. Apparently, things changed after Mr. Wenzel moved away. In a letter dated May 28, 1880– five years after the Guadalupe Post Office opened on his neighbor's land– Bergmann writes, "You want to know how long it takes us to get to San Antonio. It takes me one day to get there and one day to come back. Our letters and newspapers we have to pick up ourselves. Lately, things have been more convenient since we now have a post office very nearby. So, when you write again, the address is P.O. Guadalupe, Kendall Co., Texas."
Unfortunately for Mr. Bergmann, this 'convenient' arrangement was short. In 1883, postmaster Henry Koch handed off the operations of the Guadalupe Post Office to Casper Sueltenfuss, who relocated the business to his property a few miles west (in the present-day Cordillera Ranch subdivision). In 1890, postmaster Sueltenfuss changed the name of the original Guadalupe Post Office to the Schiller Post Office. Despite surviving fifteen years of service and a neighbor's long-held grudge, the Guadalupe Post Office disappeared from maps and was no more.
* Bergmann letter source: New World View- Letters from a German Immigrant Family in Texas (1854-1885) by Ruth I. Cape.
Bryden E. Moon, Jr.
Posted December 08, 2014
Join 4 others and favorite this
TAGGED WITH: Pioneer Experience

Read stories from people across Texas
Browse All Stories