Heinrich Ludwig Schneider's Log Cabin in Llano County
The Texas Story Project.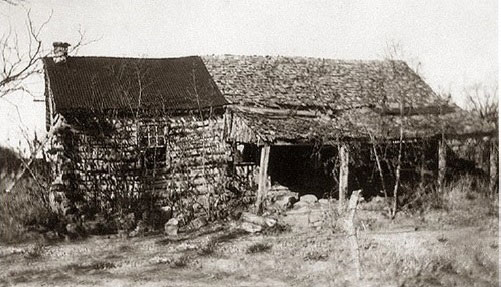 The historic remains of Heinrich Ludwig Schneider's "log cabin on the Llano."
Growing up on the Llano River in the small rural community of Castell, I knew that I was loved, safe, and happy, and I never gave much thought to my "roots." As a little girl, I knew that everyone around me spoke German most of the time and that there was no occasion that didn't include eating a lot of great food and men drinking beer. As my cousins and I played all around the old weathered log cabin on the river, I knew nothing of its significance or the story it had to tell. Of course, I later learned of my German heritage and ancestry. However, it was not until my children were grown that I wanted to know exactly how I came to be where I am.
My initial search led me back to Pfuhl, Germany, in the early 1840s where my great-great-grandparents Heinrich Ludwig and Anna Katharina Schneider lived. Things were not going so great in Germany at that time, and many German citizens were securing land grants and relocating their families to the Republic of Texas, which had been advertised as an "earthly paradise." They left Germany under the supposed safety of a company formed in Germany called "The Society for the Protection of German Immigrants." The hardships, despair, and deception during the years that followed could easily be made into a movie.
My grandmother died shortly after arriving in Texas in 1845, and Ludwig and his two young sons and daughter were among the first few German immigrants to settle in Llano County in the Fisher Miller Land Grant. They quickly learned that the "earthly paradise" they were expecting to find on the Llano River at Castell was certainly not as described. Although beautiful and appealing, the area was an untamed, undeveloped, isolated frontier wilderness inhabited by many dangerous American Indians. There was no protection available, no other settled areas anywhere nearby, and no transportation in or out of the grant. If all of that wasn't bad enough, before they could even have logs to build a shelter, they had to clear the land using the primitive tools they had brought with them from Germany.
Ludwig was strong-willed and determined to provide shelter for his young children. A tattered old family writing says, "Winter came on before Ludwig could put the roof on the cabin so he covered it with sage grass and in the spring of 1847 he split post oak shingles and covered part of the roof to finish the house. He later roofed it with pecan shingles from the pecan trees on the river and they are still on the cabin today." When Llano County was established in 1856, Ludwig was elected as Justice of the Peace in Castell. Ludwig and his sons went on to serve in the Texas Rangers and the Confederate army during the Civil War.
His two-room log cabin, the first known "home" built in Llano County, remains resting high on the bank overlooking the Llano River at Castell, still standing as a tribute to its courageous builder, Heinrich Ludwig Schneider, German pioneer of Llano County (1815 – 1897). There is an old cliché that says, "You can't know where you are going until you know where you have been." Well, I now know the inspiring story and significance of the "Log Cabin on the Llano." I know exactly how I came to be where I am, and I cherish my German heritage and the land of my ancestors that I inherited on the Llano River.
Patty Schneider Pfister is a fifth-generation native of Llano, wife, mother of three daughters, rancher, former business owner and councilwoman who is extremely active in her community and in the preservation of Llano's heritage and historic integrity.
Posted November 10, 2014
Join 105 others and favorite this
TAGGED WITH: Historic Buildings, Immigration - 19th Century, Pioneer Experience, Preserving History

Read stories from people across Texas
Browse All Stories