Saving Downtown Abilene
The Texas Story Project.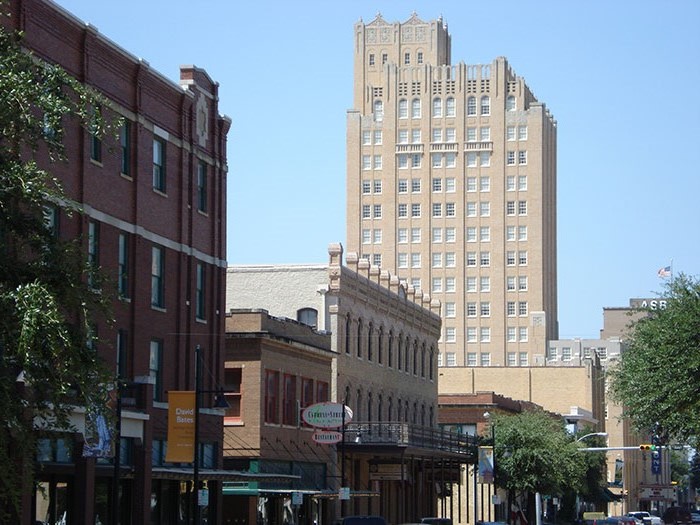 Abilene, Texas.
Judy Matthews almost single-handedly saved downtown Abilene from ruin. She would probably argue with you about that, but not many other people would.
Mrs. Matthews and the Dodge Jones Foundation, established in 1954 by her mother, Ruth Legett Jones, poured millions of dollars into downtown renovation beginning in the 1980s, when they rescued and restored the Paramount Theatre. The Grace Museum, the T&P Depot and right-of-way, and the Elks, Cypress, and Compton buildings stand today as monuments to the vision and generosity of Judy Matthews and the foundation.
And for all that, she never sought recognition. Gradually, it came to her anyway. In 1999, a citizens committee selected Matthews and her mother as Abilenians of the Millenium. But Matthews and the foundation— named for her brother Dodge Jones, who died at a young age— were best known for many years as Anonymous. It wasn't too long before everyone knew who Anonymous was.
Mrs. Matthews came by her philanthropic interests naturally. Her mother, Ruth Legett Jones, was known before she died in 1978 as "the quiet philanthropist" who had founded the Dodge Jones Foundation. She scrupulously avoided the spotlight. Judy Matthews's grandfather, K. K. Legett, who died in 1926, helped establish Simmons and McMurry colleges, among many other Abilene civic contributions.
"It's easy to make a difference in Abilene," Mrs. Matthews told an interviewer. "It seems like there are so many things that we need."
The downtown facelift may well have been the showcase for her and the foundation. By the early '80s, downtown Abilene, like many downtowns around the country, was looking grim and deserted. Most of its retail business had headed out to the malls and strip centers, hotels stood vacant and vandalized, and buildings were boarded and decaying. The wrecking ball had already torn down several theaters and landmark sites, and it threatened to take out others, including the historic Paramount Theatre, once the pride of Abilene.
That's when Judy Matthews stepped in, not only saving the theater but restoring it to its original grandeur. That led to numerous other downtown improvements, most significantly the Grace Hotel, which became the Grace Museum, and the T&P Depot, which houses cultural and visitor bureaus. Abilene gained a reputation statewide for its revived downtown. As foundation executive director Joe Canon says, there has been "a ripple effect that Judy's interests have helped crystallize."
"When someone asks how Abilene has been able to preserve so much of its downtown history," said one downtown business owner, "I tell them there is a short answer and a long answer. The short answer is Judy Matthews. The long answer is that she inspired a lot of other people to get involved in downtown preservation."
Glenn Dromgoole is the author of twenty-seven books, the founder and chair of the West Texas Book Festival, and a co-owner of the Texas Star Trading Company in downtown Abilene.
Posted December 01, 2014
Join 9 others and favorite this
TAGGED WITH: Historic Buildings, Preserving History

Read stories from people across Texas
Browse All Stories