Dr Pepper, or Brunela?
The Texas Story Project.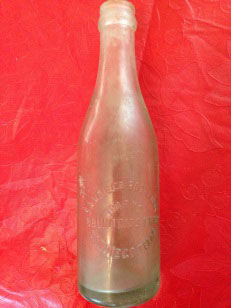 Original Brunela bottle.
I had always heard the story that the soft drink Dr Pepper was invented in San Diego, Texas, and had seen the very old bottles of Brunela at our museum in Duval County. So, was it Dr Pepper, or Brunela that was invented here?
The story goes that Bruno Rios, an enterprising young man who purchased San Diego's first pharmacy from Dr. Lawrence Wright in 1897, was credited with creating his own soft drink, called Brunela, which he sold at his drugstore fountain at the turn of the century. Local residents claim that Brunela had a flavor like a stronger version of the contemporary soda, Dr Pepper. Some also claim that the Brunela formula was stolen and ended up in a bottling company in Waco, patented as "Dr Pepper."
The Brunela drink was such a success that Rios started the Royal Bottling Distribution Company in the rear of his drugstore, Botica Bruno Rios. The soft drink bottles were imprinted with the image of a woman holding a bottle. On the bottom of the bottle were the words "San Diego, Texas." Brunela and other sweet syrups were bottled in clear and colored glass bottles. The bottles came in large and six-ounce sizes with wire-capped tops.
Bruno was also a civic-minded individual, handing out wooden coins that could be exchanged for one free loaf of bread. The coins and the Brunela bottles are desired collectible items today. The drugstore was robbed in 1949 and all the old Brunela bottles stored in the rear of the store were stolen. Our county museum has a few bottles that have been donated over the years, as well as a dainty commemorative crystal dish with the Brunela inscription on the bottom.
Rios sold the business and its contents to Donato Serna and Alberto Garcia in 1939. They operated it as the City Drug Store until Serna bought out Garcia in the early 1940s. The store closed in 1982 and was demolished in 1992 after a fire destroyed most of the building. Today, the community reminisces about that grand old drug store, with its amazing selection of comic books, perfumes and various other sundries.
Posted September 15, 2014
Join 29 others and favorite this
TAGGED WITH: Business and Industry , Historic Buildings, Historic Trades and Crafts, Popular Culture - 19th Century, Preserving History, Texas Foodways

Read stories from people across Texas
Browse All Stories