Sharp Shooting with a Sharps Rifle
The Texas Story Project.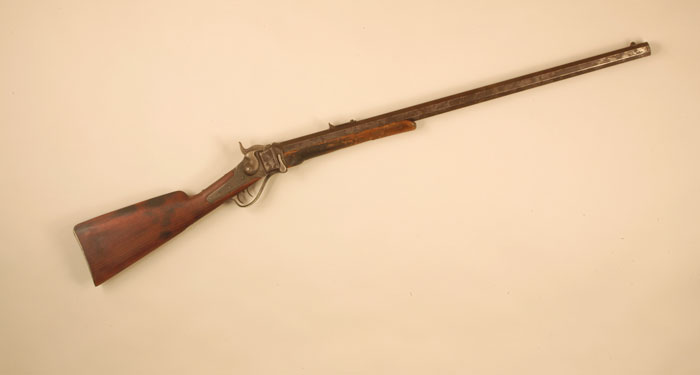 John Wesley Mooar's Sharps shooting rifle, circa 1877.
John Wesley Mooar was a hunter, freighter, hide merchant and well educated businessman. In 1870, while living in New York, his brother, J. Wright Mooar, shipped him a load of buffalo hides and asked him to find a market.
Wesley, as he was known, passed them on to a business associate who, in turn sold them to a Pennsylvania tannery, which then placed an order for 2,000 more. Soon, John Wesley Mooar moved to Dodge City, and by 1872, with his brother as equal partner, had established a base from which to operate a buffalo hide marketing business, while still hunting and freighting hides and supplies. The Mooar brothers are credited with helping initiate the great commercial buffalo hide harvest on the plains, first in Kansas, then Texas, and finally Montana in the early 1880s. By 1884, commercial hide hunting had depleted the herds, effectively ending large-scale buffalo hunting for good.
John Wesley Mooar used this Sharps sporting rifle (caliber .40-90, 2 5/8 inch shell, serial number 159765), part of the collection at the Museum of Texas Tech University, during his buffalo hunts on the plains of West Texas in the last half of the 1870s. Mooar purchased this rifle in 1877 from T. E. Jackson & Co., a Fort Griffin, Texas, firearms and general merchandise dealer, for $43 with a 25% discount. In a letter dated December 7, 1876 to the Sharps Rifle Co. in Bridgeport, Connecticut, Jackson had ordered Mooar's .40-90 rifle, another .40 caliber rifle, two rifles in .44 caliber, four in .50 caliber, as well as reloading tools, patch paper, and two rifle barrels.
According to official Sharps records, the Mooar rifle was invoiced at the Bridgeport factory on January 12, 1877, and shipped on that date. Presumably, the others in the order went out in the same shipment. The rifles arrived sometime in late January or early February of 1877 at Jackson's store at Fort Griffin, where Mooar received and paid for them. This rifle appears to have been restocked; however, the walnut forearm is original. All parts are in good working order and the firearm is fully operational.
T.E. Jackson's store later went out of business after his partner, Julius Wallach, embezzled funds. Consequently, Jackson's store was not open long enough to sell as many rifles as did his competitors, such as Frank Conrad. The Jackson connection makes this rifle all the more special because there are less than a dozen such rifles attributed to Jackson's store. John Wesley Mooar's Sharps sporting rifle is one of them.
Henry B. Crawford is the Curator of History at the Museum of Texas Tech University.
Posted January 05, 2015
Join 5 others and favorite this
TAGGED WITH: Historic Weapons, Pioneer Experience

Read stories from people across Texas
Browse All Stories