Leaving New Zealand to Find Love in Texas
The Texas Story Project.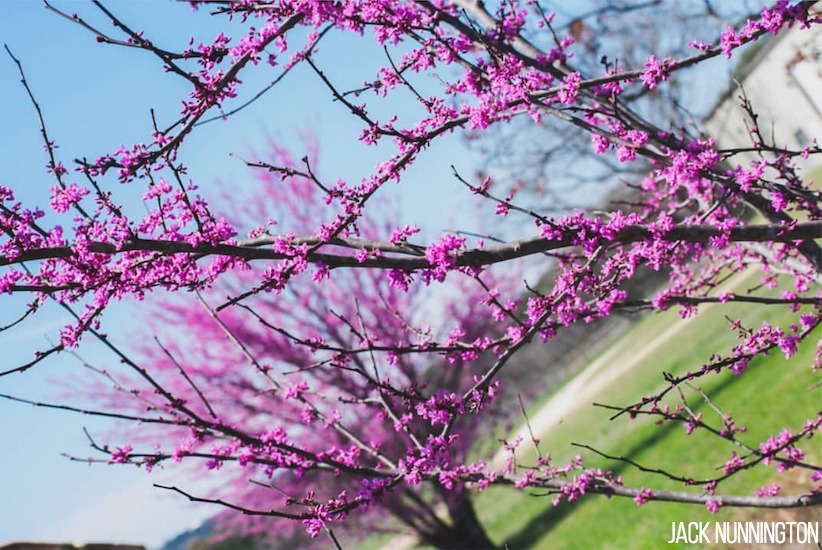 A blooming Redbud tree.
My name is Jack Nunnington and this is my story.
It was a sunny day in New Zealand. As I was biking to school, I received a text from my best friend Ryan asking why my house was on the market. This was news to me so I confronted my parents later that day. They had a nervous, yet excited look on their face. "We are moving…" my mom began to say. I thought she was talking about another neighborhood until my father interrupted and said, "to Texas." I was extremely shocked by the news I heard and I didn't want to believe it. My father got a job in San Antonio, Texas. I didn't expect to receive news about leaving New Zealand to go to the United States, especially to Texas.
There were many things I had heard about Texas, that it was too big or too hot. I was not very keen on it if I had to be completely honest. I moved in late April of 2017 and did nothing but explore until my university started in August. I went through months of not having friends and only having nature so I developed a passion for photography during that time. I took pictures of things that I did not expect to find in Texas. Through all my adventures I had found the beauty in Texas that I did not expect. There are many exotic birds, buildings, plants, and even animals that I was able to find only here. I enjoyed photographing all the things I found beauty in because I was able to share with my mates back in New Zealand all the new things I was discovering. I was starting to consider this place my new home.
When school started I was pretty excited to meet another important component of life, the people. The first week of school, I met a few exciting people, but the second week I met a special person who I had no idea would change my world completely. I met a girl that made Texas feel completely like my home. This girl was the most amazing, most beautiful, most caring person I had ever met and I knew I wanted to spend my life with her by my side. This girl helped me understand American culture and understand why my family moving to Texas was actually a blessing. We went on many adventures and shared almost too many laughs. As we learned about each other we started falling in love. My life felt as if it were a movie, almost as if this was too good to be true. I often wonder how I got so lucky to find my soul mate at such a young age. I also thought it was funny that it had to travel 7,235 miles to find the one. Things started making sense and my life had finally begun. I discovered happiness that I had never known anywhere else. What better place to find it than in Texas?
The change was definitely extremely difficult but it was worth it. There was a change in culture, food, landscape, climate, everything! It was truly not what I expected though. I came to Texas with such a negative perspective but that soon changed after seeing the beauty in many things that Texas holds. What I would recommend to a foreigner coming into this beautiful state is to have an open-mind and faith in things. It does take time to understand things, only because the culture in the United States is extremely different than any other place. One might be lucky enough to find a beautiful Texan girl to spend the rest of their life with like I did. Or one might simply fall in love with the culture that Texas has to offer to the world like I did as well. Whatever path Texas leads one to, I do believe it will be a beautiful story. I am proud to say that I will surely spend much of my life here in Texas because everything is simply better in Texas.
---
Paulina Lejarza is a freshman at St. Mary's University studying Political Science. One of her many passions is traveling and learning about different cultures. This leads her to find people who are not native to the United States so that she can learn and apply different perspectives to her life.
Posted April 02, 2018
Join 6 others and favorite this
TAGGED WITH: St. Mary's University, stmarytx.edu

Read stories from people across Texas
Browse All Stories