My Home Away From Home
The Texas Story Project.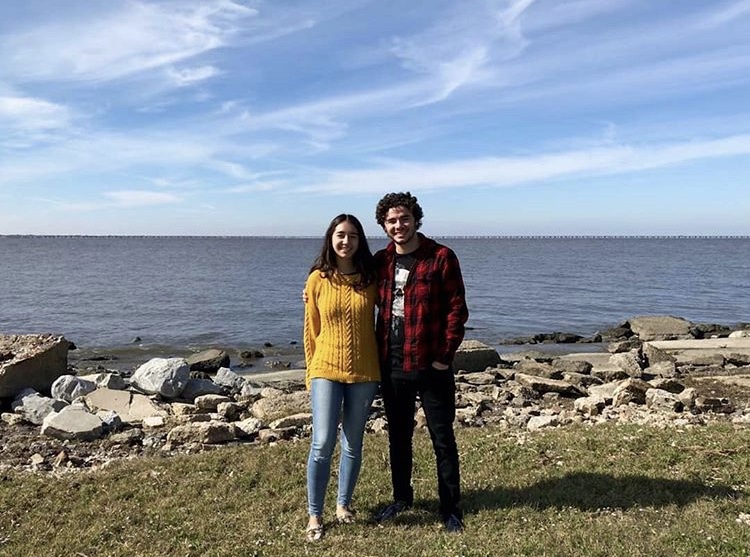 Marina and her brother Sebastián traveling around the US.
Marina Castro is a 19-year-old freshmen studying at St. Mary's University in San Antonio. She is studying Psychology and Criminal Justice. Marina is from Tegucigalpa, Honduras.
She had never set foot in the United States until she came to Texas in August, 2018. "My first thought when I first got to Houston was how hot the weather was," she stated. The weather in Honduras is also hot and humid, but the climate drops in the evenings in Tegucigalpa, so it was difficult for her to adapt to this change. Moreover, once winter arrived last year, she also had to adapt to that climate change, as there is no winter in Honduras, there is only summer and spring.
Marina refers to San Antonio as her "home away from home" because what she loves more about here is the Hispanic community. San Antonio, and Texas in general, have a large Latino community, especially those of Mexican descent. So, Marina loves the fact that many individuals speak Spanish and can practice her traditions from back home in another country. In St. Mary's University, the Central American community is very large, especially with those coming from El Salvador and Honduras. Due to the fact that there are a lot of Hondurans, adapting to living so far away from home was not as difficult. "My current friends and I had connected through social media before coming to San Antonio, so when we got here, we just put a face to every name, and making friends was not difficult." One of the main reasons that she came to St. Mary's University was because her brother is studying here as well. So, this helped with adjusting to being on her own.
Marina is very happy living in Texas. She loves that she can walk around downtown San Antonio with her friends on the weekends and go to new places. In Honduras, she cannot do this because it is not safe to be walking on the streets. She also cannot really go to that many new places because Tegucigalpa is a small town, so there are not really many new places to go to. So, by being in the US, she is able to do what she does not regularly do back home. "I love my country as it is and I am honored to say that I am Honduran, but that does not change the fact that I also love that I can say that I live in the US." Being able to come to the U.S. to study is a great achievement, and not everyone is blessed with this honor. Honduran education is good and respectable, but there is a lack of opportunities in the country. So by studying in the U.S., Marina is opening up many doors that will guide her future.
Marina Castro loves both the United States and Honduras and she is happy to be able to have two different places that she can call home because not many people have the chance to have a home away from home.
---
Ana Isabelle Ordonez is from San Pedro Sula, Honduras. She has a double nationality, both from Honduras and from Spain. Ana is currently a freshman studying at St. Mary's University in San Antonio; she is majoring in Mechanical Engineering. She is also proud to be able to call San Antonio a second home.
Posted April 11, 2019
TAGGED WITH: St. Mary's University, stmarytx.edu

Read stories from people across Texas
Browse All Stories