From Dry to Humid
The Texas Story Project.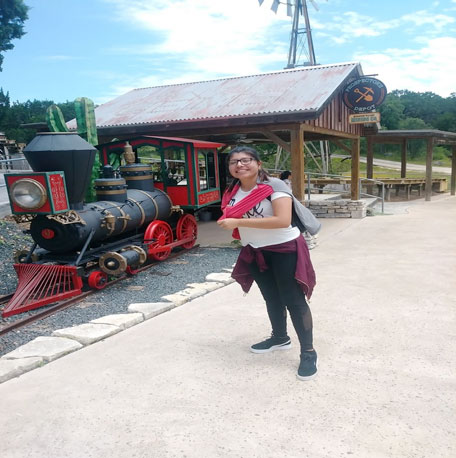 Cecy celebrating her 20th birthday in Texas!
My name is Karen Lizeth Manzanares and I'm a first-generation college student.
I'm a sophomore at St. Mary's University studying Business Management. My first year of college brought me to experience so many unknown things in the state of Texas. I went from Phoenix to San Antonio and now I'm slowly figuring out the Texan way and bringing some of it back home during the breaks.
My sister's first time in Texas she couldn't really speak of since she was just passing by to pick me up in Dallas with my parents and little sister. But by the second time she got the full Tex-Mex experience. My sister is Cecilia Reyes Mendoza or Cecy for short. She is my older sister. I asked her about her experience while in Texas and she told her story.
We arrived to San Antonio on May 10, 2019. By we I want to clarify that I mean my dad, my mom, my little sister, and my godmother. I had technically already been in Texas, but we were passing by, not so much exploring. We drove down there for my brother's graduation, but it was the day after where I truly got to experience the San Antonio culture. We did what normal tourists did. We went downtown on the 12th and got to experience the Tex-Mex culture as they call it. We explored the Alamo and got to see a visual representation of how the city has evolved. The culture was highly expressed. Coming from Phoenix I don't really see performances like the one I saw downtown. Of course, we came on a good weekend because the performance was a Mother's Day special. I do have a Mexican background, so it was surprising to see the city of San Antonio celebrating mothers on the 10th which is the normal day to celebrate moms in Mexico.
While we were downtown this young hippie-looking man approached my godmother and gave her a rose for the special occasion. That took me by surprise because I hadn't seen something like that. Afterwards we got to experience the Riverwalk on the boat. The river was what I had envisioned. I envisioned the buildings and the nice restaurants; however, I was disappointed when I didn't see any attractions. I envisioned a Ferris wheel like the one you see on the Santa Monica Pier. The only downside to the Riverwalk was how tightly-spaced the walking area was. It made for a difficult walk through the Riverwalk.
Overall, I had a good experience in San Antonio. I enjoyed the amount of nature that was present in the whole area of San Antonio. Coming from Phoenix driving into San Antonio it looked like we were driving into a forest. It's rare if not impossible to find a whole landscape of trees and greenery in Phoenix so I really appreciated the nature present. The climate change made for a very interesting time. I went from dry heat and then arrived to San Antonio expecting the humidity, but was greeted with the freezing weather of San Antonio. However, as the days went by, I did experience the humidity and I did not appreciate it. I would definitely come back to Texas, but to explore the other cities Texas has to offer.
Posted September 17, 2019
Join 5 others and favorite this
TAGGED WITH: St. Mary's University, stmarytx.edu

Read stories from people across Texas
Browse All Stories