From Germany to a Texan Occupational Therapist
The Texas Story Project.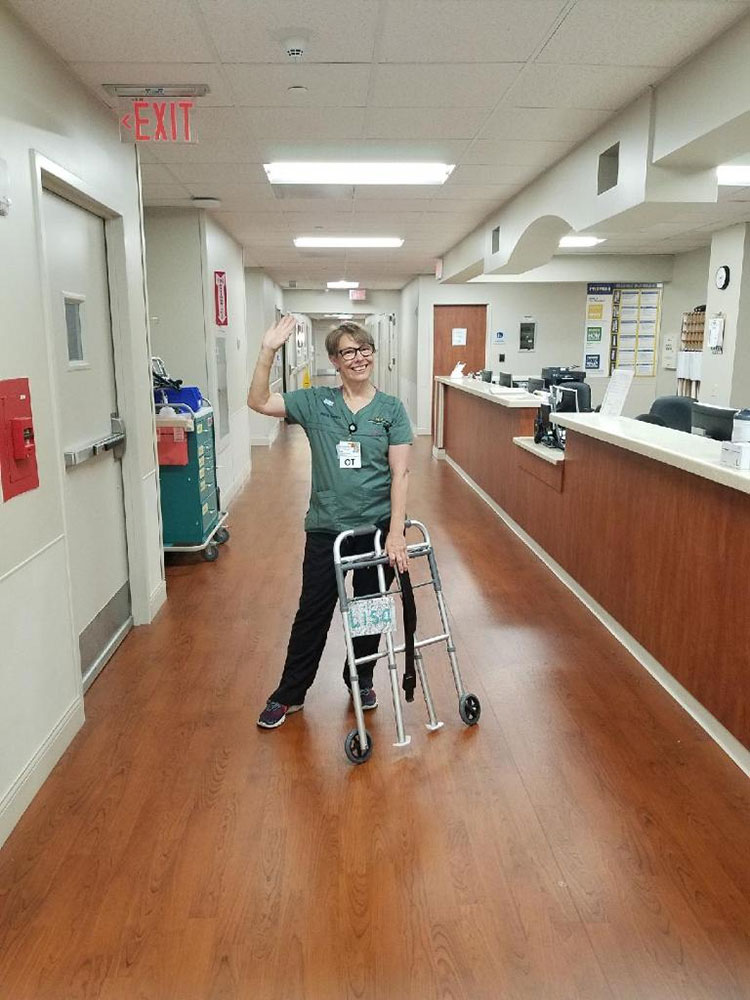 Elizabeth Hardin, from Germany, was born to parents who grew up in World War II. Lisa's mother had a fourth-grade education and her father had a seventh-grade education. Her father wanted to be a car mechanic but, because of the war, children had to drop out of school and help their parents.
During that time, her mother's family lost their farm in what is now the Czech Republic. They had to leave the farm behind and start all over by building their own homes from bricks. Due to this, education was not in mind for Lisa's mother, so she started working from an early age. Hardin's parents built a two-story home in the middle-class neighborhood and always tried to save a lot of their money. Most of their money went to their house which is why Lisa says, "we didn't have a lot of toys or anything a child would call entertaining".
Lisa is the youngest of three and knew she wanted to go into higher education, so she showed her parents the documents and they signed for an agreement. She and a friend both went on to higher education in Germany which is the equivalent to a high school diploma in America. She started to study physics, but it was a bit too challenging and it was not what she wanted. That is when Lisa ran into Physical Therapy and began to volunteer at a hospital and realized that she wanted to do Occupational Therapy.
Meanwhile, Lisa met an American man at her neighbor's house for a Christmas celebration who later became her husband. They had a child and her husband went off to the Gulf War when her daughter was six weeks old. Lisa noticed her husband was not the same man anymore but did not think too much about it. Later they moved to Louisiana in the United States. Lisa would go to the library, but computers and the internet were not quite available during that time, 1992. She began searching places where she was able to get an Occupational Therapist Certification then found a school in San Antonio where she finished her prerequisites three months after they moved to Louisiana. Lisa only went to school once or twice because she didn't have a baby sitter. One year later, in 1993, they moved to Killeen, Texas and she continued her prerequisites while her "little girl" was in daycare and her husband was out in the fields. Once Lisa finished her prerequisites she applied to the school in San Antonio and got accepted at UT Health Science Center.
Lisa and her child moved to San Antonio in 1994 and she went to daycare while Lisa went to school which was kind of demanding because she didn't have anybody, no family in San Antonio. Her husband was still in Killeen and worked all the time. That is when Lisa's marriage started to fall apart and she believes it was because it was a military marriage which is said that they usually fall apart. Despite Lisa's circumstances, she finished the Occupational Therapy Master's program in 1997. Lisa says, "I got my Master's degree in Rehab Sciences and Clinical Management while working full time and taking care of my daughter". Later she moved to Kerrville in 1998 and started working at St. Peterson Memorial Hospital. In 2012, Lisa started working for Methodist Hospital and began to mentor young people who are interested in the field of Occupational Therapy. Meanwhile, she fought and worked through cancer, then was out of work for a year.
Lisa says that Fredericksburg felt like home because of the German culture but for years Lisa had always been wanted to learn more about the Texan culture, so she began to visit historical sites. When Lisa first got here, she admits that it was depressing at times and sometimes she cried because she was so home sick and she didn't really know what to do in this country. Then she realized all the places she was able to visit in Texas: camp grounds, state parks, go to rivers, the coast, and to historical sites.
Lisa has been in Texas for twenty-seven years now and she considers herself a Texan with German heritage and is "proud to be a Texan and be part of this beautiful state."
---
Angely Noriega Baron is a first-year Exercise and Sports Science Major at St. Mary's University. She met Hardin this year in February at Methodist Hospital to shadow her for her Occupational Therapy observation hours. Angely feels honored to have met Lisa this year because she sees Lisa as a mentor who inspires her not only through her career but through her past experiences in Texas. Angely intends to go to an Occupational Therapy Graduate Program after she graduates from St. Mary's University and become an Occupational Therapist just like Hardin.
Posted April 11, 2019
TAGGED WITH: St. Mary's University, stmarytx.edu

Read stories from people across Texas
Browse All Stories