It All Begins With a Dream
The Texas Story Project.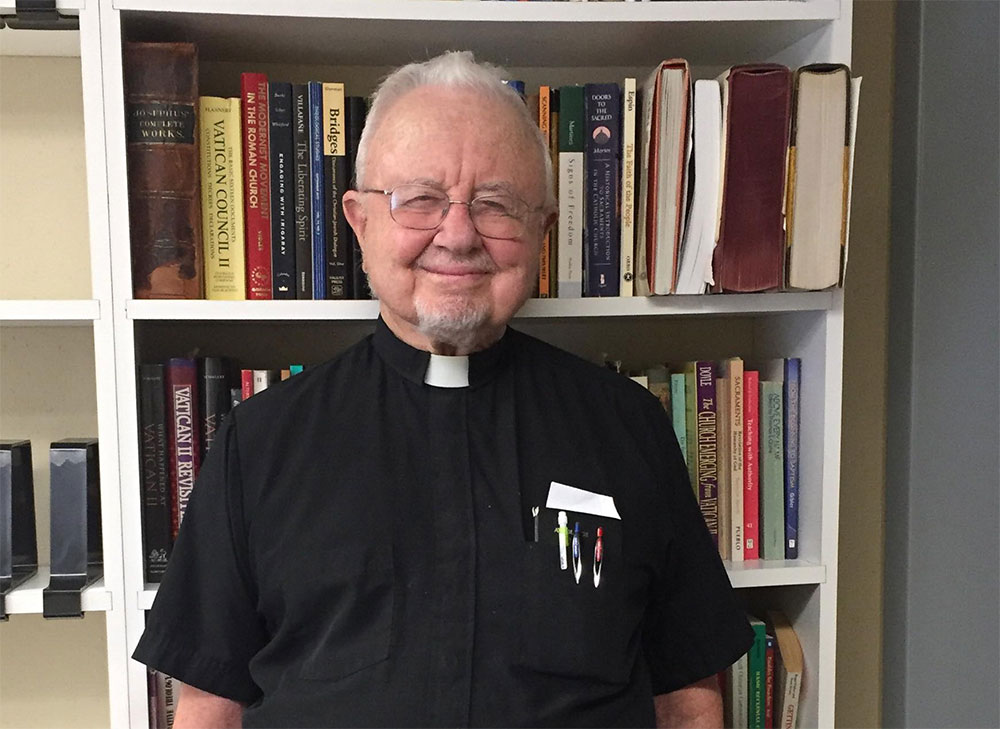 Father George Montague
It was the year of 1861. Charles Montague was the Justice of the Peace in Bandera County, a member of the South, and prior to that decision, every county had voted for either secession or to remain in the union. Father George Montague's great-grandfather wrote a letter to the governor of Texas in which he said that all the southern boys had left to the Confederate army. He told the governor that the northern boys were planning to hang him. He moved back to Columbia, South Carolina, for the rest of the war and then returned to Bandera and that's where the Montague Ranch was established and Father Montague was raised along with his brothers.
In 1858, Montague's great-grandfather was teaching mathematics at St. Mary's College in Columbia, South Carolina, before the war began. Sam Houston, a hero of Texas's independence, became a senator and was looking for surveyors to survey new land in Texas. Sam Houston persuaded Charles Montague to come to Texas and survey the land. For this reason, Montague made the big decision to move to Texas. The legacy of the Montagues has lived on ever since.
Father George Montague was born on July 8, 1929, on the Montague Ranch. Father Montague was born during the Great Depression that occurred after World War I. During this time, many people had to stand in long lines in order to get food. However, the Montague family did not experience the aftermath at those great lengths because they lived on the ranch with enough resources to survive this economic depression.
Then, came World War II and Pearl Harbor was bombed. Father Montague's eldest brother Frank served as a pilot instructor. The second eldest brother, Charlie, joined the Marines and served until November 1943 when he and his squad were on the first wave landing on Tarawa in the South Pacific. His entire squad was wiped out and unfortunately did not survive the attack. George's other brother, Bruce, was part of the Marine Air Force during the Second World War, the Korean conflict, and Vietnam. He was a highly decorated lieutenant colonel.
Father George Montague, however, had a different career path in mind. At a young age, he begged his father to join the Marianists, which was quite unusual during this time. By the age of eleven, he had found an interest with the Brothers of Mary, also known as the Marianist Brothers. After his junior year of high school, he was determined to join the Marianists, but his father wanted him to wait. However, he was very persistent with his father and at the age of 15 he was on the Texas Eagle train to St. Louis, Missouri and there he began his basic training for the Marianist life. Later on, he graduated from the University of Dayton and began teaching in St. Louis for two years. Then, he moved to Milwaukee and in 1954 was sent to a seminary in Switzerland and he was there for 6 years, completing his doctorate in St. Paul.
Returning to the States in 1960, he taught at Central Catholic High School for two years, after which he taught at St. Mary's University for 10 years and in 1972 was appointed rector of the Marianist seminary in St. Louis. He continued as rector when the seminary was transferred to Toronto, where he also taught at the Toronto School of Theology. He was later on a provincial team for three years and then was sent to Nepal and was there for six years, serving as director of Indian novices for the Marianists. He had two narrow escapes while trekking with the novices in the foothills of the Himalayas, the first when he mistakenly drank concentrated iodine, the other when he fell in a waterfall and was rescued by one of his novices.
In 1990, Father George Montague came to St. Mary's University and has been here ever since, teaching for a total of 39 years. Today, he says, "I feel very blessed. Every assignment has been a blessing for me and I'm delighted to be teaching such wonderful students at St. Mary's University." He continues to fulfill his mission to teach his students about the works of St. Paul in the Bible and he shares his knowledge and many experiences he has had in his faithful and devoted life to the church.
---
Alicia Castellanos is currently a sophomore at St. Mary's University in San Antonio, Texas. She was born in Houston, Texas and has lived in Texas her whole life. Her parents are from Honduras and immigrated to Texas when they were 23 years old. She is pursuing a Bachelor's degree in International Business and Marketing and is hoping to later on attend law school and earn her law degree in business law. She is part of the Mentors program here at St. Mary's University, and is actively involved in Enactus, International Business Association, and Rattlers for Life.
Posted October 11, 2018
Join 2 others and favorite this
TAGGED WITH: St. Mary's University, stmarytx.edu

Read stories from people across Texas
Browse All Stories