10% Good: The Story of a Hardworking Father
The Texas Story Project.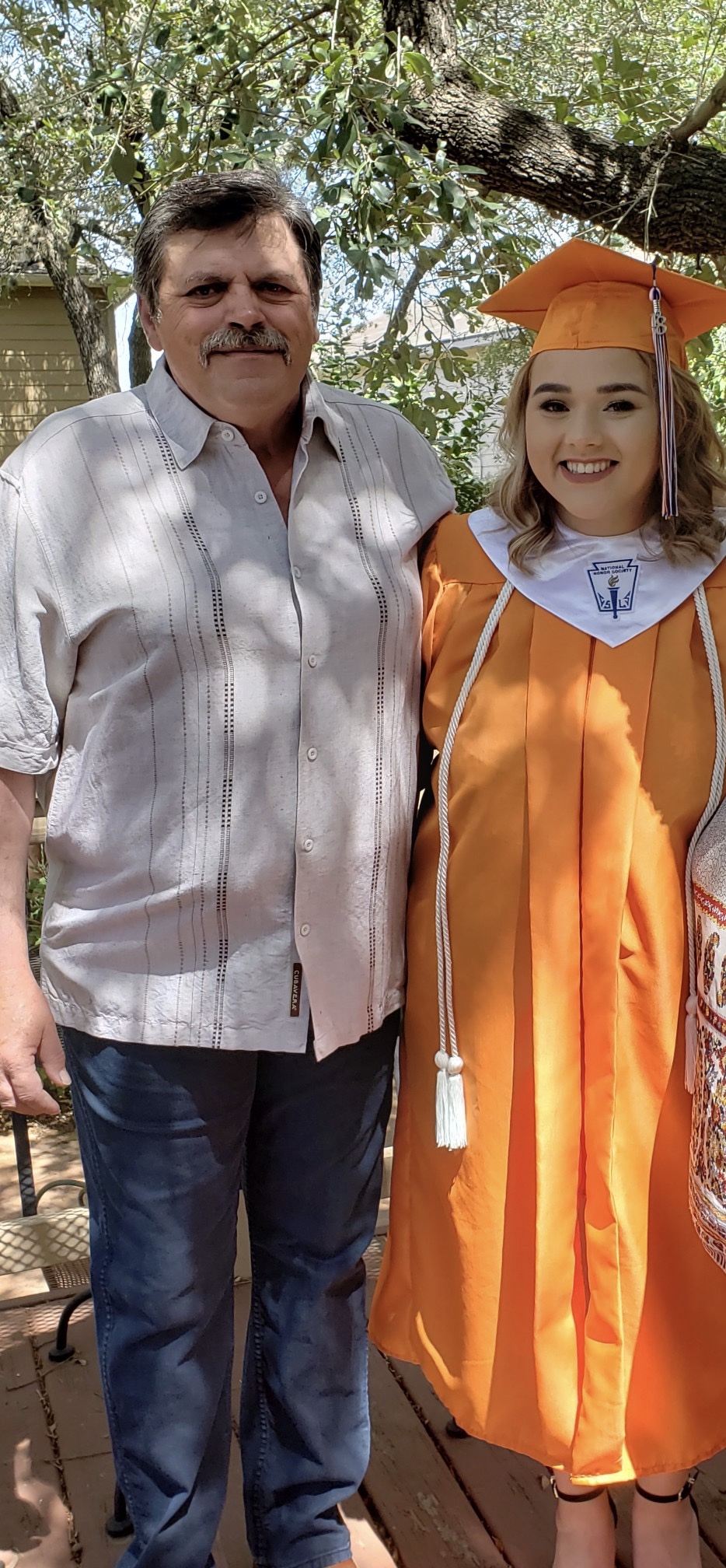 The 60s are an era of many notable events that have affected pop culture and politics. With the Cuban Missile crisis, the beginning of the Frankfurt Auschwitz trials, and the building of the Berlin wall, this era was definitely one to remember.
But as far as my family tree goes the era was most important in 1962 when an important member of my family was born. Robert and Joan Inman, living in Stuttgart Germany to fulfill Robert's now 13 years of military duties, had welcomed a little boy named David to their family on August 2, 1962. David was born into a family who dedicated everything they did to the family and its future.
Soon their time in Germany came to a close and the family was transferred to Columbus Ohio, where the first of his siblings, Regina, was born on July 25, 1965. Shortly after her birth, the family was transferred to Fort Sam Houston in San Antonio, Texas. This is where David would receive the first parts of his education and where his second sister, Patricia or "Patty", was born on February 17, 1967. A year later they moved yet again but to the Northeast side of town. This is when his father, Robert, was shipped off to Vietnam. During this time, David attended St. Thomas Moore Catholic School.
David jumped from school to school a lot which impeded his ability to keep friends and ultimately his education suffered from it as well. Football would help keep David sane for most of his school years, from playing with the Camelot Knights and the Wincrest Mustangs all the way to being a Rebel at Robert E. Lee High School. Being in such a hardworking family, David at a young age learned the value of work and started his own business mowing lawns to make a little extra money.
In school, David met a lot of friends who unfortunately had bad intentions and influenced most of David's actions. In his 6th grade year when he and his friends had acted up in class their teacher, Mrs. Apgar, made them stand in front of class and proceeded to tell the class who they'd end up being in society, that they weren't the people to look up to. David says that Mrs. Apgar ended up being 90% wrong and 10% right—him being the 10%. Changing his life and proving to himself and Mrs. Apgar that he'd be the 10% would take a lot of time and a lot of trial and error. Detention became a frequent for David. For the last 6 months of 6th grade, David not only would receive "free lunch" but had after lunch detention where he would help clean the lunch room. This is where he learned to mop and clean properly. But this was the start of his bad choices one of them being when finished with his "detention," he would go home instead of finishing classes for the day. By the end of the school year, by some grace of God he passed and was giving the okay to start middle school.
Middle school for David was a time to really test the limits. He would get in trouble a lot and never really attended class but someone was on his side, because he passed middle school. Unfortunately, he did end up getting in major trouble with the law which caused his whole family to move. Luckily, his father received a job offer at Robert E. Lee High School to teach German and World History. This move would become the biggest move their family ever made. Beginning high school was a fresh start for David. Although it would become a challenge with being the new kid and also having only a 2nd to 3rd grade reading level. David was determined to change his life for the better and he began meeting friends who would impact his life academically and socially.
During High School, David definitely had his plate full of responsibilities. At only 14 David landed his first job at Handy Andy Grocery store. David moved up in this job quickly, until he landed the night shift job. 3 days out of the week after football practice David would go to work until 4am and then at 6 am go in to football practice while also attending all his classes. At 16, Handy Andy made all employers take a lie detector test, this is where they would discover that David lied on his application and was too young for the job and shortly after they let him go. This job alone would prove his dedication to work and his desire for success. Shortly after losing his very first job he landed a couple of odd jobs for a while, until finding a job with a couple of his friends working at the airport.
After graduating high school David continued working for the airport where he would meet and clean the planes of Tom Benson, Clayton Williams, the Dillard's Family, Gerald Ford (after getting out of office), Muhammad Ali who was down to earth and very sharp, and, the best for last, David got to sit down with Jerry Lee Lewis who flew in for a concert at Flores country store. Jerry, after taking to David and a couple of co-workers for only 10 minutes, would tell them to get ready for after the concert. At around 10:30 pm Jerry returned with a guitar and a bottle of whiskey. Jerry acted like they were all best friends, he would tell stories about old touring days, he played music, and hang out for about three hours, until the pilots came in and told Jerry it was time to leave. During his time working here he got to fly in private aircrafts and work with aircraft closely. While working here, David would meet his first wife and begin his "train wreck life".
In 1984 he got married to his first wife and would soon begin driving semi-trucks. This is when he quit the airport and pursued a job out of Missouri, driving around the United States for three months. Soon he would have to quit this job because he was away from home too much. He then got a job at Oak Farms where he would deliver milk and ice cream until he broke his arm. While working here he met a man named Mike who would influence his decision to work for Butterkrust. When applying at Butterkrust, Mike and David went together in the Oak Farms truck and put in their applications. David got a call soon after and was told he'd be hired when his arm healed so David decided to rip off his cast so he could start working and of course he got away with this even with having to do a physical.
David's marriage began to fall apart due to him being away and drinking too much. His drinking would also lead David to wreck his only mode of transportation and almost get arrested for a DUI. But, incredibly, he got out of it because of a woman yelling "You can't arrest the bread man! How am I supposed to get my bread?" This unfortunate event would cause him to quit his job at Butterkrust. Beginning to feel lost and having nothing to do, David joined the army. Joining the army was no easy task especially for someone with a 2nd-3rd grade reading level but after 10 times of taking the test to get in, he finally passed. After going to basic training at Fort Lauderdale where he was 12th bravo combat engineer and would soon be a part of operation Desert Storm. He would also be stationed in Fort Orde California where he was a part of rapid deployment unit 14th engineers. After 4 years of duty he got out, receiving many awards and divorce papers that he admits made him a better person. Job opportunities came flooding in from all over the United States but he decided to come back to San Antonio. After returning he would receive a job to drive around the U.S. for two years. Then, soon after returning from that, news that his youngest sister Patty was to be married arrived. This is where he "met" Sue Kohler, my Mom. Sue, who was friends with Patty since high school, had just come back from visiting family in Mexico. She walked in wearing a jaw-dropping blue dress and David was mesmerized, "She looked so pretty in that dress."
After a first date at McDonalds and moving in together after only 2 weeks of dating, David proposed to Sue. They got married on April 1. Soon after, David would land a job at Conway Freight and have their first child, Alicia, on June 19,1996, and then Melanie on January 26,1998, and then Kelsey June 16, 1999, and finally David Inman Jr on November 27, 2001. David worked at Conway for 18 years and then got a job at Pumpco Energy Fracking Co. and has been working there for the past 7 and a half years.
David Joseph Inman, born into a hardworking family, is a man who does everything and anything for his family and the future of his family. He is also a man who if he hadn't decided to come back to Texas, his life might of ended up very different. His ambition and hard-headedness have influenced my siblings and me to do the absolute best we can. The many jobs he's had in his life are truly an example of his motivation to succeed. David, my father, has taught me most of what I know about this world and constantly fills my head with ideas of a better world to live in. David has truly proven that he is the 10% that was able to turn his life around and do good for himself and his family.
---
Kelsey Lynn Inman is a St. Mary's university undergraduate, Biology major and Business Minor. She dreams of going into Nursing (NeoNatal). Kelsey was born in San Antonio, Texas and raised in a loving home. She joined the High school Bowling team freshman year and got Varsity all 4 years, where she was Co-captain sophomore year and Captain Junior and Senior yeasr. Got into the National Honors Society junior year and graduated high school with honors. She cried alot because she was so proud. She also took a year off before going to college to decide what she was going to do with her life.The first thing on her bucket list is to see the Northern Lights in Alaska, and travel a lot.
Posted April 26, 2019
Join 2 others and favorite this
TAGGED WITH: St. Mary's University, stmarytx.edu

Read stories from people across Texas
Browse All Stories