From Rags to Trucks to Unconditional Love
The Texas Story Project.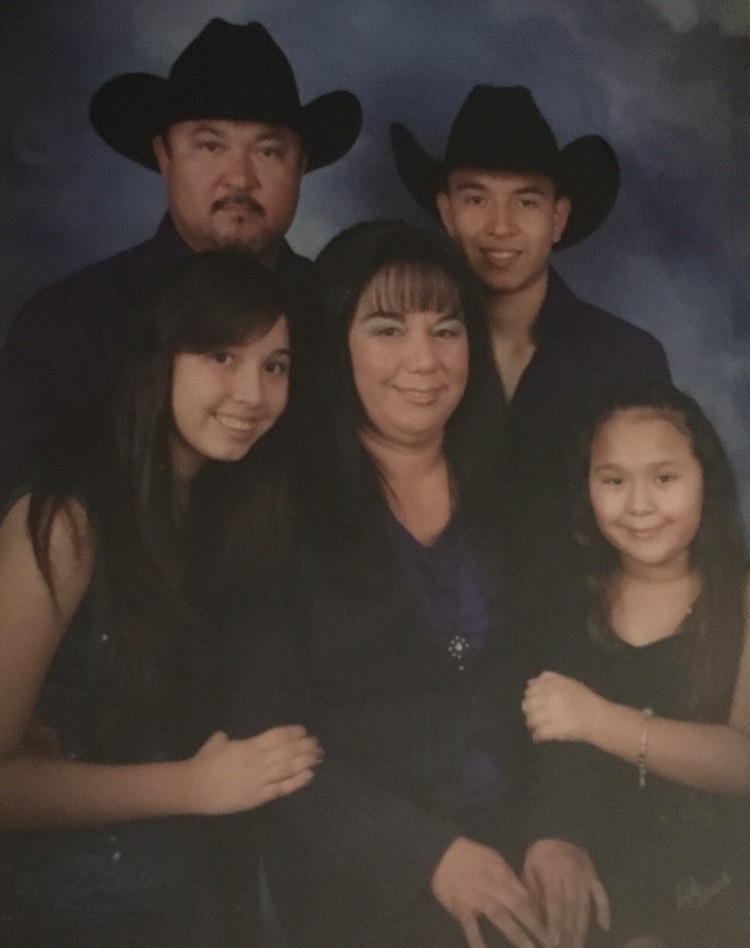 Leonel and Concepcion Vega with their three children Leonel Jr., Victoria, and Guadalupe Vega in February 2015.
Leonel Vega was born in Control, Tamaulipas, Mexico in September of 1975 to Guadalupe and Candelaria Vega and was raised in the poor town of San Francisco, Tamaulipas.
He is the oldest of seven sons, dropped out of school after sixth grade, and began working at the age of fourteen to help his father provide for the family. He migrated to Florida in 1992 and began working in the fields, picking tomatoes and lettuce and working with sugarcane. In 1999, Leonel began working for Ramon Sanchez Enterprise, where he learned how to drive a semi-trailer truck.
Concepcion (Lozoya) Vega was born in Matamoros, Tamaulipas, Mexico in June of 1968 to Casimiro Lozoya and Sanjuana Izaguirre and was raised in the same small town as Leonel Vega. Tragedy struck her when she was only nine years old, as her father passed away. But since she is the youngest of five, her siblings looked after her. Concepcion was in school in Mexico until her first year of high school. She then moved to the United States when she turned 16 to begin working in the fields.
Leonel and Concepcion met in 1993 in Clewiston, Florida and they married in 1995 in Ohio. They resided in the small Florida town and had two children, Leonel Vega Jr. (1997) and Victoria Vega (1999). They remained there until 2005, when they moved to Weslaco, Texas and had their last child, Guadalupe Vega, that same year.
In December of 2007, the company, Vega Trucking, was registered in court. Leonel purchased a 1994 Volvo semi-truck and worked in transporting caliche to help build expressway 83 in the Rio Grande Valley. Two years later, in 2009, Vega Trucking purchased a 1995 Kenworth truck and soon drifted from working with caliche to transporting materials on a flatbed trailer. The company progressed and was given permission to drive their trucks outside of the state of Texas.
In 2011, Concepcion's nephew, Fidencio Lozoya, drove down from Dallas, Texas to Weslaco to help the married couple establish an official office for the company. The company's office was established in their home in Weslaco, Texas. For three months, the company was administered by Fidencio as he taught Concepcion everything she needed to know to be able to run the company. She has been administering it since then. When the company purchased a 2000 Peterbilt, Leonel decided to make it his truck, establishing it as the main truck of the company.
Thanks to the company, the trucks of Vega Trucking have traveled throughout the whole state of Texas and most of the United States.
Managing a business is hard work, and the married couple suffered their share of downfalls and setbacks. Working together, however, the couple established the trucking company that would put their children through college. Even though Leonel and Concepcion have faced a fair amount of problems in both the company and their personal lives, they have managed to pull through and defend their marriage, family, and company time and time again.
Upon interviewing both Leonel and Concepcion, I asked them what their favorite part of moving to Texas has been, and both of them answered the birth of their last child and the family they formed. They proclaim how proud they are to see their children succeeding, each in their own way, and despite anything that the company has to offer, family has always and will always be the best thing Texas had to offer.
---
Victoria Vega is a first-generation college student born in Clewiston, Florida, but was raised in Weslaco, Texas. At a young age she volunteered for the San Martin de Porres Catholic School and discovered her passion in helping children. She graduated from Weslaco High School in 2018 and began attending St. Mary's University in the fall to receive her BA in Criminology. Victoria plans to receive her Master's degree in social work and one day open an organization to help future children obtain resources that they need to succeed.
Posted April 11, 2019
Join 50 others and favorite this
TAGGED WITH: St. Mary's University, stmarytx.edu

Read stories from people across Texas
Browse All Stories