Internee to Patriot: A Texan's Internment Experience
The Texas Story Project.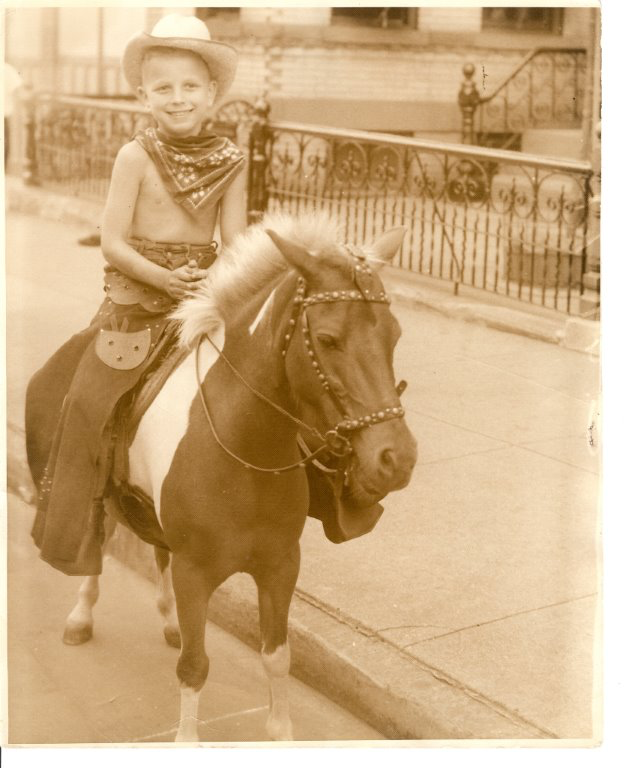 Art Jacobs photographed as a child in New York City.
I arrived in Texas in 1945, during the war. I was a 12-year old, all-American boy, born in New York City, but my whole family was imprisoned in Crystal City, Texas because my father was classified as an "alien enemy". When I arrived, I doubted how a city boy like me could ever survive in such a desolate and deserted place like this. I never imagined that my experience in Texas would prepare me for becoming a successful member of the United States Air Force, enabling me to learn to live in conditions that most of my friends in the Air Force had trouble adapting to in the desert of Morocco.
When we arrived at the camp in Crystal City, I was assigned to my room, a small hut like structure much like a small half of a duplex. My father, a painter by trade, proceeded to make updates to make the hut a little homier. I had to adjust to my meals being served in a mess hall instead of the dinner table, and to showering in a community bathroom (latrine) — conditions that were less than ideal.
I spent my days swimming in a pool on the camp's premises and, with my Japanese friend Ed Uno, flying the tallest, white six-sided kite I have ever seen. Although I would not describe my experiences at Crystal City as cruel, I would often take trips to the south end of the camp, along the Nueces River, where I often thought of the possibilities of me escaping if I had been given the powers of Tarzan. My Japanese friend and I would often times have to be careful of where we were stepping when flying our kite or visiting the river, as blister bugs ran rampant in the desert of South Texas.
Although interned, my life in Crystal City was not miserable; I was treated in a civil manner, and I tried to make the most of the situation. I was in the state of mind that most of us children had while interned in the camp.
When I grew up, I signed up to serve in the United States Air Force on a tour in Morocco. I was finally able to use the survival skills learned in Texas and prove my patriotism towards America. My Air Force buddies often complained of the "Dallas Huts" that we had to sleep in, the public latrines, and the food that was subpar. However, I soon proved that I was used to living like this; in fact, I had been in worse conditions as a young child. The creepy-crawlies that appeared on my arms in Morocco did not bother me, because as a child in camp there were many insects: blister bugs, spiders (black widows and tarantulas!), and scorpions. The Dallas Huts that let in day-long dust storms in Morocco never phased me, for in the Crystal City camp we had played in them.
I did not allow my experience as an internee to undermine my dignity or pride in being an American. I was determined to use my childhood experience under armed guard in a desolate south Texas camp in the service of my country. Regardless of what the government did to me, I will still serve my country, my people, and my home. In fact, it was an honor for me to serve my country.
---
Nicole Johnson is a Freshman studying History at St. Mary's University. This story was written in honor of Art Jacobs, an internee detained at Crystal City, and is composed of the recollections he shared with Nicole.
Posted March 12, 2018
Join 40 others and favorite this
TAGGED WITH: St. Mary's University, World War II, stmarytx.edu

Read stories from people across Texas
Browse All Stories