A Series of C-Sharps
The Texas Story Project.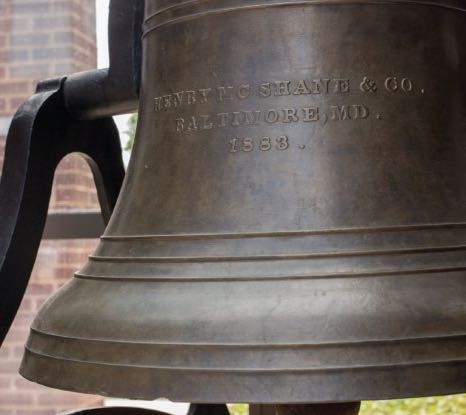 The bell that has called Abilene to church for over 130 years.
It was a series of C-sharps that first called Abilene to worship in 1883. The tone rang forth from the belfry atop the small Methodist church located at South Second and Butternut. That same note, from that same bell, continues to sound each Sunday as one of Abilene's oldest congregations gathers for worship.
Just weeks after the founding of Abilene in 1881, local Methodists organized into a congregation. They would be the first group to construct a place of worship. In 1882, they began to build a church at South Second and Butternut. The small frame church cost $2,000 to build, and it stood ready for worship, weddings, and funerals by the summer of 1883.
Perched on the roof was a small spire reportedly constructed by an itinerant carpenter named John Hancock from Cambridge, Massachusetts, who specialized in steeples. The small spire housed a copper bell that was cast in 1883 by the Henry McShane foundry of Baltimore and shipped to Abilene on the Texas and Pacific Railway that same year. A second sanctuary was built less than a decade later, and the bell was moved to its new steeple. In 1925, a third building was constructed, and the 1883 bell was again hoisted into a new home.
A fourth building was ready to receive worshippers on January 2, 1966, but because the 1925 sanctuary was not razed, the forgotten bell remained in place until 2008, when the old redbrick building was finally demolished. The long-silent bell was removed and polished, and a custom frame was built so that this bit of Abilene history in plain sight could be prominently displayed in the church foyer.
The 131-year-old bell now rests in the foyer of the church, and each Sunday that original bell still sounds out the deep C-sharp that has called Abilene to church from her earliest days.
Jay Moore teaches history at Abilene High School and is the creator of History in Plain Sight, a film series documenting Abilene's past.
Posted December 02, 2014
Join 3 others and favorite this
TAGGED WITH: Preserving History

Read stories from people across Texas
Browse All Stories