Breaking the Law (At Age 11)
The Texas Story Project.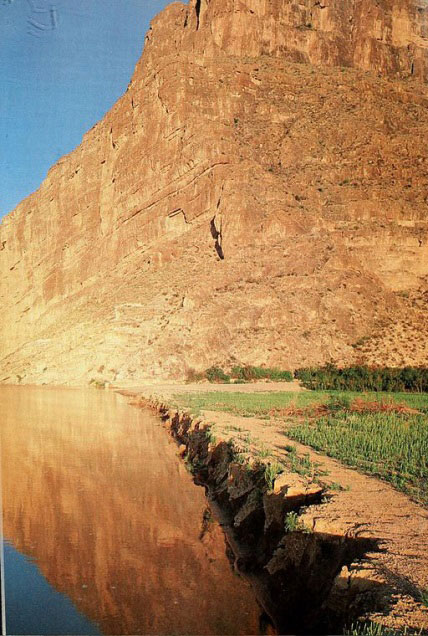 Big Bend National Park. Image courtesy of National Park Service, via Wikimedia Commons.
This is a story about how I committed a jailable offence when I was 11.
I was on vacation in Big Bend National Park. We chose Big Bend not only for its scenic views but also because my parents are really into birdwatching. My dad, Howard Smith, has seen almost every species of bird in North America and is now expanding his trips to Central and South America. He is in charge of the Harris County bird count, which is where a bunch of birders wake up at 4 a.m. on New Year's Day to see as many species of birds in the county as they can in one day.
But back to Big Bend National Park, located in Brewster County, where this story takes place. Just for some facts, Big Bend National Park accounts for 118 miles of the border between Mexico and the United States. Big Bend's website states, "The middle of the deepest channel of the Rio Grande is the international boundary….Landing on the Mexican bank of the river is considered an illegal crossing and could result in fines and jail time. However, limited exceptions are made when safety is a consideration: to bail/repack a boat, scout rapids, or seek shade when overheating."
As you could imagine, 11-year-old Matt got fed up from time to time with birdwatching. Mainly because it requires a lot of patience and silence, which are not my best abilities. So during this particular vacation, after a particularly boring day filled with my complaining, my mom decided to take me on a river rafting trip, allowing my brother and dad to watch birds in peace. Our tour guide's name was something like Carl, or Lou, or Al. I just remember the name reminding me of a mechanic rather than a nature guide. We loaded up our boat with sandwiches and proceeded to "set sail" on the Rio Grande.
As I look back, I realize I was not very impressed with the speed and intensity of the rafting, but being more mature now, I understand that I should have been focusing on the surrounding scenery, because it was breathtaking. The amazing transitions, narrow canyons to flowing desert hills, are very specific to the American Southwest. We were approaching lunch time, and Carl suggested we make for the shore. In my 11-year-old naivety I thought, "Surely he means the bank to my left," (the American side), but I was 100% mistaken. We shored our boats in the Mexican state of Coahuila, and proceeded to have a perfectly enjoyable lunch of ham and cheese sandwiches, fruit, and soda. Despite my anxiety, the lunch went off without a hitch. We then got back into our raft and continued our journey.
Later that night, I explained to my brother that I was cooler than him because I had lunch in Mexico, and then he proceeded to punch me in the arm repeatedly until I cried. However, I'm glad to have this anecdote: When I was 11, my family paid a man named Carl to take me and my mother across the border.
Matt Smith is a University of Texas graduate.
Posted August 29, 2014
Join 4 others and favorite this
TAGGED WITH: Children and Youth, Science and Nature

Read stories from people across Texas
Browse All Stories