Sunset
The Texas Story Project.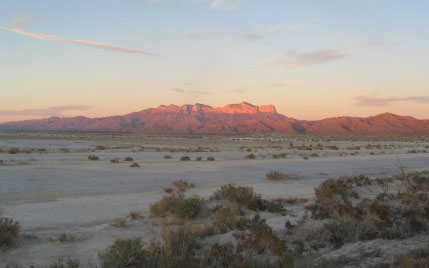 West Texas sunset.
One morning, when I was 25 years old, I drove into the desert of West Texas, traveling east from California. I was headed for Austin, where I'd grown up. I'd left the state eight years earlier, after high school, and had lived in a handful of places, both around the country and abroad. I'd noted myself feeling nostalgic for Texas, but something potent happened that morning.
Crossing the state line, I was stilled and quickened by the mountains, the crumbling, tumbledown piles of stone, and by the baffling distances. This was a place for a person with a contemplative disposition to live. It offered a kind of escape, and an opportunity for sanity and latitude in life and thought. It was Texas on a mythic scale, though the details and textures were familiar from childhood – the thorny character, the counterpoint of exposed limestone and prickly pear. I turned on the radio and listened to Willie Nelson, singing about the land of the uncloudy day. This certainly looked like it.
I moved to Alpine and lived and worked there for a decade, and later, in Marfa. I came to identify with West Texas. When I left, even for a week, even for four days, I felt homesick. I had grown accustomed to the openness and spaciousness of the landscape and the life. Eventually, I began to long for an even more direct encounter with this extreme landscape – to follow the lure of lonesomeness that had initially drawn me here. The Guadalupe Mountains – at the far, high edge of the state – exerted a pull. After stewing on it for several years, I bought a 10-acre parcel of desert land west of the mountains, in Hudspeth County. I moved there in an RV, and later built a cabin, launching a solitary adventure. I was fortunate to find a job as the editor (and only employee) of a weekly newspaper in Dell City, a tiny community in the shadow of the Guadalupes' towering western escarpment.
Each afternoon and evening, I watch that escarpment light up and move through a series of changes, as the 1,000-foot limestone cliffs that cap the mountains catch the rays of the declining sun. The mountains glow – bronze, gold, rose, or with a radiance that can only be described as celestial – over a sea of desert. It's reliably sublime, and different each day. Though this show of light and limestone is visible over more than a thousand square miles, there are almost certainly fewer than a thousand people who see it each evening – farmers and cowboys, mainly, and a few "desert rats" like myself. I've learned that this daily spectacle, the light on Texas's highest peaks, is as much a touchstone for my friends and neighbors, for the lifelong residents, as it is for me – a beauty that strains comprehension, and a sign that we are home.
Andrew Stuart lives west of Dell City and is the editor of the Hudspeth County Herald and Dell Valley Review.
Posted November 10, 2014
Join 7 others and favorite this
TAGGED WITH: Science and Nature, Western Heritage

Read stories from people across Texas
Browse All Stories