American Indians
A story told for thousands of years.
More than 14,000 years ago, peoples arrived to what we now call the Americas. Over thousands of years, diverse American Indians built empires on this land, constructing sophisticated cities, and developing elaborate trade networks and complex social systems.
But in the 16th Century, when Europeans arrived on the shores that would become the Texas Gulf Coast, these longstanding American Indian civilizations were disrupted. Control over resources, including food and land, was taken from them, displacing and devastating many powerful American Indian tribes–and destroying many others.
We must be wary...

Naguatex Caddi
Coastal Inhabitants
What is now known as the Texas Gulf Coast was home to many American Indian tribes including the Atakapa, Karankawa, Mariame, and Akokisa.
They were semi-nomadic, living on the shore for part of the year and moving up to 30 or 40 miles inland seasonally. They adapted well to life on the coast, fishing, hunting, and gathering roots and other plant foods. They invented resourceful ways to solve everyday challenges, including fending off mosquitos by covering their bodies in shark and alligator grease.
Karankawas
Karankawas were the first people Spanish explorer Álvar Núñez Cabeza de Vaca met when he washed up on the Texas shore near Galveston Island in 1528. Their meeting was the first documented encounter between American Indians and Europeans in present day Texas. While the Karankawa fed and sheltered Cabeza de Vaca and his companions, the tribe responded very differently to the French and Spanish colonizers who arrived later. Karankawas initially greeted René Robert Cavelier, Sieur de La Salle, and the members of his expedition when they arrived in Matagorda Bay in 1685. However, after La Salle's men stole a canoe from the Karankawa, relations soured and the two groups fought against each other frequently. After several hostile acts on both sides, Karankawas attacked La Salle's settlement, Fort St. Louis, in 1688, leaving no survivors except for the children, who were adopted into the tribe.
When the Spanish began establishing a presence in Karankawa territory in the 1700s Karankawas resisted the Spaniards' efforts to convert them to Christianity and confine them to missions. When Franciscan priests built Mission Nuestra Señora del Espíritu Santo de Zúñiga at Matagorda Bay, the nearby Karankawas refused to relocate there or accept the priests' teachings. Within just four years, the Spanish relocated the mission elsewhere to serve other tribes.
While Karankawas withstood initial contact with the Spanish, their fortunes changed in the early 1800s. Comanche attacks, disease, and conflicts with European-Americans all took a heavy toll on the tribe and their numbers began to decline sharply. In 1858, the few remaining Karankawas were living near Rio Grande City when a group of men led by Juan Nepomuceno Cortina attacked and killed them all, decimating the tribe.
Farmers and Traders
While some American Indians, such as Karankawas, moved seasonally to fish, follow wild game, and gather plants for food, others stayed in one place and built large cities and farms.
Caddos living in East Texas and Jumanos living in West Texas were both farmers and traders who developed wide-ranging trade networks and relationships with other American Indian tribal groups and Europeans.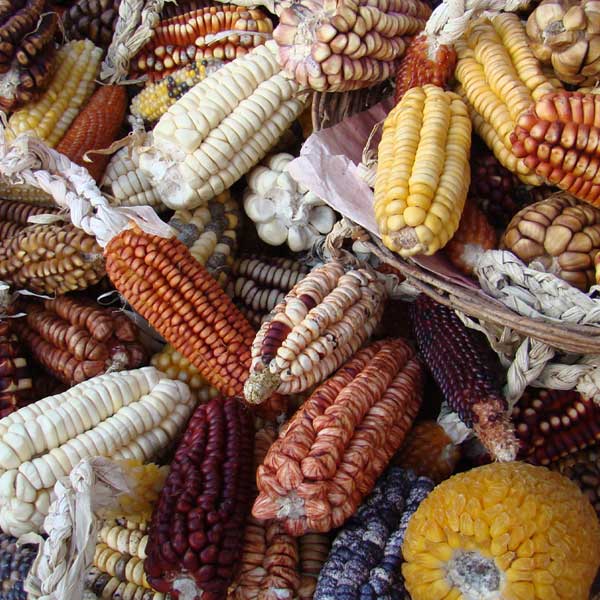 Caddos
Since their arrival in present day Texas more than 1,200 years ago, Caddos built large village complexes, created elaborately designed ceramics, and traded in networks that spanned thousands of miles. Caddos lived in settlements of several hundred people. They lived in a matriarchal society, meaning they traced their descent and inherited leadership positions through the female line. They built earthen mounds at the center of their villages for their religious ceremonies and burials of social elites. They farmed corn and other crops, and hunted deer, rabbits, and bison.
Around 1500, Caddos developed a complex political system made up of alliances between different bands and tribes, and reached a peak population. Located between the Great Plains, Eastern Woodlands, and present-day Arizona and New Mexico, Caddos were in an ideal location to trade with tribes all over the continent. They maintained vast trading networks, exporting salt, pottery, and bois d'arc wood for making bows, and importing seashells, copper, and flint.
When French and Spanish merchants arrived in Texas and the surrounding area, Caddos began trading with them as well. This contact brought new diseases that had a devastating impact. Between 1646 and 1816, the Caddo population dropped by 95%. In 1859, the United States government forced 1,050 Texas Caddos to relocate to a reservation in present-day Oklahoma, removing them from the homeland they had occupied for more than 1,000 years.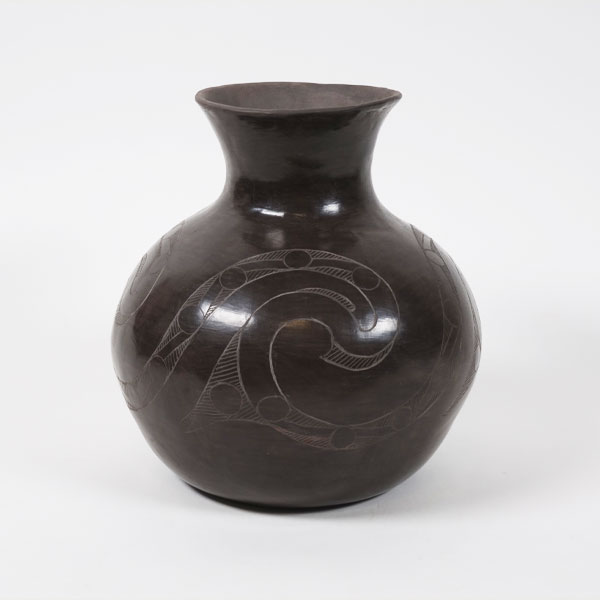 Jumanos
Deep in present-day West Texas, Jumanos developed their own complex political alliances, trading networks, and farming practices. They lived along rivers and near springs, where they raised corn, squash, and beans. They traded with other tribes for things like pottery, animal hides, salt, and piñon nuts. Jumanos developed good relationships with Europeans, serving as guides to Spanish explorers and sometimes even acting as middlemen between other tribes and the Spanish government. In the early 1700s, Apaches began moving into Jumano territory. Unable to fend off the invaders, Jumanos eventually joined the Apaches. Within 100 years, the Jumano no longer existed as a separate tribe.
People of the Plains
Comanches and Apaches ruled large regions of present-day north and west Texas on horseback, hunting bison and raiding villages with remarkable effectiveness.
Pushed out of their homelands on the Great Plains, these tribes arrived in Texas looking for new territory. They found a land already occupied by Jumanos, Coahuiltecans, Cocoimes, Chisos, Tobosos, Tawakonis, Wacos, Kiowas, and other tribes, creating conflict over who would control the land.
Comanches
In the late 1600s and early 1700s, multiple, independent bands of Comanches migrated south from present-day eastern Colorado and western Kansas. They waged war on the other tribes in their path, including the Apache. Within a century, they controlled a vast territory called the Comanchería. Comanches roamed this territory where they hunted bison and deer, traded with their neighbors, and raided their enemies' settlements.
While Comanches displaced Apaches and other tribes when they moved into the region, they soon found themselves threatened with the same fate. Comanches were able to make relative peace with the Spanish and Mexican governments. However, after Texas won its independence in 1836, Texas leadership began a process of extermination. Increasing numbers of Anglo Americans poured into the Republic of Texas, creating conflict with the Comanches, who had controlled the land and its resources for nearly 150 years.
The conflict escalated when Texas joined the United States and more Anglo settlers moved in, squeezing Comanches into a smaller and smaller territory. The systematic slaughter of the bison herds by new Anglo settlers, stressed Comanches even further. By the 1870s, Comanches had been weakened by disease and decades of war. Unable to fight any longer, Chief Quanah Parker surrendered and led his people to a reservation in present-day Oklahoma in 1875.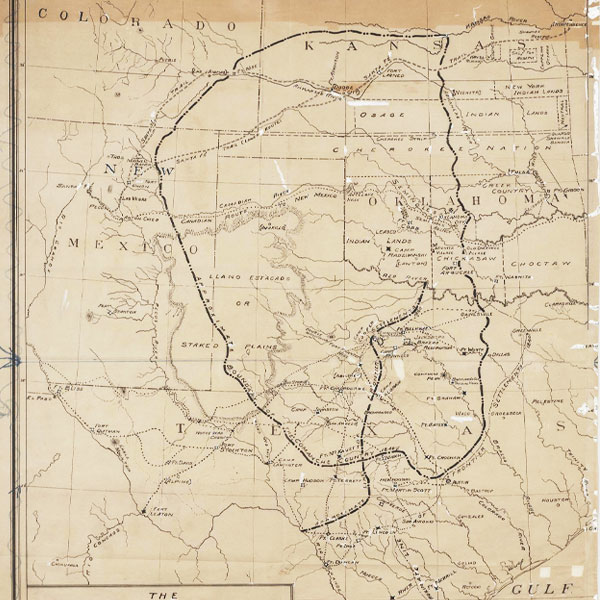 American Indians in Texas Today
American Indians from diverse tribal nations continue to live and work in Texas today. Regardless of their tribal affiliations, many keep their ancestors' memories, traditions, cultures, and languages alive.
Only three federally recognized tribes still have reservations in Texas, the Alabama-Coushatta, Tigua, and Kickapoo. The state recognized Lipan Apache Tribe of Texas has its headquarters in McAllen. The Caddo, Comanche, and Tonkawa are officially headquartered in Oklahoma.
Banner image Comanche Feats of Horsemanship, 1834–1835, by George Catlin. Image courtesy Smithsonian American Art Museum, Gift of Mrs. Joseph Harrison, Jr., 1985.66.487