African Americans
People of African descent have been inextricably linked to the history of the land now known as Texas since the earliest days of colonization
African American Texans have created culture and community despite being subjected to racism and oppression in the form of enslavement, segregation, and violence, and have improved the state of Texas with valuable cultural and historical contributions.
I belong to myself now.

Harriet, freed woman, 1865
African People Under Spanish Rule
With their arrival in 1528, people of African descent, enslaved and free, were instrumental in the settlement of Spanish Texas.
People of African descent were part of the population that settled Texas in the 17th and 18th centuries. This population included free and enslaved black and mixed-race people, as interracial marriage was legal and very common. The enslaved population was afforded some rights under Spanish rule, including the right to purchase freedom, protest against abuse, or obtain new masters if they were being treated unfairly.
Though African people occupied the lower end of the "castas" racial categorization system of Spanish Texas, some African and mixed-race people were able to ascend the classification system by gaining wealth and prestige through their labor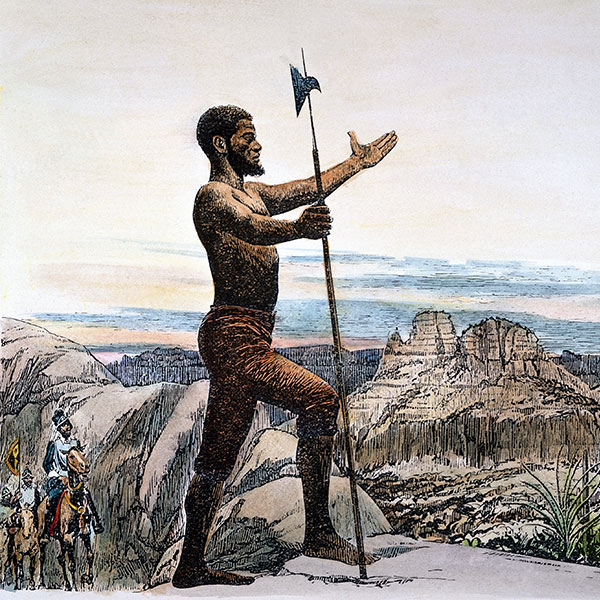 Mexican Independence and Texas Revolution
Mexico gained its independence from Spain in 1821 following an 11-year revolutionary war. Under Mexican rule, slavery was officially outlawed in Texas by 1829. However, special consideration given to Anglo settlers meant that the enslaved population of Texas continued to grow, as enslaved men and women were forced to accompany their enslavers on their journey into Texas.
Following Mexican Independence in 1821, the Mexican government adopted policies to gradually outlaw enslavement in the newly established country, but Anglo settlers actively worked to ensure slavery was preserved in Tejas. A number of enslaved African Americans arrived with Stephen F. Austin and his Anglo settlers in 1824. By the end of 1825, there were around 443 slaves in the colony —almost a quarter of its population. By the time that clashes with the Mexican government led to the Texas Revolution in 1835, more than 5,000 enslaved people lived in Texas.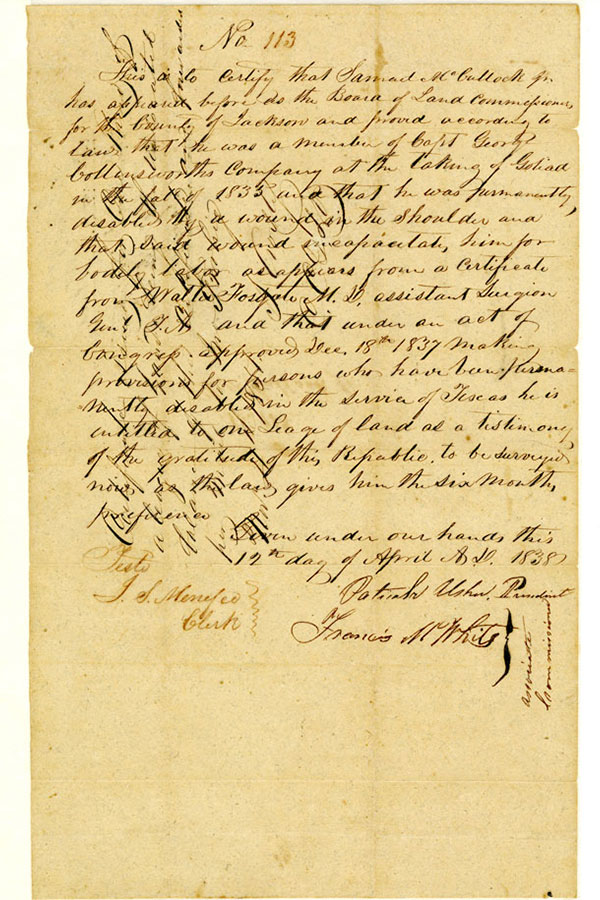 Slavery in Texas
African American life after Texas Independence was shaped by new and existing legal constraints, enslavement, and violence. Free blacks struggled with new laws banning them from residence in the state, while the majority of black Texans remained enslaved.
The Texas Constitution of 1836 gave more protection to slaveholders while further controlling the lives of enslaved people through new slave codes. The Texas Legislature passed increasingly restrictive laws governing the lives of free blacks, including a law banishing all free black people from the Republic of Texas.
Texas's enslaved population grew rapidly: while there were 30,000 enslaved people in Texas in 1845, the census lists 58,161 enslaved African Americans in 1850. The number had increased to 182,566 by 1860.
Most enslaved people in Texas were brought by white families from the southern United States. Some enslaved people came through the domestic slave trade, which was centered in New Orleans. A smaller number of enslaved people were brought via the international slave trade, though this had been illegal since 1806.
Most enslaved African Americans in Texas were forced into unskilled labor as field hands in the production of cotton, corn, and sugar, though some lived and worked on large plantations or in urban areas where they engaged in more skilled forms of labor as cooks, blacksmiths, and carpenters. While there were no large-scale slave insurrections in Texas, enslaved people resisted in a variety of ways, the most common being running away. Enslaved people made personal connections, and established family relationships wherever possible despite the odds, which was made more difficult by the changing nature of Texas and its white population.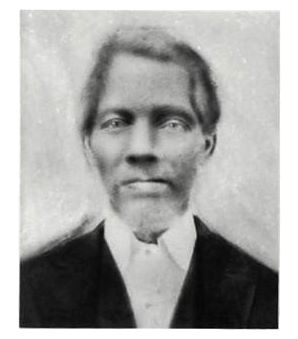 De slaves was about de same things as mules or cattle, dey was bought and sold and dey wasn't supposed ter be treated lak people anyway. We all knew dat we was only a race of people as our master was and dat we had a certain amount of rights but we was jest property and had ter be loyal ter our masers. It hurt us sometimes ter be treated de way some of us was treated but we couldn't help ourselves and had ter do de best we could which nearly all of us done.
–Mollie Dawson, enslaved in Navarro County, Texas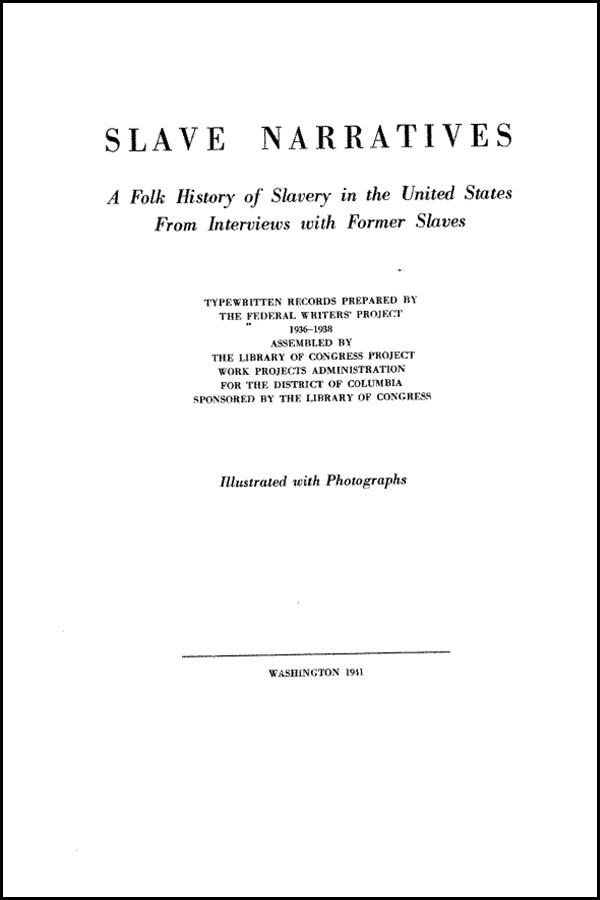 Civil War and Emancipation
Life for enslaved African Americans remained relatively unchanged during the Civil War. However, with Union General Granger's emancipation announcement at the end of the war, African Americans celebrated their independence and began new lives as freedpeople.
On February 23, 1861, Texans voted to secede from the Union and joined the Confederate States of America. Because Texas remained relatively unscathed by fighting during the war, life for enslaved African Americans continued in much the same way as it had before the fighting. Felix Haywood, who worked as a cowboy while enslaved in San Antonio, described his experience of the war when interviewed in 1937: "It's a funny thing how folks always want to know about the war. The war wasn't so great as folks suppose. Sometimes you didn't know it was going on. It was the ending of it that made the difference."
While Felix Haywood's life was undisturbed by the war, other enslaved people experienced upheaval. Some enslaved people were moved from the eastern areas of Texas or from other southern states to keep them away from Union troops, and many were made to labor for the Confederate Army, building fortifications and other methods of defense.
On June 19, 1865, at the end of the Civil War and over two years after President Lincoln issued the Emancipation Proclamation, General Gordon Granger landed in Galveston and declared that enslavement was ended. However, many black people in Texas remained enslaved for months, and in rare cases years, when their owners refused to release them. Many newly emancipated people celebrated their independence at the holiday subsequently known as Juneteenth, though some found their celebrations thwarted by disgruntled former slave-owners. Some people immediately set off in search of lost family and friends, while others experienced confusion and uncertainty about their futures as freedpeople.
What I likes best, to be slave or free? Well, it's this way. In slavery I owns nothing and never owns nothing. In freedom I's own the home and raise the family. All that cause me worriment, and in slavery I has no worriment, but I takes the freedom.

Margrett Nillin
Reconstruction
Reconstruction, a period when people across the United States attempted to reckon with the political, economic, and physical destruction of the Civil War, was a difficult time in Texas, and throughout the country. This era was marked by intense violence and extreme social turmoil, and had lasting implications at the local, state, and federal levels. State and national governments worked to reintegrate Confederate states into the Union, while African Americans navigated the increasingly complicated process of freedom.
Black Codes instated by an all-white state Constitutional Congress in 1866 severely limited black people's rights. These Black Codes included labor, vagrancy, and apprenticeship laws that were meant to mimic the conditions of enslavement. White Texans, reacting to the end of the Civil War, increased violence and attacks against African Americans. The Ku Klux Klan was present in Texas by 1868 and its members intimidated and assaulted freedpeople, usually to reduce black political participation. The Freedman's Bureau, which began in Texas in September 1865, attempted to curb this violence. Its success diminished over time. In addition to protection against white violence, the Freedman's Bureau aimed to assist newly freed African Americans with legal matters, education, and employment.
Newly freed African Americans, most of whom had few resources with which to start their new lives, found themselves increasingly limited by the legacies of enslavement. Many were forced to sign sharecropping contracts with their former owners, while others were incarcerated at rapid rates. Despite these difficulties, African Americans began constructing new forms of family and kinship ties, while making gains in literacy and education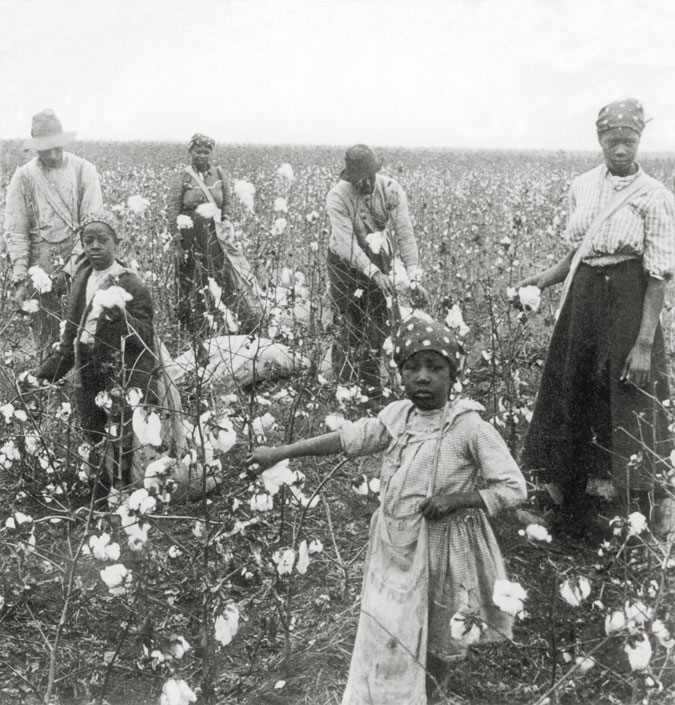 Political Advancement
With the implementation of national Reconstruction, African Americans became more involved in state political processes, and some black men, including G.T. Ruby and Matthew Gaines, served in the Texas Legislature.
Starting with the election of nine African American delegates to a state constitutional convention in 1868, African American men began a brief period of political engagement. George T. Ruby, a former Freedmen's Bureau agent originally from New York, was a particularly prominent black voice in Texas politics, serving in the Texas Legislature from 1870 until 1874. Matthew Gaines, formerly enslaved in Fredericksburg, Texas, was a Baptist minister who served as the Senator from the Sixteenth District in the Texas Legislature during Reconstruction. Both Gaines and Ruby advocated for the rights of freedpeople during their tenures in office, and both were forced to relinquish their seats after Texas Democrats (the party then ruled by former slaveowners) regained political power.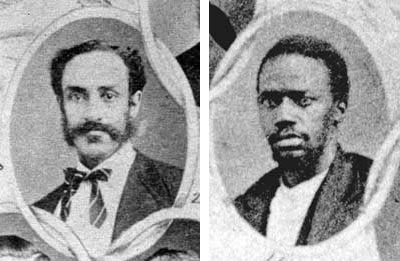 Segregation and Violence
With the end of Reconstruction, segregation and suppression controlled the physical movement, social advancement, and political participation of African Americans in Texas.
Reconstruction in Texas officially ended with the inauguration of Democratic Governor Richard Coke in January 1874, and the brief political engagement of Texas African Americans was severely curtailed until the mid-twentieth century. White Texans utilized violence, intimidation, and legal means to limit black suffrage, and passed a poll tax in 1902 to restrict the political participation of poor people of all races. The most effective means of reducing black political participation, however, was the white primary, which restricted voting in Democratic primary elections to white Texans. Many African Americans challenged the legality of this system, including Lawrence A. Nixon in 1924 and Richard R. Grovey in 1935. Nevertheless, the Texas Democratic Party's use of the white primary persisted until the Supreme Court struck it down in 1944.
Laws requiring segregation of railroad cars, waiting rooms, restrooms, restaurants, entertainment establishments, and residential neighborhoods also restricted African American mobility and advancement during the late 19th and early 20th centuries. The Ku Klux Klan, which experienced a national resurgence in the 1920s, enacted violence and terror on Texas African Americans, and lynching became an increasingly prevalent form of racial intimidation. Between 1885 and 1942, there were 468 documented victims of lynching in Texas, the vast majority of whom were African American.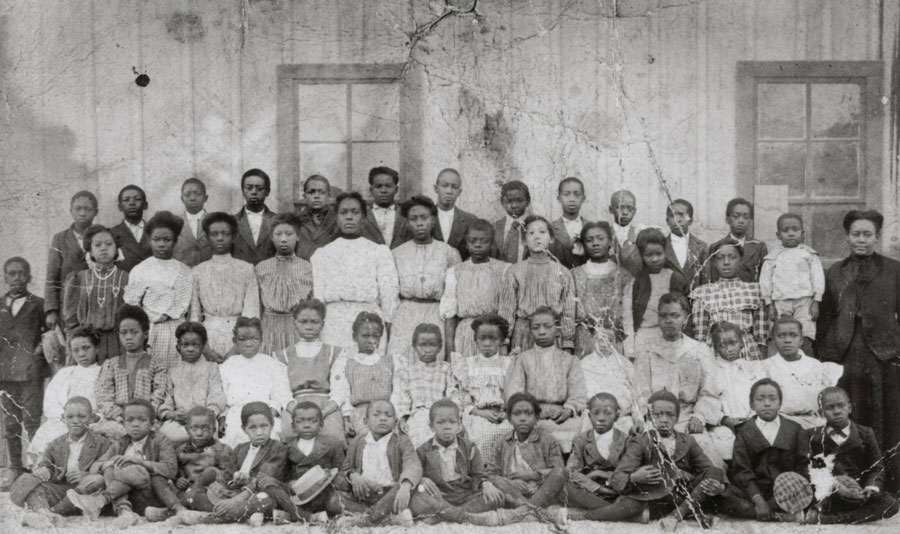 Community and Resistance
While African Americans fought against discrimination and repression, they also organized in their neighborhoods, participated in war efforts, and influenced the larger state of Texas with valuable cultural, political, and economic contributions.
Black people built neighborhoods, participated in churches and organizing efforts, and owned businesses and newspapers, all while living under the shadow of racist violence and oppression. While schools continued to be segregated until later in the 20th century, black Texas educators including Melvin B. Tolson at Wiley College in Marshall and W. Rutherford Banks at Prairie View worked to improve historically black colleges and universities. Mary Branch was appointed president of Tillotson College in Austin, Texas, in 1930, and transformed the college from a struggling junior college for women to a successful four-year college and led the way for the future merger with Samuel Huston College, forming Huston-Tillotson University in 1952.
In addition, African Americans participated in the war efforts of the First and Second World Wars. Black men were called up for enlistment at higher rates than their population percentages, while black women worked in the defense industry and supported troops from home. Doris Miller, born in Willow Grove, Texas, distinguished himself during the Pearl Harbor attack on December 7, 1941, while Leonard Harmon, originally from Cuero, became the first African American to have a warship named after him, for his heroism during the battle of Guadalcanal in 1942. Black men and women also enjoyed more employment options with the desegregation of the defense industry after the enactment of Executive Order 8802 in 1941.
At the same time, the black rural population declined as more African Americans moved to urban areas in Texas. Black people increasingly participated in urban industry, and the number of black professionals rose from around 400 in 1940 to almost 4,000 by 1960. This number continued to increase throughout the twentieth century.
Black musicians and athletes, including Blind Lemon Jefferson and Jack Johnson, achieved national recognition for their contributions to Texas and American culture, while John Biggers, J. Mason Brewer, and many others influenced state and national art and literature. Black Texans continued to work to confront racism and segregation, and laid the groundwork for the progress that would be achieved during the Civil Rights Movement.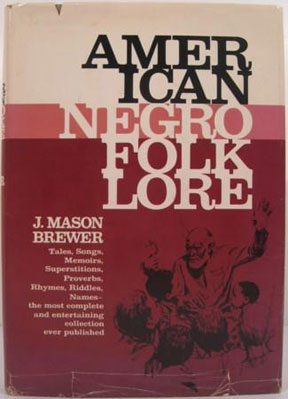 The Civil Rights Movement in Texas
African Americans continued to confront racist legislation and legal segregation, organizing in their communities against their continued oppression. The Civil Rights Act and the Voting Rights Act were catalysts for increased black political and social participation in the mid-20th century.
The National Association for the Advancement of Colored People (NAACP) in Texas, target of racist ire since its formation in the state in 1915, chipped away at legal restrictions on black rights and won important cases in Smith v. Allwright, which declared white primaries unconstitutional in 1944, and Sweatt v. Painter, which desegregated the University of Texas Law School in 1950.
African American women, including Lulu B. White and Juanita Craft, were instrumental in political activism. Lulu B. White was an important organizer and activist in the first half of the 20th century. White became the president of the Houston chapter of the NAACP in 1939, and transformed her chapter into the largest in the South by 1943. She later served as the state director of the NAACP.
Juanita Craft worked with Lulu B. White at the NAACP, and was the first black woman to vote in Dallas in 1944. During her long career in Texas politics, Craft was responsible for the 1955 Dallas Youth Council protest of Negro Achievement Day at the Texas State Fair, and was involved in desegregation efforts at the University of Texas and North Texas State University. Later, she was elected City Councilwoman for the Dallas City Council.
While African American women worked for progress on the state and local levels, federal policies also created opportunities for black Texans. The passage of the Civil Rights Act in 1964 and the Voting Rights Act in 1965 allowed for more black participation in the political process, and helped people achieve more opportunities for advancement in employment, and state and national recognition for contributions to the arts, music, athletics, education, food, politics, science, and business.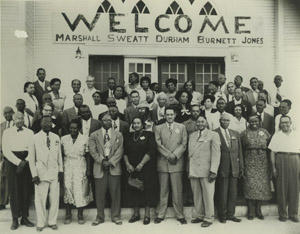 The Story Continues
The Story of Texas cannot be told without recognition of 500 years of African American impact and contribution to the state's legacy. African descended people in the state of Texas have encountered incredible difficulty, but have continued to build community and create identity throughout their presence in the state. While Texans continue to work toward equality and justice, African Americans remain an integral part of the larger story of the state of Texas.