GUITAR
The Instrument that Rocked the World
On view May 19, 2021 to October 3, 2021
Inside the Exhibition
Beginning with its origins in the ancient world more than 5,000 years ago to the instrument we know today, the guitar has made a significant impact on music and pop culture. GUITAR: The Instrument That Rocked the World explores the history of the world's most recognized instrument and immerses visitors in diverse genres of music from across the world. The exhibition is fun and educational for families and visitors of all ages and features an impressive display of guitars—ranging from rare and antique to wildly popular and innovative—along with video, audio, and photographs.
Highlights
Nyatiti (circa 3,000 BC – Present)
Long used by the Luo people of Kenya, the nyatiti is believed to have originated in the Nile Valley more than 5,000 years ago. The nyatiti design has remained virtually unchanged over centuries.
Charango (1700s – Present)
The charango originated in South America in the 1700s and utilizes an armadillo shell as a soundbox. .
Gibson Harp Guitar (1903 – 1920s)
The harp guitar combines the best features of a harp with those of the guitar. This U-style harp guitar was one of the biggest guitars ever crafted.
Martin Dreadnought D-28 (1931 – Present)
Considered the "Stradivarius" of acoustic guitars for its pioneering shape and sound, the Martin Dreadnought D-28 earned widespread acclaim in the 1930s-40s. A favorite of Elvis Presley, Martin created the guitar on view for Presley's estate after his death.
Gibson ES-355 B.B. King "Lucille" (1958 – Present)
After saving his guitar from a burning dance hall, B.B. King named his Gibson acoustic guitar "Lucille," the name of the woman being fought over when the fire started. The "Lucille" on view was signed by King upon receiving a Lifetime Achievement Award in 2012.
World's Largest Playable Guitar (early 2000s)
This 1967 Gibson Flying V reissue replica was created by students at the Academy of Science and Technology in The Woodlands, Texas. The guitar measures 43 feet 7.5 inches long by 16 feet 5.5 inches wide and was certified by Guinness World Records in 2001.
Building the Flying V
A video highlighting the creation of the world's largest playable guitar, created by students in The Woodlands, Texas.
Demonstration of Classical Style
Musician Liona Boyd demonstrates classical guitar style in a video performance of "Gran Jota de Concierto" at The Masonic Temple, Toronto.
Luthier's Workshop
The complete workbench and tools of one of America's greatest living luthiers, Robert Benedetto.
X-Ray Photographs
A collection of 10 x-ray photographs of acoustic and electric guitars by NGM, John Thomas, and Neil Zlozower that reveal their inner structure and components.
Exhibition Credits
GUITAR: The Instrument That Rocked The World is a Touring Exhibition of the National GUITAR Museum.
Sponsored by The Albert and Ethel Herzstein Hall Fund.
The Bullock Texas State History Museum is a division of the State Preservation Board. Additional support of exhibitions and programs is provided by the Texas State History Museum Foundation.
Media Contact
General Inquiries
Email
512-463-6485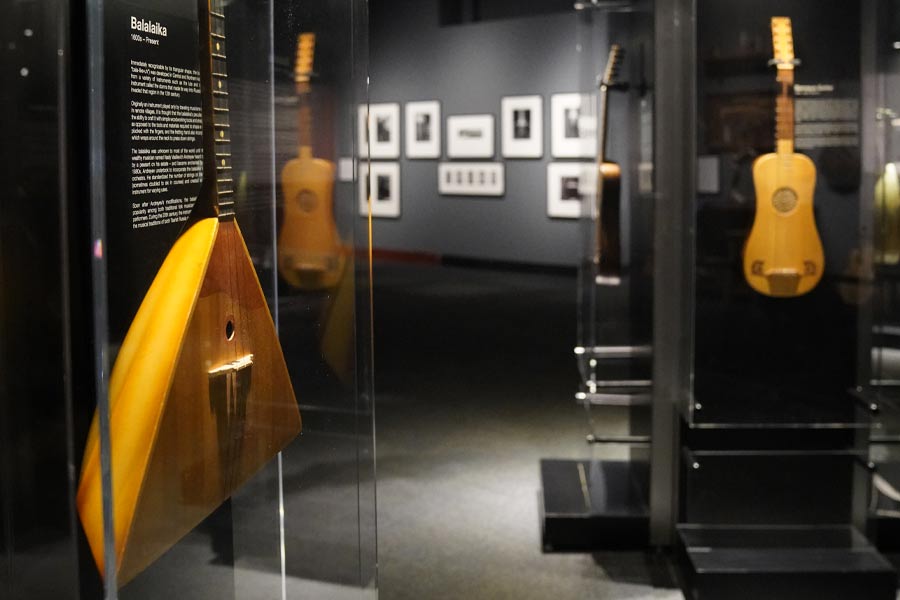 Press Releases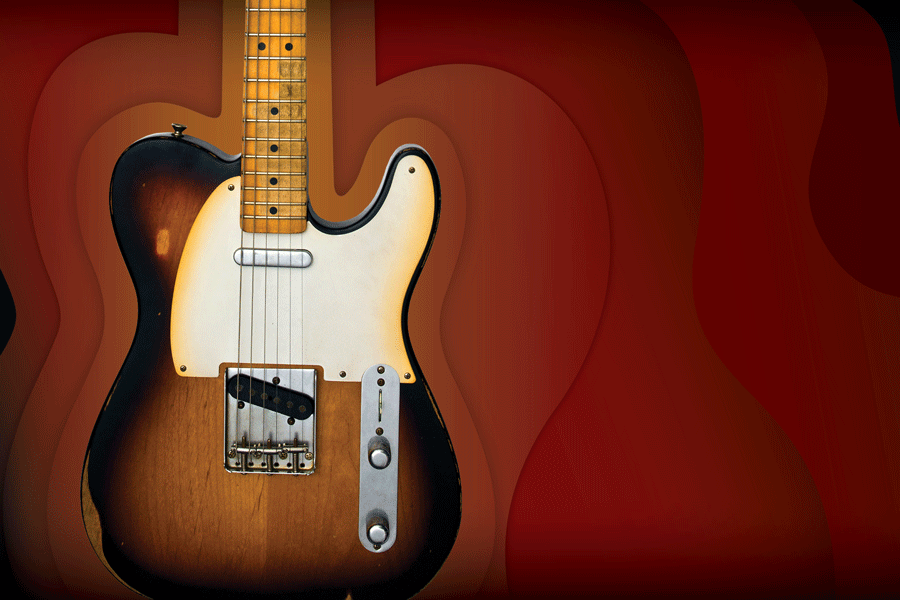 Rockin' new exhibit at the Bullock Museum explores the history of the guitar
May 18, 2021 (Austin, Texas) -- A new exhibition at the Bullock Texas State History Museum takes visitors on a journey through more than 5,000 years of guitar history. GUITAR: The Instrument That Rocked the World immerses visitors in the science, sound, history, and cultural importance of the iconic instrument. View Press Release