Closing Time and San Marcos's Great Old "Bell"
The Texas Story Project.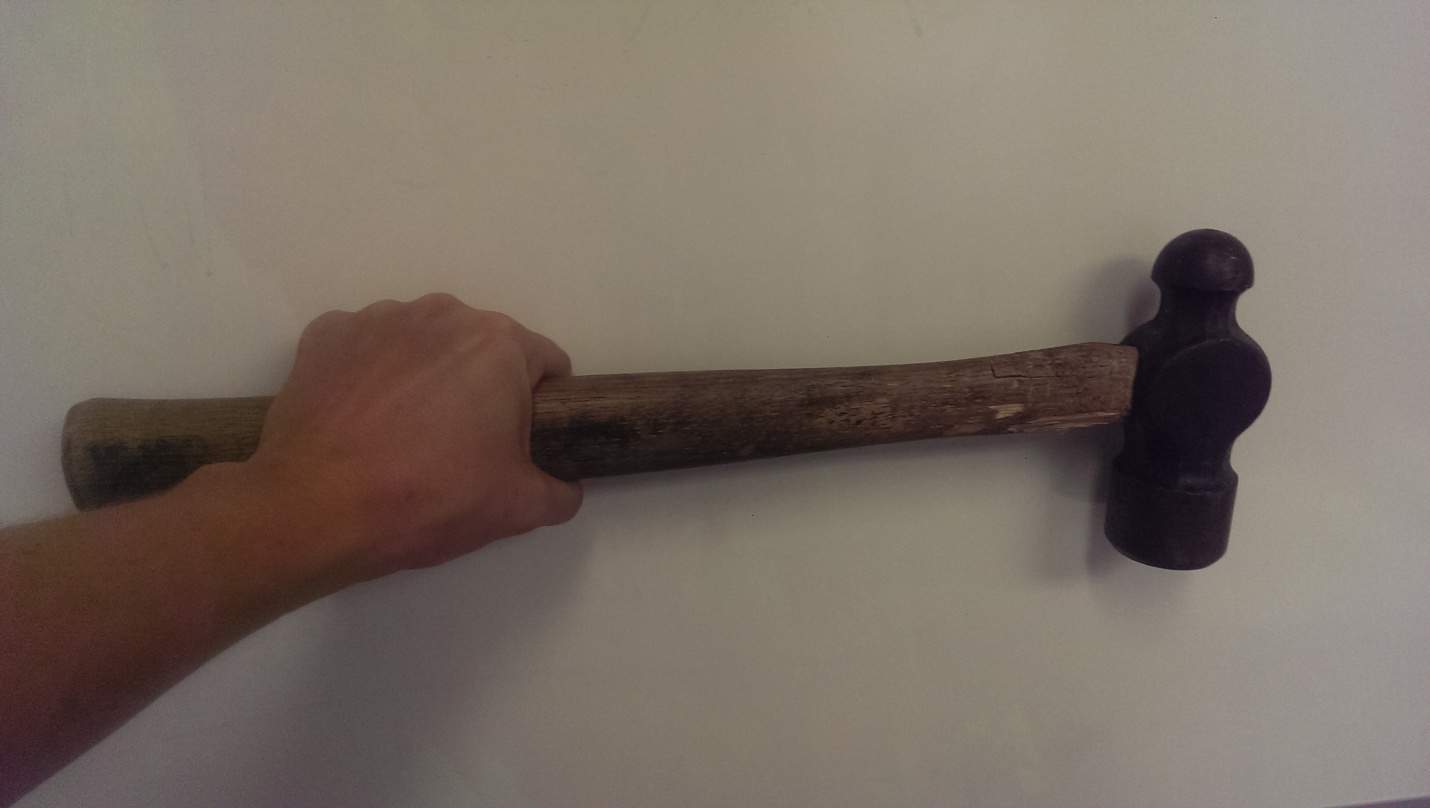 Hammer used to strike the old bell
In San Marcos in the 1940s and 1950s, you knew it was six in the evening when you heard six strikes of the "Great Old Bell," a 55-pound triangle. Made by a local blacksmith from a thick, square wrought iron bar, the bell was originally used by the San Marcos fire department.
The clanging sound of the huge triangle hanging from a tree limb by the Hopkins Street entrance to the historic Hays County Courthouse summoned firefighters to a blaze. When the fire department moved to a more conventional fire bell, the triangle was repurposed to signal closing time for the businesses on the San Marcos square.
At some point, the Great Old Bell was discarded but the Dailey family of San Marcos rescued it from the scrap heap. The bell now hangs in the Central Fire Station, and a replica hung by the courthouse, although it wasn't rung very often.
Traditions are important to keeping history and culture alive in a community. When I read the history of this bell, I knew it had to be brought back. When I started working for the San Marcos Main Street Association, one of my first acts was to reinstate the ringing of the triangle! Since 2013, the replica has been struck every weekday at five in the evening. The bell now acts as a signal for the end of the work day and as a welcome message to square visitors for the evening. Although we've moved up the time to 5 p.m., we still use six strikes to keep with the tradition. It's awesome to see business owners come out and wave when they hear the bell.
Although we know how the bell was used in the old days, we still haven't discovered what was used to ring the bell. We've tried several tools and methods. So far, the loudest ring comes from using this hammer to strike the bell. We do get some curious looks when we march down the sidewalk toward the bell with hammer in hand.
Samantha Armbruster is the Main Street Program Manager for the City of San Marcos.
Posted July 21, 2014

Read stories from people across Texas
Browse All Stories