The Walking Miracle
The Texas Story Project.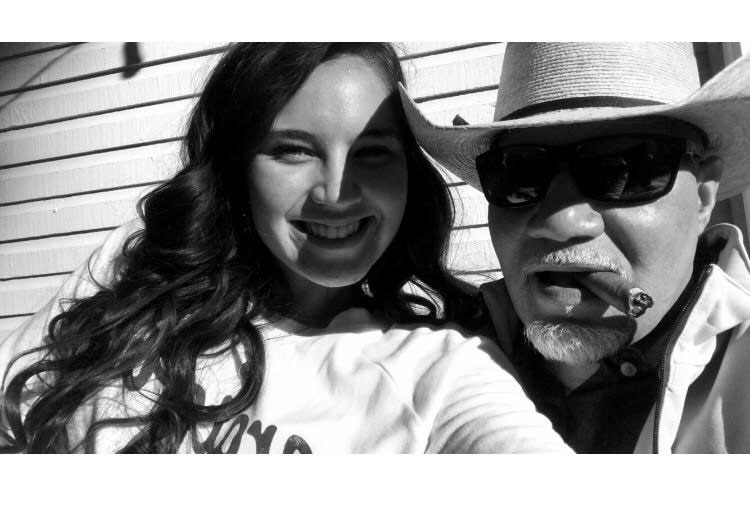 Rene Gonzalez with his daughter Gabriella
Born in Laredo, Texas in 1974 was a man who would live a life with all the struggles one can imagine, and somehow, he would come out better than okay. A Latino man by the name of Rene Gonzalez, he moved to Houston, Texas at the age of 2 with his large family. He was one of eight children and grew up in poverty.
He learned at a young age that the struggles of life were not fair, and that he didn't "have the upbringing where things fell into place. It was rather about adjusting to the difficulty of each phase and accepting that reality." Getting into every detail of every struggle of his life was the one thing he did not want to do. Focusing on the bad doesn't change anything, and pity is not beneficial either. However, he briefly told me about some of the re-occurring struggles he has had to face in this life.
His mother had a lot of medical issues, but the most re-occurring one was her bipolar disorder. As a child, he remembered his mother in and out of mental institutions and hospitals. His dad worked hard, and still didn't "make ends meet." Once he had to start school, he had to adjust, and decide what his life was going to be like. He said, "It was what it was." Can you imagine having to decide in elementary school how life would be for you? He had to think and decide quickly because from that point on he had the chance to be his own person. He had to the chance to choose to grow or choose to sulk about his life.
He could either use his life as an excuse to become what society expected him to become, which was below average or, he could use his life as motivation to be better in whatever way he possibly could, while still dealing with all the struggles that would come his way. Despite the lack of a strong household, he remembers thinking to himself, "I had to be strong." This was his life-- no mother, no money, no food, fights, bad people, dropping out of high school twice, working to support his family starting at the age of 12 (working in construction), and the list could go on...
After dropping out twice though, he did go back to school because he needed to accomplish his dream. He focused on what he wanted, "the dream of being able to walk across a stage and receiving a diploma." Something so simple, and something many of us take for granted was his dream. He got a job at Sonic and worked as much as time would allow so that he could afford night-classes to catch up on the two years he needed.
In 1995, Rene Gonzalez achieved the biggest dream he had. He got that high school diploma and walked across that stage. So now what? Well, college was not even an option due to poverty and the reality of where he was needed. He needed to be around to help his mother, his father, and even help raise his siblings. He continued to explain to me, "My dreams were never big. They were simple, so much so that it might seem normal today- but for me they were my dreams…to graduate high school, to get married in a church, and to have kids."
Before reaching that next dream, he continued to work harder than he thought he could, suffered from discrimination, was mistreated and even under-valued as a person. He went straight back into working full-time in construction after receiving his diploma. Eventually, he landed a job with an oil company, and things seemed to look a little brighter. However, he worked 22 years with this company, receiving only minimum wage, and doing only the extreme laborious tasks. At this point, many had expected him to have given up, to have turned to dangerous life choices, and to have chosen that life was no longer something for him to live. But things did get better, everything happens for a reason.
In 1996, he was reunited with his future wife. Three years later, she became his wife and mother of his first child. Another piece of his simple dream was accomplished, and even a miracle because a child should have never been possible in the first place. After this, he realized his dreams would now be for his children, his three daughters to be exact. He said, "my dreams today are for my family, my daughters- to help, support, and do everything in my power so that life isn't something they are victims of." Everything was worth it. All the struggles and adversity he faced was worth it. His dreams were about them, and he wanted to start a legacy through them, one that wasn't present in today's world and one that would break the cycle of the type of life he had lived. A better life is what he strives for, but not with the intention for himself to live, but for his three miracles.
Today, my dad is achieving more dreams, his new simple dreams. After facing unemployment, he co-started his own business as a co-owner of a dress shop. He enjoys helping people and being a part of something so small, yet something that means so much to someone. My dad is living his life as a walking miracle with all the of the worst moments, but it's a beautiful life that he's choosing to live to the best of his ability. He lives on like Texas. "For me, my life ties into Texas… to be proud (no matter what your situation is) yet humble, to be strong yet willing, and to be determined to help others before yourself sometimes. It's about never giving up and leaving behind a legacy. If you ask me, Texas is that fighting spirit."
---
My name is Gabriella Gonzalez, and I am a sophomore at St. Mary's University. I am an English major, with dreams to become a mother, a teacher, a lawyer, and a published author. I am like Texas- proud but humble, strong but willing, and selfless.
Posted October 11, 2018
Join 21 others and favorite this
TAGGED WITH: St. Mary's University, stmarytx.edu

Read stories from people across Texas
Browse All Stories