Rags to Riches: My Grandfather's Story
The Texas Story Project.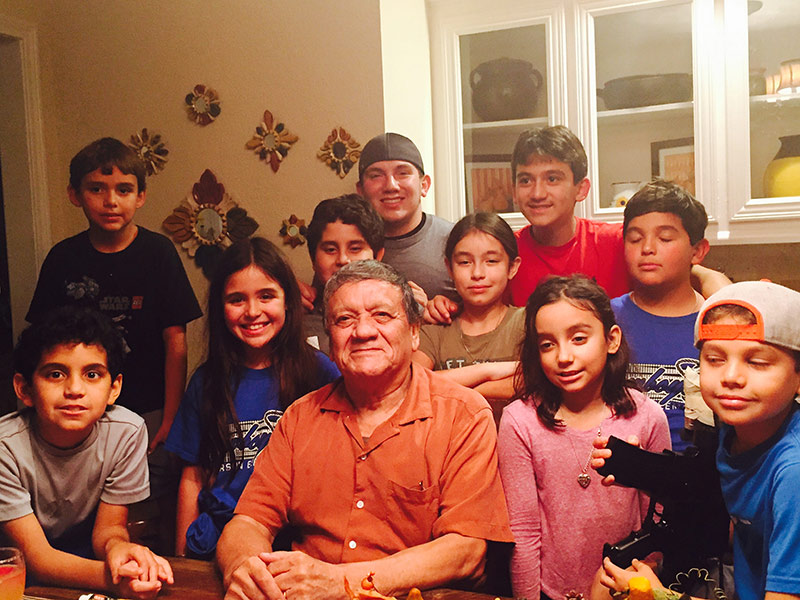 The author's grandfather pictured with grandchildren.
When I was a kid, my Grandfather would always tell me how fortunate we are now, all of these things we have now he would have only dreamed about having growing up. I never understood what he meant by this. I was only a kid at the time but now as a third-year college student I completely understand. He would tell me that he never had air conditioning in his house. He never had running water. They would have to get water from a well. And above all, money was very scarce. But knowing that my grandfather had rags growing up inspires me to wake up every day and strive to become just like him. He worked tirelessly growing up and now he's retired and living the American Dream.
My Grandfather never had it easy growing up. He was born in San Antonio, Texas on April 16, 1939. When he was just 2 years old, my grandfather and his family moved to Rio De Janeiro Brazil due to my great-grandfather being stationed over there. My great grandfather was in the United States Marine Corps. My grandfather spent most of his early life in Brazil but it wasn't always easy. He grew up in the slums of Rio De Janeiro where poverty was high. Even though poverty was high, it still never stopped him from being a good student in school. My grandfather moved back to San Antonio when he was 20 years old and life for him became worse. My great-grandfather died in a car accident leaving my grandfather to become the man of the house. He worked tirelessly to help my great-grandmother pay the bills. But working 3 jobs, he was barely making enough to put food on the table. Struggling to make ends meet, he decided to follow in his father's footsteps and enlist in the United States Marine Corps.
While in the Marine Corps, he met my Grandmother at a local club while visiting Mexico City for vacation. Although she was fluent in Spanish and he was fluent in Portuguese, my grandfather told me that "I remember trying to talk to your grandmother when I first met her and she looked at me as if I was trying so hard to speak Spanish. She knew what I was saying, but I had a funny way of saying words because that's how they are pronounced in Portuguese. She laughed at me, but she spoke English so we were able to have a conversation in English and from that moment I knew that she was the love of my life." Four years after that conversation in the bar, they married and took up residence in San Antonio.
They bought a house together close to St. Mary's University and still continue to live there to this day. My mom, aunts, and uncle were born as well and all grew up in my grandparents' house. My grandpa retired from the Marine corps when he was 56 years old. Although he retired he went back to get a coaching certification. Now he lives with my grandma at home and is truly enjoying the American dream retired.
---
My name is Stefen Villanueva. I am a third- year student pursuing a bachelor's degree in criminology at St. Mary's University in San Antonio, Texas. I am a brother of Sigma Lambda Beta International Fraternity Incorporated and currently hold the recruitment chair position. When I have free time, I like to do community service on the weekends such as volunteering for the Food Bank. After college, I plan on pursuing a career in law enforcement either for Bexar County or the city of San Antonio. I want to serve the community because it pushed me to become the best I could possibly become.
Posted November 08, 2018
Join 2 others and favorite this
TAGGED WITH: St. Mary's University, stmarytx.edu

Read stories from people across Texas
Browse All Stories