The Pioneers
The Texas Story Project.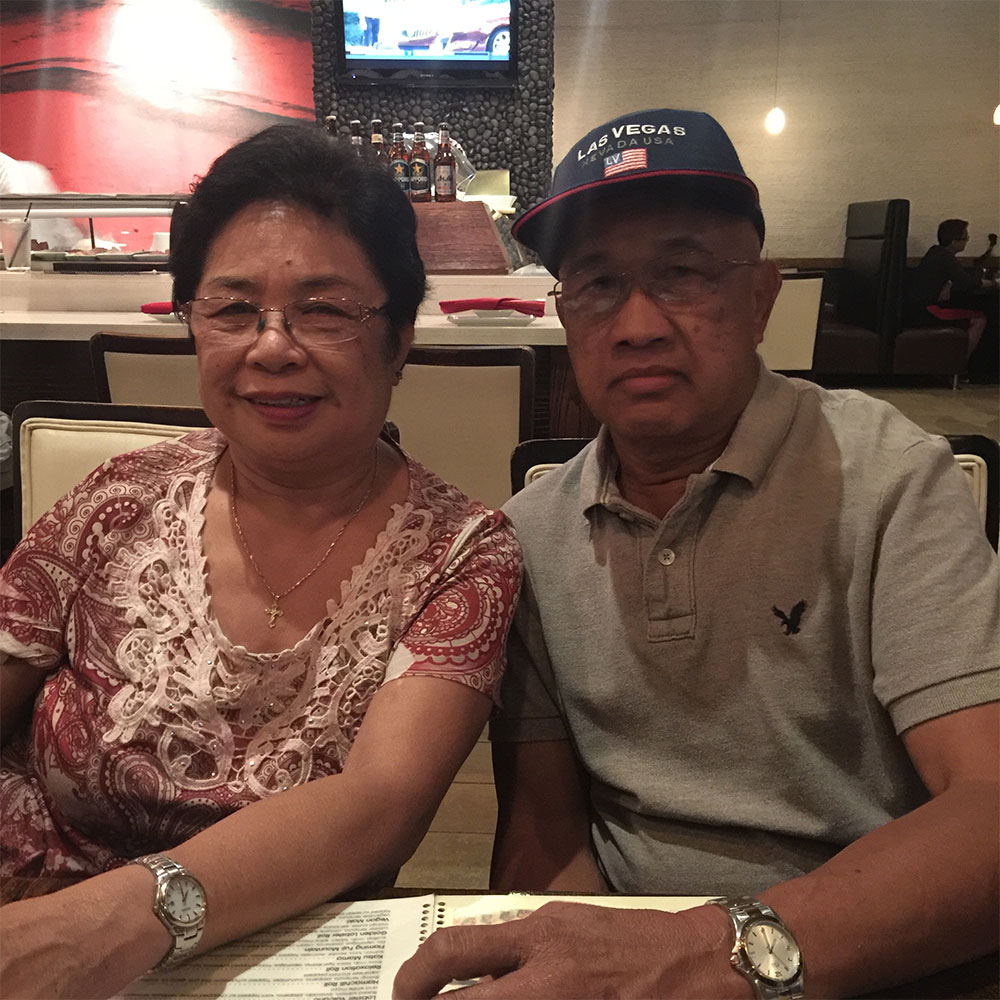 Corazón and Roman Rosanes
I can only imagine my grandmother, Corazón Rosanes, and her footsteps in the New Jersey snow as she trekked her way to work every day. This is symbolic of my grandparents' struggle in America. With no other family residing here, it made it all the more difficult to communicate and adapt to the alien culture. This played a role in their move to Texas where there were more job opportunities and the climate evoked the warm, tropical feel of their home in the Philippines.
My grandfather, Roman Rosanes, was dubbed "the pioneer" by my family, being the very first to arrive in America and extend that opportunity to the relatives back home. He came in January of 1973, leaving his wife and daughter behind until he was able to petition them both as immigrants a year later. Back in the early 1970s, the Philippine currency was declining against the American dollar. The thought of the advantage of having the dollar in his pocket for him and his children was one of the strongest motivational reasons for immigrating.
Back home in the Philippines, my grandparents had already accomplished a lot. They were one of the few people in their respective families who had graduated from university and earned a degree. My grandfather majored in accounting and graduated in business administration. He accepted a job as an assistant manager in the credit and collection department. My grandmother had the same amount of experience under her belt. After graduating with a bachelor in education, she taught home economics in both public and private schools.
The degrees they earned in the Philippines proved to be of little value to potential employers in the United States. Even with their qualifications, offices were reluctant to hire them. They searched and applied for numerous positions but were constantly rejected due to their lack of local experience and English skills. With nothing else to do and a family to support, my grandfather settled for a warehouse job while my grandmother worked at a factory.
I am proud of them. As they struggled with the English language, they were forced to take positions that did not take advantage of their education. At this point, they were no longer working where they enjoyed but rather working in order to survive. Whenever the opportunity to work overtime was presented, they took it just to have a little extra money in their hands. My grandmother recalled the nights that the weight of their struggles seemed to be too much to handle. She cried for herself, for her husband, and for her children. Days began to bleed into each other as yesterday's ache became the next. However, through these times, they knew that their struggle was only a small price to pay for their children's future.
As they look back on their life, they have no regrets. Never had they complained about their struggles or where they are today. From all accounts, they know their worth and "although it is not perfect", they feel as if they "accomplished something." I can still feel the sense of pride emanating from them every time they mention the top- of-the- line Honda Civic they were able to purchase my uncle for university. They felt like giants when they attended their children's graduation ceremonies. When they speak of their children, an air of success exudes through their words. The sacrifices they endured mean nothing in those moments.
My grandparents weren't able to acquire a vast amount of wealth but they built the foundation for my family. My grandparents were the conduit to more options. Their children and grandchildren have had opportunities that were made available only through their sacrifice. I regard them as the epitome of hard work, mental toughness, and determination and in return we are expected to uphold that legacy. "It is for you because I have no chance, I have no means to do it, to change the standard of our living. It is for you to improve it."
---
Janae Hughes is a sophomore at St. Mary's University. She is majoring in Forensic Science (biology concentration) with the hopes of interning for the FBI. She was born in Delaware but lived most of her life in Houston, Texas. Outside of school, she enjoys reading, running, and playing her bass guitar.
Posted October 11, 2018
Join 9 others and favorite this
TAGGED WITH: St. Mary's University, stmarytx.edu

Read stories from people across Texas
Browse All Stories