The "Big Riot" at St. Mary's University
The Texas Story Project.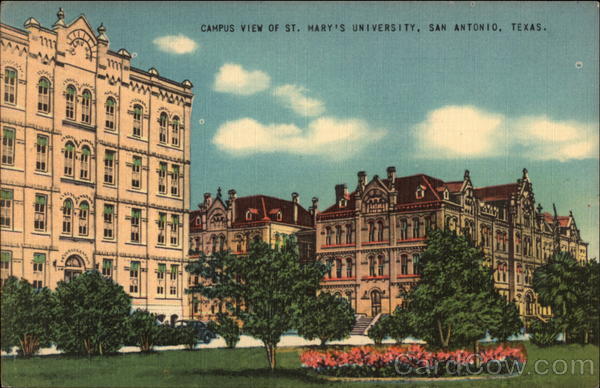 Postcard showing the campus of St Mary's University.
I came to St. Mary's University in 1960 when I was 20 years old, it was my first time in Texas.
The city was so much smaller geographically, in population and so forth. The school was maybe 3,500 students and it was an all-male school. It didn't admit women until around 1963. We were young brothers studying to be priests and we lived in what is now Charles Francis Hall. They would send brothers here for two-to-three years of college. I never thought I would end up in Texas but the city was very nice and the people and culture were very friendly. There didn't seem to be any major conflicts, however, I would say San Antonio today is much more diverse.
When I came here, the major employer was Kelly Air Force Base which had around 30,000 employees. It was the biggest air force maintenance depot at the time. The military was a big part of our city culture. You had Fort Houston, Brooks base, Randolph, and Lackland Air Force Base so there was a lot of influence, even from retired military personnel.
I began teaching sociology at St. Mary's in 1968 and retired in 2005 but have been here ever since. One interesting thing way back then, when I first taught here and when I was a student, is that students were required to take military science their freshman and sophomore years. However, that gradually changed with time and around the early 1970s it became optional. The policies and attitudes towards the required courses here have changed especially after the war. There were lots of protests after the war but protests here were not as extreme as maybe in other places.
I remember a funny story about a protest here at St. Mary's. It was comical. One of the boys at the dorms came home drunk a few Friday nights and there were several rules against doing so. The rules said that after a certain amount of times the student would be kicked out of the dorm so the students in the dormitory protested that. They had a big gathering in front of the main building.
I remember them shouting. I happened to be walking by and thinking to myself what could possibly be going on. The students shouted, "We want Newman! We want Newman!" Father Newman was the president at the time. After a few minutes, Father Newman actually came out to the steps of the administration building and listened to them. The students expressed their anger about their fellow student getting kicked out of the dorms, and demanded the rule be changed. I knew the guy, actually. He had gone to my high school in Milwaukee. He was a year older than I was. Father Newman said "Ok, we'll look into it," and so forth, but here comes the funny part. They had one security guard...one security guard on the whole campus. He drove up in his car and the students surrounded the car and they started shaking it, shaking the car. The security guard then called the police downtown and said: "There's a riot going on at St. Mary's, a riot, send some reinforcements!" They sent several police cars, about 7, and all the students were doing was rocking the car. But it made national news on The Huntley-Brinkley Report. The report said "…and there was a student riot at St. Mary's University," and it was just a peaceful demonstration with just the shaking of the cop's car. But he was worried. He was the only cop and there were all these guys gathered around his car shaking it. I thought it was kind of interesting about our so-called "big riot." We're thankful it didn't get out of control but there was no violence or anything. It was so funny! Not for the cop of course, but wow it was funny it was the "St. Mary's Big Riot."
Now, of course, there are several other forms for students to express themselves. There are student clubs, students can put out literature, publish their own papers, and other resources. I've found the students here to be peaceful and respectful during my time teaching and even now.
---
Dr. Jerome L. Matz was born in Milwaukee, Wisconsin in 1940 where he graduated high school. He enrolled at St. Mary's University in San Antonio in 1960 at the age of 20 and graduated in 1962 with a bachelor's degree in history. Dr. Matz spent a couple years teaching high school in St. Louis, Missouri and Victoria, TX. He then enrolled in graduate school at St. Louis College where he spent three years before coming back to St. Mary's University to teach Sociology. He retired from teaching in 2005 after 36 years, and continues to be a part of St. Mary's as a Marianist brother after a long and respected teaching career.
Posted March 22, 2018
Join 17 others and favorite this
TAGGED WITH: St. Mary's University, stmarytx.edu

Read stories from people across Texas
Browse All Stories