Manchaca Springs Stage Stop
The Texas Story Project.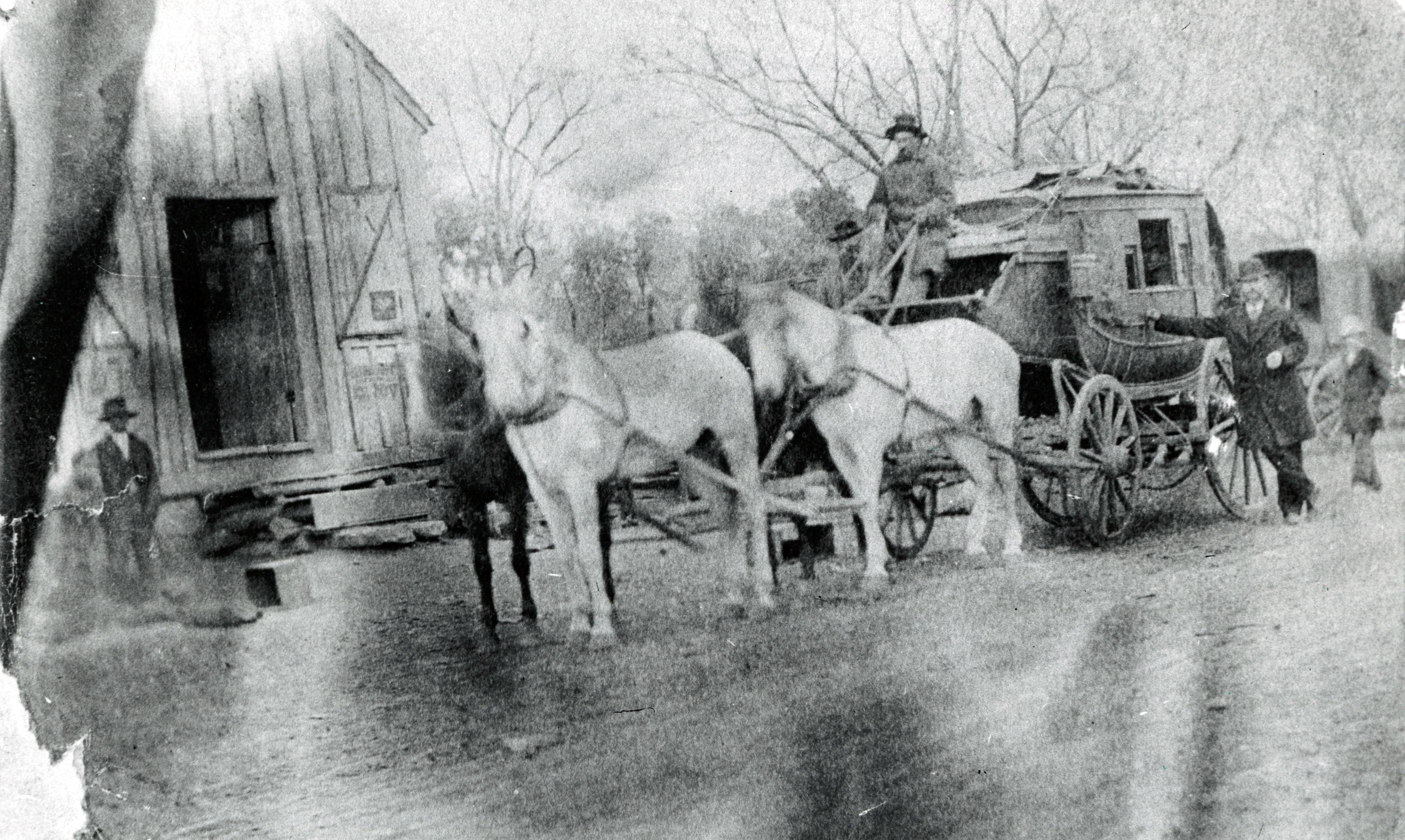 The stagecoach way station at Manchaca Springs. Image courtesy of the Austin History Center.
The drive from Austin to San Antonio takes about an hour and a half today, depending on the traffic, and traveling Interstate 35 can be an irritating experience when the traffic tangles, but that same trip by stagecoach took 18 hours in 1850.
Located on the Old San Antonio Road, Manchaca Springs was a way station for at least two different stagecoach lines, and probably more. Advertisements in Austin's Texas State Gazette in 1850 record a tri-weekly mail route run by J. S. Harrison of Harrison & McCulloch that traveled through "Manchac Spring," San Marcos, and New Braunfels, connecting Austin with San Antonio. An ad in the Austin City Directory for 1877 mentions Scott's Stage Line, which ran from Austin to San Antonio via "Manchac Springs."
Stagecoach lines set up way stations or stops along their routes for their passengers to get a bite to eat and rest, and also to change out their horses or mules with fresh stock. Some stations also provided overnight accommodations as well. The fare at most stage stops was sparse and minimal. Reports of hard biscuits, greasy pork gravy, and bitter black coffee abound. The Manchaca Springs stage stop, owned by Adolphus Weir in the 1850s, was rather well equipped compared with others. A Journey Through Texas, written by Frederick Law Olmsted and published in 1857, records a wonderful window in time at Manchaca Springs. Mr. Olmsted, who hailed from New York and was the landscape architect for Central Park, gives us his firsthand account of the accommodations there:
"We found a plantation that would have done no discredit to Virginia. The house

was large and well constructed, standing in a thick grove, separated from the

prairie by a strong worm fence. Adjacent, within, was the spring which deserved

its prominence of mention upon the maps. It had been tastefully grottoed with

heavy limestone rocks, now water-stained and mossy. . . . Everything about the

house was orderly and neat. . . . We were ushered into a snug supper-room and

found a table set with wheat-bread, ham, tea and preserved fruits waited on by

tidy and ready girls."
The community of Manchaca developed just to the north of the springs. People passed through the area, took note of the beauty afforded by the abundant creeks and lush vegetation, and returned to settle down. Today, many of the founding families still have relatives living on the original plats of land that were purchased in the 1800s.
There is a great sense of pride in being part of the community's history, and wheel ruts that are still visible today in the limestone bed of Onion Creek at the Old San Antonio Road bridge serve as a nice reminder to all of Manchaca's historic past.
Marilyn Dunnahoo McLeod is a charter member of the Manchaca Onion Creek Historical Association and descends from three families who settled in Manchaca during the 1800s.
Posted February 03, 2015
Join 36 others and favorite this
TAGGED WITH: Preserving History

Read stories from people across Texas
Browse All Stories