A Tribute to Working on the Railroad
The Texas Story Project.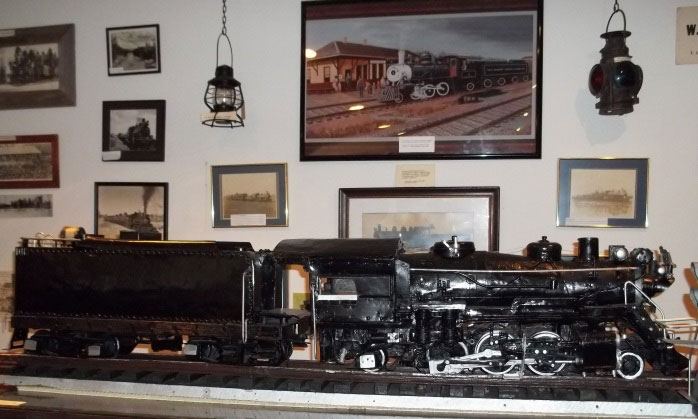 Model of the Iron Horse steam engine.
One railroad remains and the old locomotives are gone, but the memory of those bygone days remains as an important part of Trinity County history.
I received this steam engine replica into the collection of the Trinity County Museum in 2011. It was donated by the Clyde Bartlett Scarborough family. I was told by the family that Mr. Scarborough was born in Oklahoma Territory in 1898 and moved to Trinity County with his family as a child. In 1920, at the age of 22, he went to work for Southern Pacific Railroad in Houston as a switchman and became a member of the Brotherhood of Locomotive Engineers.
In the early 1870s, when railroads began to be built through Trinity County, our lumber industry boomed. The county was an untouched virgin forest of long leaf yellow pine that was there for the taking. Large lumber companies began building huge mills, creating new mill towns, and logging the forests to provide lumber for a growing nation. Six hundred and forty acres of land produced 16 million lumber feet, 25 thousand feet per acre. By 1930 the forests had been cleared, the big mills moved out, and farming and ranching once again took over many of the cleared acres. Reforesting began in the late 1930s, and to this day, the lumber industry still survives in the county.However, the railroad has not recovered.
Clyde Scarborough's talent and love for the locomotive can be seen by his knowledge and detailed fabrication of this replica steam engine, leaving us a master duplication of the "Iron Horse." The family believes the locomotive was assembled in the 1930s and 1940s as a hobby. The model was completely fabricated from scrap metals and items uniquely assembled with exceptional detail. I think this is one of the most unique objects in our museum collection as it represents one of the most significant representations of our county's history.
Susanne Waller is the curator of the Trinity County Museum and Hensley Genealogical and Historical Research Center.
Posted October 30, 2014
Join 20 others and favorite this
TAGGED WITH: Business and Industry , Icons and Symbols, Logging, Preserving History, Railroads

Read stories from people across Texas
Browse All Stories