Picking Up My Great-Grandmother's House: Force Moving
The Texas Story Project.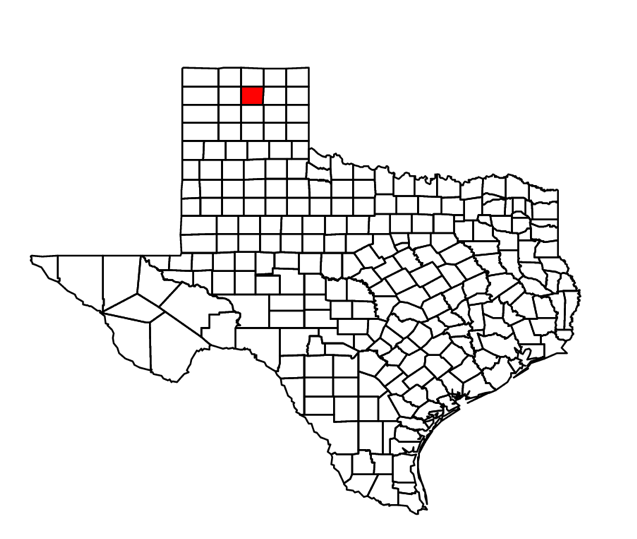 The red square indicates the location of Hutchinson County, Texas in which the towns of Phillips and Borger are located.
My great-grandmother moved to Philips, Texas in 1945. The town was put there by Philips Petroleum Company. Philips was a small town with one road going through the whole town. Phillips was three miles outside of Borger. Borger was a little bit bigger but still relatively small. And Borger was about 60 miles outside of Amarillo. Philips was covered with oil fields spreading in every direction. My mother recalled the town having a particular smell (because of the oil) that she didn't mind; however, some people did.
My great-grandmother lived in a small, two-bedroom, one-bathroom house. There was no shower, only a clawfoot bathtub. The kitchen was no bigger than six feet long, and three feet wide. My great-grandmother had never been wealthy, but she had always been "OK". My mother recalled her "dreaming and praying", for some miracle to come along and help them out financially. My mother loved going there because of the huge canyon that was at the end of the street. There was a huge incinerator at the back of the canyon that was used to burn the neighborhood's trash because there was no trash collection. The town was run by Philips Petroleum and, as a result, my great-grandmother never had to pay for water or gas. The town was loyal to Philips and Philips was loyal to its town members.
However, living in an oil town came with its issues as well. There had been numerous explosions over the years that caused some windows to break, walls and houses to shake, but nothing too serious. The citizens of Phillips loved their town and everything that came with it. Everyone in the town knew each other and it was like they were family. But that all changed in 1986. Philips decided that after a more recent run of explosions they would be closing the town to ensure the safety of their "extended family". This was heartbreaking news to my great-grandmother. My mother recalls her fighting with Philips, refusing to leave. And she said that a lot of people in Philips felt that way too. Philips offered my great-grandmother a variety of solutions to make this process more comfortable, but she was having a hard time leaving her home. They offered to buy her land and house from her, they offered her land in a nearby town, and they offered to pick up her house and move it to Borger, which was just three miles away. My great-grandmother continued to fight Philips. She attempted to ignore them and just wait it out. But eventually all of her neighbors began to leave, and she was eventually left by herself with the exception of a few houses here and there. Towards the end of 1986 my great grandmother caved and agreed to have her house moved to Borger. Philips Petroleum came to her house and managed to put it on wheels and move it to Borger. It was not an easy process for my great grandmother, but the Philips workers did everything.
When she arrived in Borger she was greeted in her new neighborhood by some of her old neighbors. My great grandmother eventually became pleased with the whole process when she had not only enough money to reconnect her utilities and reattach her house to the ground, but also enough to add on. She went from having a "Teensy weensy" one-bedroom, one-bath house to an additional extra bathroom and a living room that was twice the size of her original one. She had been granted her wish from a nightmare. Something that my great-grandmother would complain and get angry about eventually gifted her the one thing she ever wanted. Philips is now closed off to the general public for the most part. There are gates surrounding the entrance and only people who work at the plant are allowed in. There are no more houses or streets. It has all been overrun due to the abandonment. Nothing is left to take care of the town except the one thing that caused it all: the Phillips Petroleum plant.
Posted March 22, 2018
Join 7 others and favorite this
TAGGED WITH: St. Mary's University, stmarytx.edu

Read stories from people across Texas
Browse All Stories