My First Arrowhead
The Texas Story Project.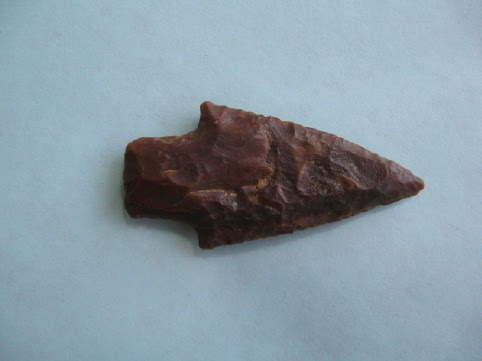 Arrowhead discovered by Don Easterling
It is ironic how something that happens to you when you are very young can set you on a life-long quest. I was six years old, and it was a Saturday in September of 1942. At the breakfast table, my father said he needed 200 pounds of raw cotton to complete a load. He suggested I pick 25 pounds, he would pick the balance, and then we would haul it to the cotton gin. For a reward, he would buy me a Coca-Cola. This was a big deal for me.
We got our water jug and cotton sack and headed for the cotton patch. My father picked much faster than I and had gotten much farther ahead. I was picking along when all of a sudden I spotted a beautiful arrowhead on the ground in the middle of the cotton row. I took off my cotton sack and started looking for other arrowheads.
I was bent over, with eyes on the ground, walking slowly up one row and down the other when, suddenly, a cotton stalk landed on my behind accompanied with the words, "What are you doing?" Knowing I had messed up, I tried to explain, but to no avail. I was told that when there was work to be done, we finished the work. Then, we could play.
We got the pounds, went to the gin, and I got my Coca-Cola. It cost all of five cents. The next day, after Sunday church, my father and I went back to the cotton patch and hunted arrowheads.
The arrowhead I found is identified as a Bulverde dart point of the Early Archaic period, circa 3000-2500 BCE. Over a lifetime, many thousand artifacts have been found on the site. Some of my collection, now covering 10,000 years in North Franklin County, is on display at the Fire Station Museum in Mt. Vernon.
Donald Easterling is a graduate of Talco High School and East Texas State University, a retired science teacher of the Rivercrest Independent School District, and a volunteer with the Franklin County Genealogical Society and the Franklin County Historical Association.
Posted July 28, 2014

Read stories from people across Texas
Browse All Stories