Memories of Joe W. Barnett
The Texas Story Project.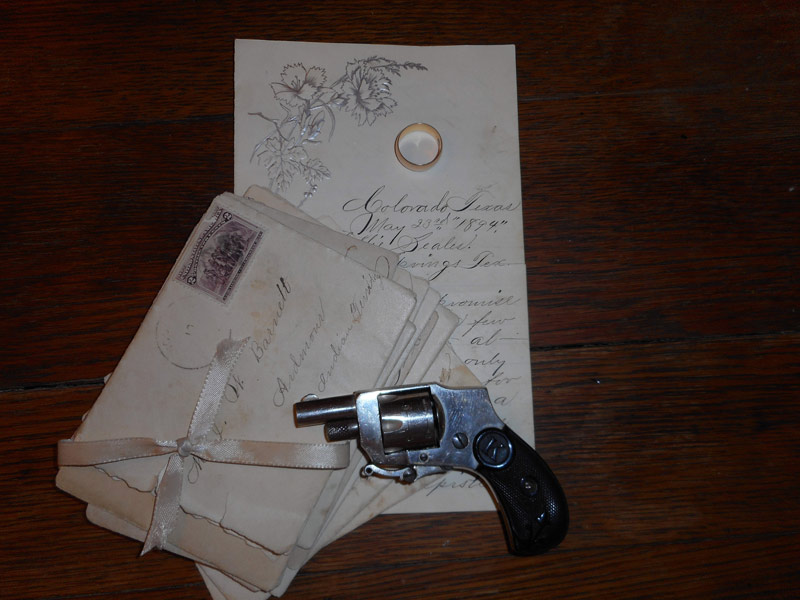 Gold band, gun and letters belonging to Lillie Mae Seales
Grandma sat in Grandpa's rocking chair as she told me stories of him—a sentimental cowboy—a man I never knew. She said the first time he saw her, he remarked, "I am going to marry that girl." Pictures of her reveal a lovely young woman with dark hair, brown eyes, and an eighteen-inch waist.
"Everyday I put on a corset, grabbed hold of the bedpost with both hands as my sister cinched the laces taut through the eyelets. It was tight, very tight. Then, I tied on three to five petticoats to get that hour glass figure," she confessed. "Strait-laced was the fashion of the time."
Joe W. Barnett, my grandpa, was the trail boss for the legendary Colonel C. C. Slaughter, taking the last herd of 2,400 longhorn steers from Big Spring to Spearfish, Wyoming in 1892.
"He had been raised to be a perfect gentleman," she said. "He sent me a proper note in fancy handwriting inviting me to a Christmas Day dance." That night was the beginning of a romantic courtship.
"I knew he would be gone a lot of the time trailing cattle. A few weeks later, he left for Ardmore in Indian Territory (present-day Oklahoma). We promised to write," Grandma said. "These letters—his and mine—are those promises."
"On the fifth of September, 1894, we married. This gold band has never been off my finger. He gave me a little gun to wear in my garter when he was gone. He built this house. It will stand forever. He used a whole keg of nails." She paused; it seemed as if she had slipped into another realm. "He came home from work on Thursday feeling bad. Through the weekend the children and grandchildren and I watched as he grew weaker. Monday evening, I was sitting in a chair next to the bed; he reached up, pulled me to him, and kissed me. One last kiss…"
Her voice trailed off, almost a whisper, "The newspaper said, 'No better man, citizen, or friend than Joe W. Barnett ever lived.'"
Janie Harrison is the daughter of Rebecca Imogene Barnet Phillips, the granddaughter of Joseph Weir Barnett and Lillie Mae Seales, and a lifelong Howard County resident.
Posted July 28, 2014

Read stories from people across Texas
Browse All Stories