More Than 3,000 Deliveries
The Texas Story Project.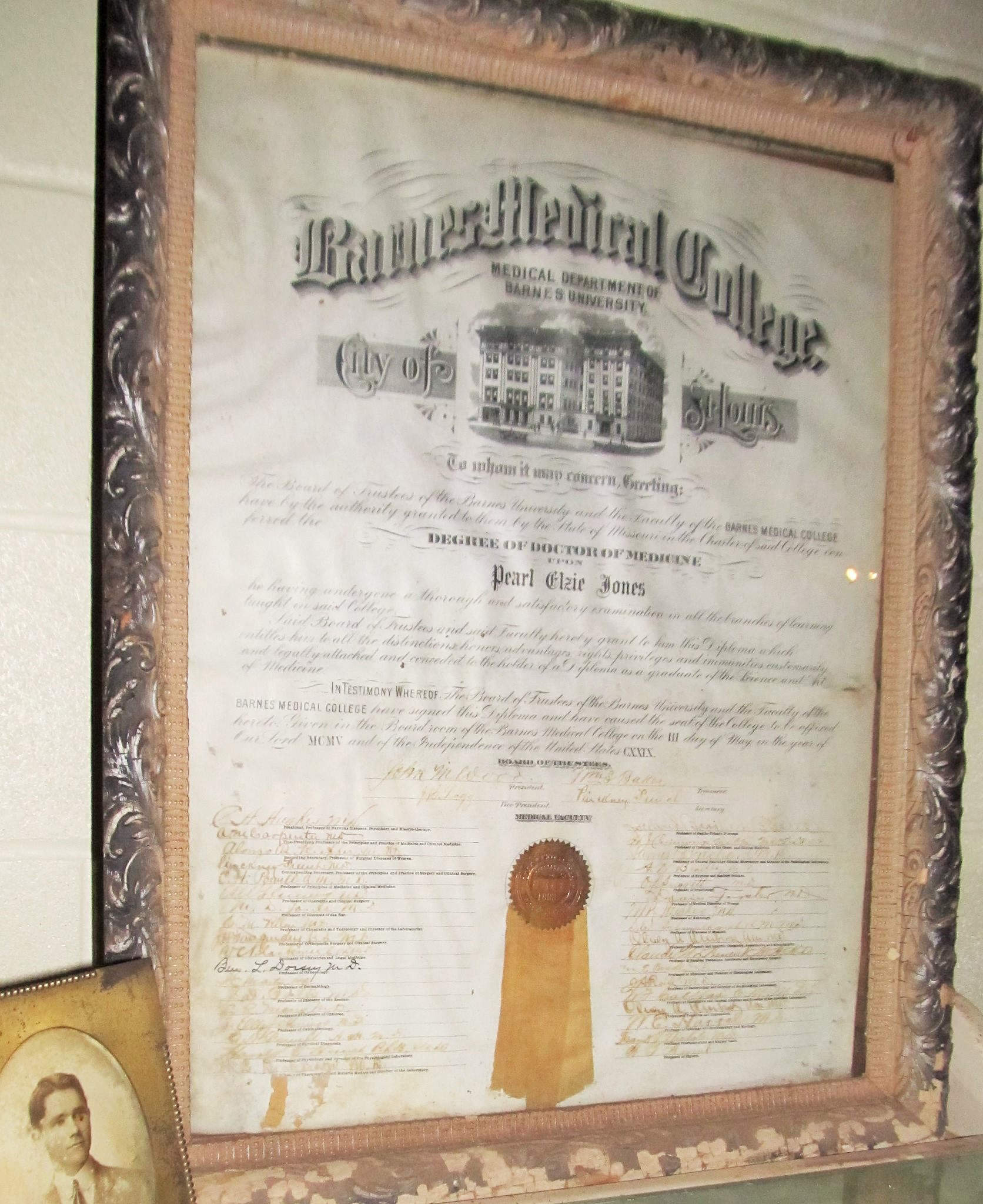 Dr. Jones' diploma
In the 1950s, a Cherokee County doctor made news. The headline in the Courier-Times-Telegraph read, "Ponta Doctor Had Delivered More than 3,000 East Texas Babies." The doctor in the article was Dr. Pearl E. Jones, a Cherokee County native who practiced medicine in the area for more than 50 years.
My good friend Elizabeth McCutcheon, a relative of Dr. Jones by marriage, now lives on his farm. Dr. Jones was married to Lorene Liles, a sister to Elizabeth's mother, Alma Liles Irwin Crawford. After her father died in an accident in 1948, Elizabeth's mother had to go to work to support the family. Lorene and Dr. Jones took care of Elizabeth while her mother worked. When Dr. Jones died, Lorene asked Elizabeth and her husband to help with the Jones farm and help with the cattle. When Lorene passed away, she left all the property to Elizabeth. Elizabeth has owned, taken care of and lived on the farm for over 25 years.

A chest belonging to Dr. Jones and his medical diploma are always displayed in a large room of Elizabeth's home, along with other family treasures. The medical degree comes from Dr. Jones' time at St. Louis' Barnes Medical College, known as one of the world's largest medicine schools at the turn of the century. In 1900, while still completing school, Jones received a license from the state of Texas to begin practicing medicine. He served Cherokee County his entire career, except during World War II when he served as chief medical officer for Consolidated Steel in Orange.

Dr. Deborah Burkett is a retired educator and serves as the committee chair of historic photos and archives for the Cherokee County Historical Commission.
Posted August 01, 2014

Read stories from people across Texas
Browse All Stories