Incident at the McLaurin Ranch
The Texas Story Project. Inspired by Frontier Folk.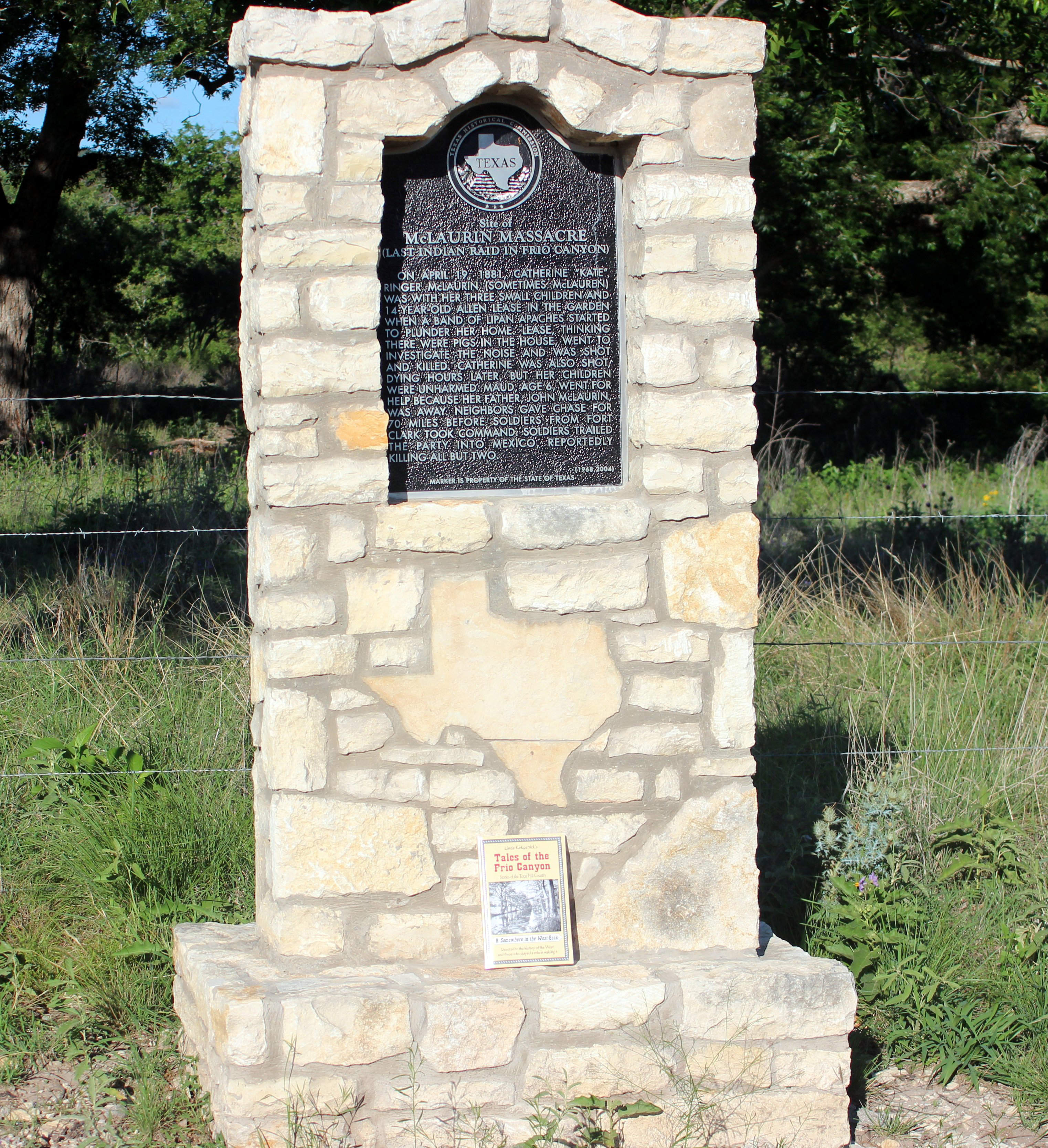 McLaurin Massacre Historical Marker and A. J. Sowells' book Early Settlers and Indian Fighters of Southwest Texas
We always knew when someone was coming to our remote ranch in Real County. The dogs would start barking long before you could hear the clip-clop of the horseshoes over the rocky hillside. I was only six or seven years old, that day in 1955, when our neighbor Buck Miller and his son Buck Bowie stopped by for a visit and produced something special from their saddlebags—a first edition of A. J. Sowells' Early Settlers and Indian Fighters of Southwest Texas. We borrowed that book and one story in the collection—"Last Indian Raid in the Frio Canyon"—would change my life forever. The story told of a little girl very close to my age who lived in the 1880s.
Maude McLaurin was only six the day the small band of Lipan-Apache raided the crude ranch cabin located close to what is now RR 336 north of Leakey, not too far from my own family's ranch. Maude, along with her mother and siblings, and sixteen-year-old Allan Lease, who worked for the family, had gone to work in the garden situated on the banks of the Frio River. A noise from the direction of the house alerted Mrs. McLaurin that the hogs might be in the house. She sent young Allan to run the presumed hogs away. A startled Apache shot him. Knowing that Mrs. McLaurin was the only remaining threat, the Apache shot her five times. Though dying, Mrs. McLaurin instructed Maude to run for help. Maude obeyed, but only after she ran past Allan's lifeless body, through the band of Apaches, and into the house to get a pillow for her dying mother's head. This raid took place in April of 1881 and was one of the last in the state.
I was intrigued by the story as a child, and my interest has increased with age. I have visited the site more times than I can count. Every time I am there, I am reminded of Maude running to her mother with the pillow. This was my first taste of history and it has inspired me to research and record other stories of the great state of Texas!
Linda Kirkpatrick is a 6th generation Texan whose love of history began with this story.
Posted August 01, 2014

Read stories from people across Texas
Browse All Stories