The Moseley Family Settles in Friona
The Texas Story Project. Inspired by Frontier Folk.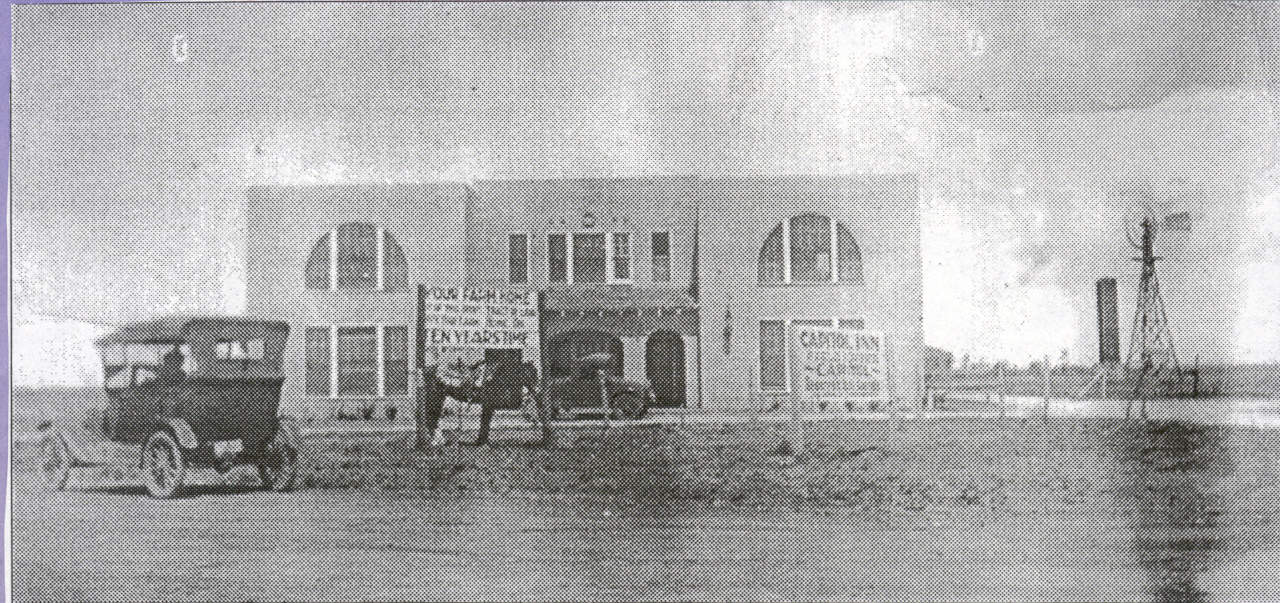 The Old Syndicate Hotel in Friona
My parents, David and Eva Moseley, moved from Hammon, Oklahoma, to a farm five miles south of Friona on October 1, 1926. They had heard of land for sale in the Texas plains area, and my father came down from Oklahoma several months earlier with other prospective buyers. They stayed at the Capitol Syndicate Hotel, southeast of Friona. Dad bought the land on Christmas Day, 1925, from the Capitol Freehold Land and Investment Co.
In the winter of 1926, Dad built a small shack on a wagon bed to bring a sod plow, a coal stove, and a bed to his new farm. It took him eight days to drive a team of four mules from Oklahoma to Friona, Texas. For the next several weeks, he and his brother-in-law broke grass, planted a crop, and built a corral. That summer they also built a small house for the family—one long room with a dirt floor, one door, and three small windows.
Mother, my grandmother Louisa Collier, and my six-year old sister Edith arrived on October 1, 1926, in a Model T Ford car and were awed by the vastness of the treeless plains. Household goods and livestock arrived by train. The family made improvements as time and money were available. The single room became three, and a floor and screened porch were added. The family hauled water until the spring of 1927 when they traded two gray mares to Charles Adams to drill a well. They bought the windmill and pipe from Jerry Blackwell, later mayor of Friona. I was born on January 22, 1927, and delivered at home by Dr. A.P. McElroy. On October 24, 1928, Dr. McElroy also delivered my brother Jack. My parents lived out their days in Parmer County spending many happy times while raising our family.
Hugh Edward Moseley is a retired Parmer County Assessor/Collector, longtime local historian, and contributor to all 3 volumes of Parmer County History. He resides in Sweeney. Prepared by Darla Bracken, Director Friona Public Library.
Posted August 01, 2014

Read stories from people across Texas
Browse All Stories