"I never would have moved to Texas if it weren't for the Marianist connection"
The Texas Story Project.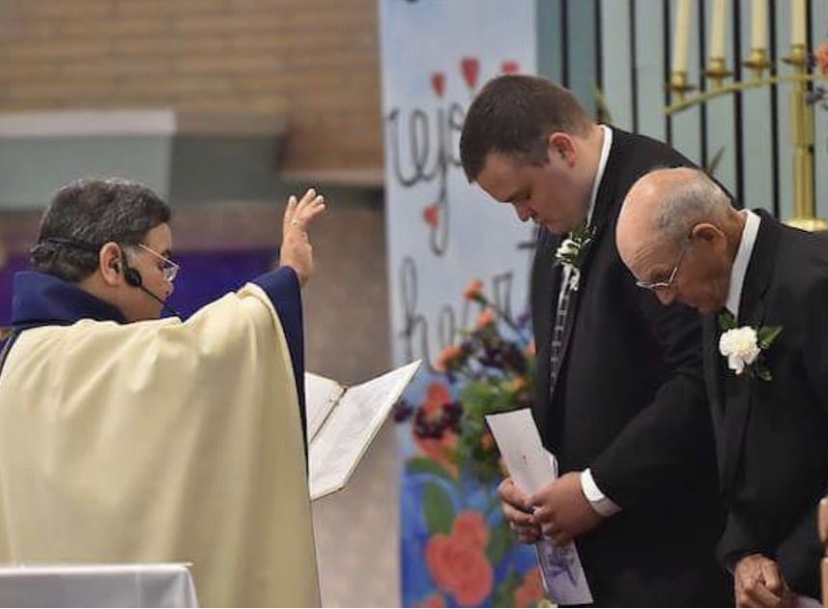 Brother Mark Motz SM grew up near Cincinnati, Ohio, where he lived most of his life as the second out of three children, making him the middle child.
His childhood consisted of nearly daily trips to his grandparents' house for meals and for company. Family quality time is an important aspect of the Motz's family life. Motz and his siblings attended the same school for most of their academic career. That school happened to employ a few Motzs as well: his mom worked as librarian, his grandpa worked as maintenance and his grandmother was the AV clerk.
After finishing at a Marianist high school, Motz went to study at the University of Dayton, a Marianist university. There, he majored in Religious Studies and minored in Catechesis and Social Transformation. After completing his undergraduate degree, he attended graduate school for Pastoral Ministries. There were two reasons for joining the religious life according to Motz: practicality and spirituality. The practical part of joining the religious life was that he had graduated college with no car, no girlfriend, no job and he had always had desire to try religious life. The spiritual aspect of his decision was his strong belief that Marianist charism does great things for Church and world and he wanted to be a part of this cause.
Motz started his religious life with the Society of Mary in 2010 where he was moved to San Antonio, TX for about a year. His transition to religious life was hard enough, but moving to a state hours away was even harder since family life is an integral part of being a Motz. During that year in St. Mary's, Motz worked in University Ministry, Residence Life Ministry, Vocation Office, was in in charge of the Marianist Leadership Program. After spending one year in San Antonio, he went back to Dayton. In 2017, Motz returned to St. Mary's University.
Living in San Antonio, Motz felt that it was the first time he had lived in a place where "white" wasn't the majority culture. He has never seen people be so passionate about their state. To him, this transition wasn't too difficult due to the fact that he fell in love with the food from San Antonio, especially the barbecue, so much so that he bought a smoker of his own. Another difference that Motz noticed was the difference in hunting. Back home in Ohio, hunting is sport more than anything. Here in Texas, he noticed that hunting is more meat procurement. Coming from a region that experienced all four seasons, coming to San Antonio and experiencing a perpetual state of warmth was different for him, and at times he misses the cold.
One thing that he noticed before coming to Texas, was about the concept of immigration. Prior to his move, immigration was just a word. Coming to San Antonio, the word became a concept, a new reality. Because there are students from St. Mary's University under DACA, he was able to put a face to the topic of immigration. This new realization inspired him as he did his work in University Ministry. Now that he is back in Texas, for an extended time, he is more intentional visiting Texas state parks, making friends, and more intentional about making this home. Motz enjoys playing the tuba, camping, wood carving, fixing things, service, kayaking, canoeing, outdoors stuff, and uncling a cute little kid.
---
Angela Zavala is a Freshman studying Business Management with Entrepreneurship and Innovation track. She enjoys serving others and just help start a Rotaract Chapter at St. Mary's University.
Posted April 11, 2019
TAGGED WITH: St. Mary's University, stmarytx.edu

Read stories from people across Texas
Browse All Stories