Bodden Family Story
The Texas Story Project.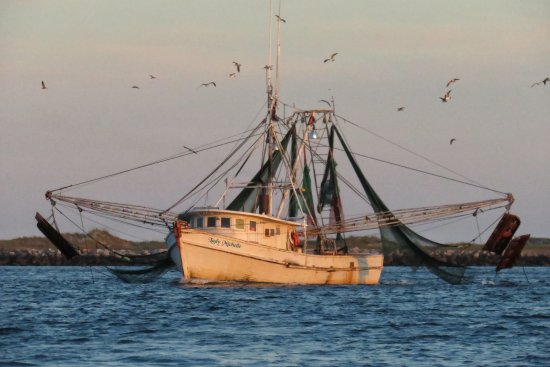 A shrimp boat.
Lorance Whitman Bodden was born on March 17th,1934 on the beautiful island of Rotan in Honduras. When he was only two years old, his parents died and Lorance's eldest sister raised him until he was a teenager when he began working as shrimper. While Lorance never learned how to read and or write very well, he learned to work hard and strive for a better life than before.
This led him to travel north through Central America and up through Mexico, shrimping and making a living for himself. He landed in Playa del Carmen, Campeche in 1955 where he met a woman who worked at the mercado with her mother. Her name was Rosa Padilla and on October 5th of that year, they were married. Rotan being part of British-colonized Honduras, Whitman only spoke English. Rosa, growing up in the Yucatan, spoke only Spanish. So at the beginning of their long marriage together they couldn't communicate. Lorance quickly learned Spanish in order to grow his shrimping business in Mexico as well as create a family with his new wife, Rosa. Shortly after they were married they conceived their first of seven children and named her Rosa Leonor Bodden. The Bodden family began to grow and so did Lorance's shrimping business.
In 1960 with three little ones, the Bodden family decided to relocate to the United States of America. After they finally made it across the border into Texas they settled in Port Isabel which is at the southernmost tip of Texas. Here is where the family of five, soon to be six, decided to make this small coastal town their home. They built their home in Laguna Vista, Texas and Lorance launched his own shrimping business called Bodden and Sons Inc. Rosa and Lorance continued on to have four more children, four boys and three girls who grew up in the small town and started their own families there too.
Bodden and Sons Inc. became a thriving family business that made Lorance and his family very wealthy. Because of Lorance's hard work, loyalty, and perseverance he was able to build a large house for his family, take Rosa on trips, and support all his children well into their adult years. Lorance always stressed to his family the importance of hard work. Once his sons reached their teenage years they would go work on a shrimp boat during their summer vacations. Each summer for three to four months at a time and they would work on a boat with strangers, manning a ship 24/7 and catching hundreds of pounds of shrimp. Lorance knew that in order for his children to make better lives for themselves they needed to learn the value of the dollar and the work it takes to earn each dollar. These are lessons Lorance had to learn at a very young age, along with that he also put a large emphasis on family, God and Hispano-American culture. Lorance and Rosa now have a family of seven children, twenty-one grandchildren, and thirteen great-grandchildren who get together on every holiday and most Sundays to share memories of life.
Lorance and Rosa have been married for sixty-three years and have stayed in the same home since they first arrived in the United States. While their shrimping business eventually went out of business, the Bodden family became a crucial part of society in Port Isabel and they continue to be a active members. Lorance was able to give back to his community by helping people get jobs and by providing affordable housing through his real estate business to families who needed help getting on their feet after they too immigrated to Texas. Lorance Whitman Bodden passed away in August of 2016 but left behind a story about him and his family and their immigration from Mexico to Texas and the impact they had on their local economy as entrepreneurs and on society as an Hispano-American family.
---
Marcia Lenore Bodden is the granddaughter of Lorance Whitman Bodden. She is from the Rio Grande Valley and is a senior history major at St. Mary's University.
Posted March 22, 2018
Join 16 others and favorite this
TAGGED WITH: St. Mary's University, stmarytx.edu

Read stories from people across Texas
Browse All Stories