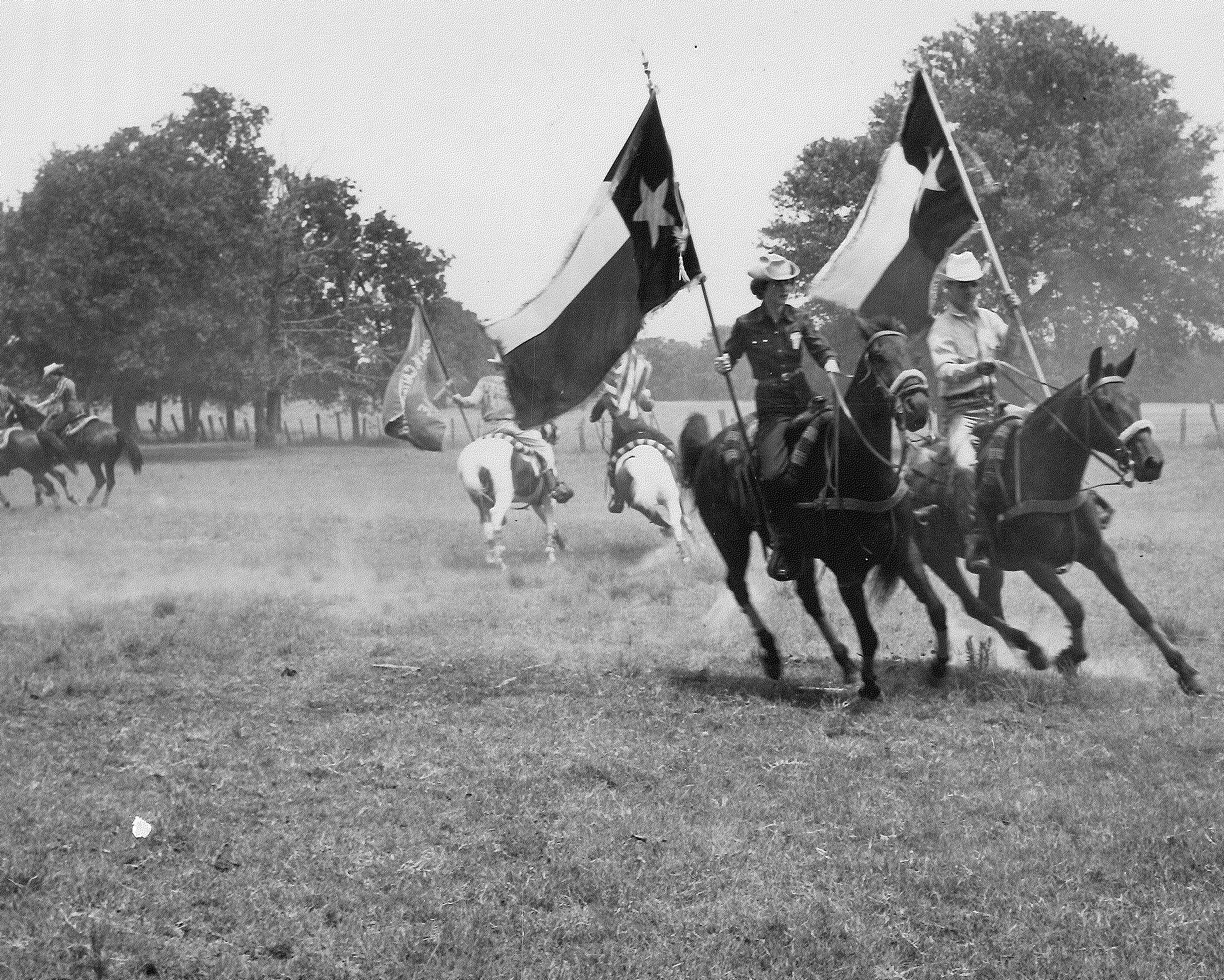 MSCA Quadrille
My memories are of the days of the Madisonville Sidewalk Cattleman's Association (MSCA), when it was at the Dusty Rhodes Ranch off Highway 90. That was the beginning of the Sidewalk Cattleman's Quadrille, of which my parents were members. I am not sure what year they began to form this square dance on horseback, but it was in the middle of the 1940s.
There were ten couples who made up this group, two of which were flag bearers. Each couple had matching horses and costumes. The horse leggings were the same color as the riders' shirts. They also had matching saddle pad rolls that some of the ladies made. My parents rode solid black horses, Doc and Snip, with black and white costumes. The leggings on the horses were white. The couples rode to the tune of "Cotton Eyed Joe," and their caller was Doug Sloan of Midway.
There were many thrilling moments while they were performing their drills, but the thing that I remember most was the figure eight. They rode this so fast, and it looked like they tried to meet head-on in the middle. These horses knew this routine so well that there was never a collision, but I used to hide my eyes every time they rode. It seemed like my parents rode faster and faster, and the appeared to get a big thrill when the crowd stood up and clapped for more!
My parents performed at the State Fair of Texas, Houston Livestock Show and Rodeo, Huntsville Prison Rodeo, Dublin Texas Rodeo, Hearne, Brenham, and Jacksonville, as well as all of the MSCA Rodeos. They were invited to perform at the Madison Square Garden Rodeo in New York, but they did not go.
These days of the MSCA at the Dusty Rhodes Ranch were fun times. Everyone enjoyed the barbecue prepared in the dug pit, the celebrities that were there each year, the horse races, and the events that made for a fun day. The Quadrille was named best in Texas in 1949. Their last performance was July 4, 1950 in Jacksonville.
Janet Cole Tinsley was born and reared in Madison County where she and her late husband owned the Lakeside Restaurant for many years.
Posted August 01, 2014

Read stories from people across Texas
Browse All Stories