That Night in April 1960: Max Goldsmith
The Texas Story Project.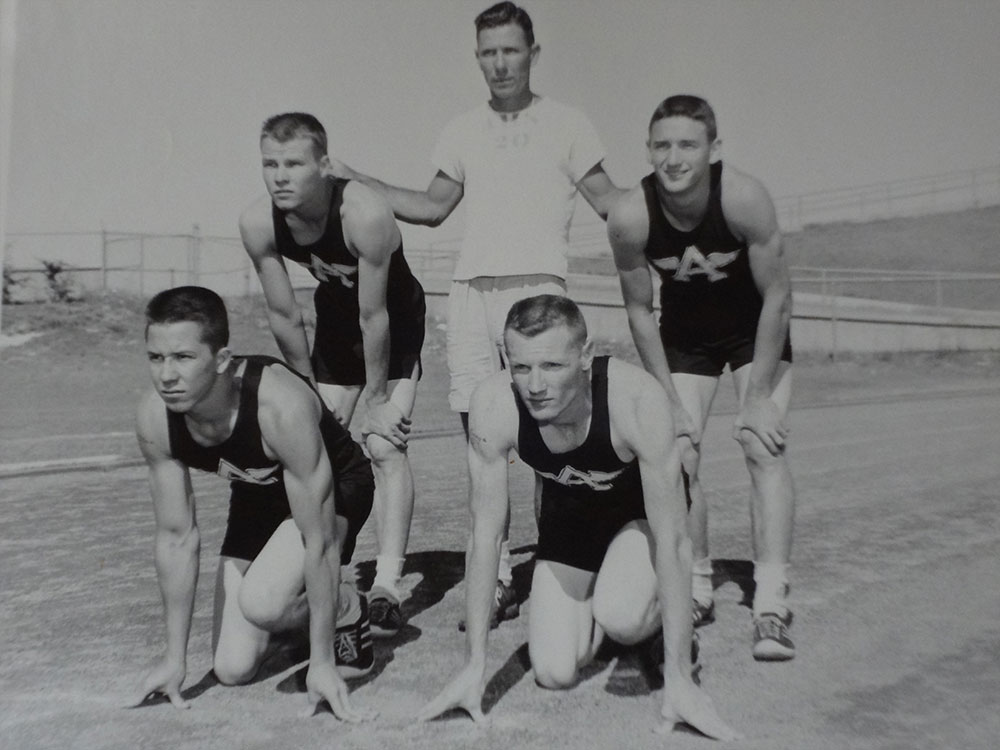 That Night in April 1960: Max Goldsmith
In the 1950s, track and field reached its pinnacle after Roger Bannister broke the four minute mile barrier at the Empire Games in Canada. Bobby Morrow won gold in the 100 and 200-meter races. He also anchored the 440-relay team that beat the Russians in that "golden age" of track and field. These events had sports fans highly excited and talking about what was going on in track and field circles. High school track and field had sports writers following a team of high school athletes in the small West Texas town of Andrews.
Coach Max Goldsmith arrived in Andrews in 1947 to build a sports program at the junior high school. After a few years of success, he was moved to the high school where he became high school track coach. His first real success was when his boys won the state track team title in 1954. Four years later, he started a string of state titles beginning in 1958 and continuing through 1959, 1960, and 1961. His sprinters and relay teams dominated races for several years. During the Mustang Relays on their home track, both the mile relay and 440-yard relay teams set National High School Records within an hour and a half. From 1958 thru 1961, the Andrews relay teams never lost a race and they competed against all school classifications. In 1959, they were invited to participate in a college AAU track meet in Houston. They finished second behinId the University of Houston while breaking the National High School Record. That team who broke the national record with a time of 3:16.4 consisted of R.E. Merritt, Jerry Jetton, Larry Shoemaker, and Ted Nelson. The record did not stand since they were competing against college teams and the meet was not sanctioned by the University Interscholastic League. That race convinced Max and his boys that they could possibly set the record in the mile relay.
The highlight of Max's coaching career occurred when their hard work paid off on a special April night in 1960. The 440-yard relay team consisting of: Larry Shoemaker, R. E. Merritt, Darvis Cormier, and Ted Nelson set the national record of 41.9 and later that evening the mile relay team consisting of Larry Shoemaker, R. E. Merritt, Johnny Landrum, and Ted Nelson made history again with a time of 3:15.2.The remarkable thing is that the mile relay team won with their first, second, third and sixth best runners. The fourth and fifth runners did not run that night. Later that year the same 440 relay team set a new national relay record of 41.5 at the state high school meet.
At the Regional Meet in Odessa the following year (1961) the 440 relay team dropped the baton and was disqualified. That was the only dropped baton during Max's twenty year reign in Andrews. They went to the state meet and won the mile relay and the 200 and 440-yard races on their way to another state title. On the same day of the baton drop, Ted Nelson ran the quarter-mile (440-yard) and set a National High School Record with a time of 46.5 seconds. Ted was the first high school athlete in Texas to break 47 seconds. Sports writers wrote stories about the Andrews track records and said that the April 1960 event would probably never occur in the future. What are the chances of a small school having such a stable of athletes as Max Goldsmith had over his career? Chances are such an event will never happen again.
Max Goldsmith coached Andrews track for twenty years from 1947 to 1967. He was named Coach of the Year three times, inducted into the Texas High School Coaches Hall of Fame, inducted into the North Texas University Hall of Fame, and personally competed in five World Masters Athletic Championships. He passed away at the age of 91 in July 2014, but he left great memories in the hearts of his athletes.
Mark Wallace is a retired teacher, coach, and administrator (1964-2000) from Andrews Independent School District in Andrews, Texas. He now lives on the family farm near Cranfills Gap, Texas.
Posted June 07, 2016
Join 9 others and favorite this
TAGGED WITH: Texas Sports

Read stories from people across Texas
Browse All Stories