Why I Do Living History
The Texas Story Project.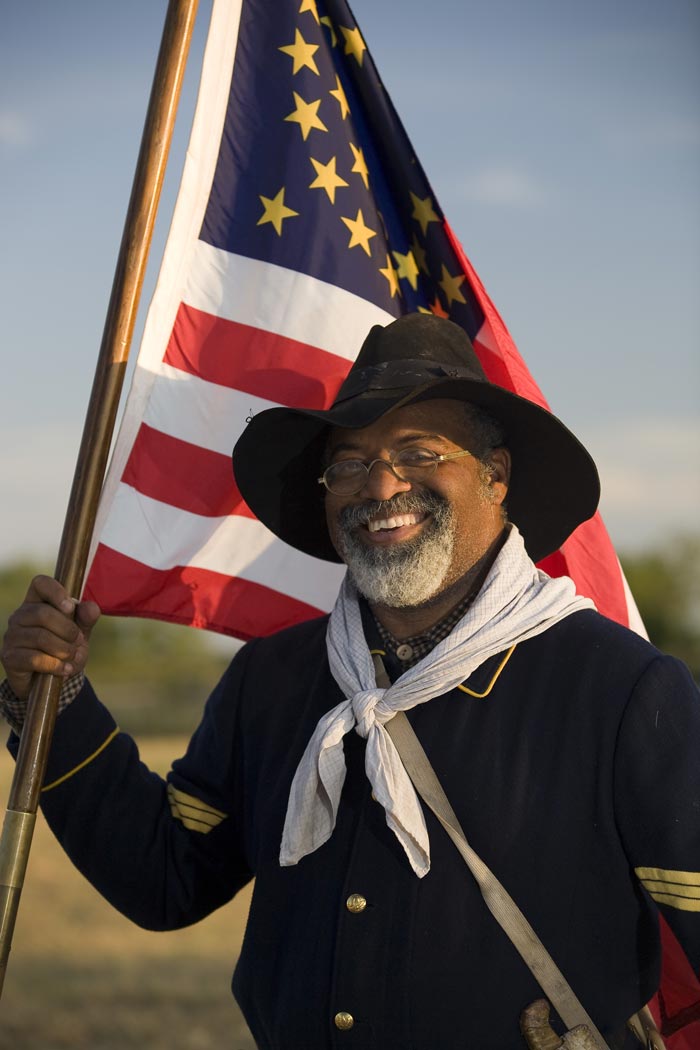 "The Face of Texas Living History" Henry B. Crawford
Objects, things and stuff. Original artifacts are at the core of what most history curators do. But for me, it's all about what the object means in relation to the person holding it in his hand, sitting on it, looking through it or listening to it. In other words, it's understanding and interacting with that inanimate object in one way or another, and letting others in on what vibe I'm getting from the amalgamation of person and object.
Back in my high school days I began creating "uniforms" to emulate the portraits of real Civil War soldiers I saw in books and museums, then setting up my camera to take black-and-white photographs. Thinking back, I know I looked pretty silly, but there was something rewarding about dressing and acting like people from the past. I didn't know what "living history" was at that age, but I knew I was developing a passion for it.
My first proper living history experience came in 1980 with my first museum job at the Western Illinois University Museum. I helped organize a Rendezvous event to commemorate a trapping exhibit. Taken under the wing of some experienced local reenactors, I was fully outfitted. I still have two items from that event: a buckskin pouch which I made myself and a brass cup, a gift from one of the participants. I carry that cup to all of my living history events to this day, and everyone recognizes it as mine.
That's how it started, and nearly thirty-five years later, twenty-five of them in Texas, I'm still at it. This state has been a blessing to my reenacting pursuits, a paradise for living history practitioners, with its frontier forts and buffalo hunting grounds, war-time battlefields and legendary early structures. It's a magical thing to portray an historic event on the very ground, in the very room or the exact place where it happened, to see what "they" saw and touch what "they" touched! It gives me a thrill and a chill.
Thankfully, my knowledge and skills have progressed considerably since I started this adventure over three decades ago. I have been active in sharing my expertise through educational programming and lectures on living history philosophy, techniques and research at historic sites and related meetings nationwide. Because of my numerous and diverse historical personas, I have been called "The Face of Texas Living History," an honor I try to live up to in everything I do.
Henry B. Crawford is Curator of History at the Museum of Texas Tech University. He holds an M.A. in American History/Museum Studies from University of Wisconsin-Milwaukee. A museum professional for over 30 years, he currently serves on the councils of the Texas Association of Museums and the Mountain-Plains Museums Association, and has also served on several national and international museum committees and boards. Mr. Crawford has been a consultant for various museums and agencies, and has also consulted on and appeared in various television and video productions for the History Channel, Discovery Channel, PBS, McGraw-Hill, the National Park Service and the Texas Historical Commission. Mr. Crawford has been active in living history for over three decades, and shares his expertise through lectures on living history philosophy, techniques, and research at historic sites nationwide.
Posted October 17, 2014
Join 33 others and favorite this
TAGGED WITH: Buffalo Soldiers, Preserving History, Historic Trades and Crafts, Historic Weapons, Tales of Bygone Days, Unforgettable Characters, United States History

Read stories from people across Texas
Browse All Stories