Bonnie Parker: Rowena's Own
The Texas Story Project.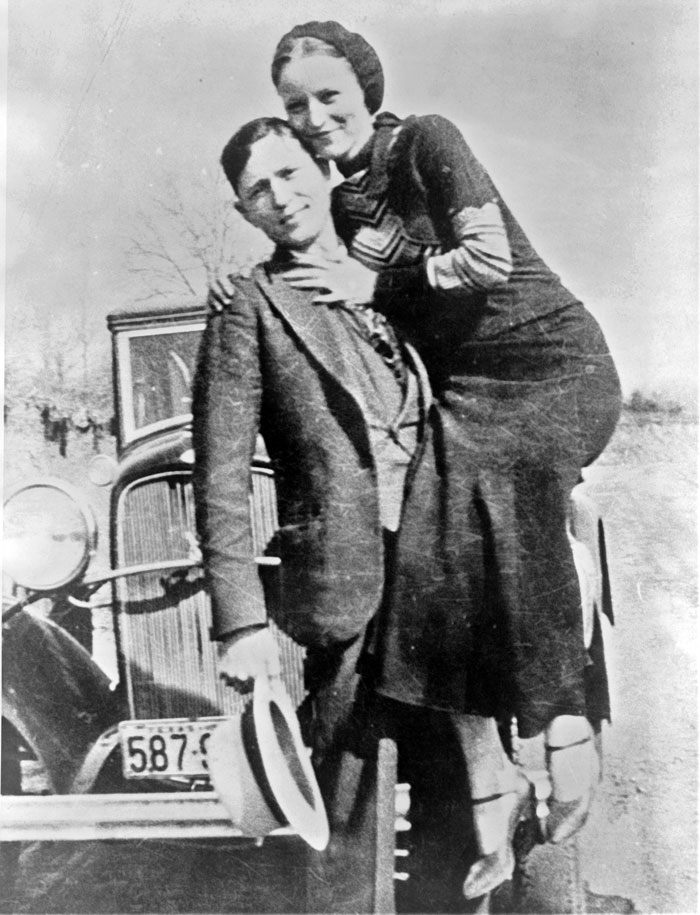 1930s photo of the infamous Texas couple, Bonnie and Clyde. Courtesy Library of Congress, ID cph.3c34474.
Texas can claim many famous, and infamous, sons and daughters. Born in Rowena in Runnels County and buried in Dallas, Bonnie Parker–of Bonnie and Clyde fame–was one of the infamous variety.
I searched for Bonnie Parker's birth certificate in the Runnels County Courthouse in Ballinger, Texas, and found nothing. Frankie Berryman, Ballinger County Clerk in 1970, said, "Many have looked, but none have found a birth certificate for Bonnie recorded in Runnels County." Like so many birth dates of that era, Bonnie Parker's was probably recorded in the Parker family Bible.
Felix Haviland, a resident of Rowena, said in a 1970 interview, "The Parkers lived by the Colorado River on the other side of the Sante Fe Railroad. After the death of Bonnie's father, Charles, in 1914, her mother, Emma, moved Bonnie, her older brother, Hubert, and younger sister, Billie, to Dallas to be closer to family." Also living in Dallas was a slick young man named Clyde Barrow.
During the 1930s, that area of north Texas bordered on the drought-stricken dust bowl and had not yet recovered from the stock market crash of 1929. Times were hard, food was scarce, and money was short. Many families became migratory due to home foreclosures and crop failures caused by topsoil blowing away. Clyde Barrow's family fell into this category. His hometown of Dallas was a mecca for down-and-out farmers. So Clyde began living a life of crime to make ends meet.
Unfortunately, Bonnie, who worked at Marcos Café in Dallas, grew tired of her boring life and took up with Clyde. Clyde, a sharpshooter who liked fast cars, found stealing, kidnapping, and robbing gas stations and out-of-the-way grocery stores an easy way to make a living. Bonnie loved the excitement and instantly fell in love with him.
After two years on the run through Kansas, Texas, Missouri, and Oklahoma, Bonnie and Clyde had taken 12 lives in shoot-outs. The pair then tried to hide out in Louisiana at Henry Methyn's house. Henry's father, Iverson, in cahoots with lawmen and upset at Henry's association with the Barrow gang, set a trap on the highway nearby. On the morning of May 23, 1934, Iverson parked his truck along the road, pretending to have a flat tire. When Clyde and Bonnie drove by in a stolen Ford, they stopped to help. A posse led by Texas Ranger Frank Hamer stepped out of the mosquito-infested bushes and riddled the car with bullets. Bonnie and Clyde died instantly.
Bonnie's poetry predicted that she and Clyde would be buried side by side, but the families wouldn't allow it. Clyde's final resting place is Western Heights in Dallas. On Bonnie Parker's gravesite at Crown Hill Cemetery in Dallas, Texas, a plaque reads, Bonnie Elizabeth Parker, born Oct 1, 1910, Rowena, Runnels County, Texas, USA and died May 23, 1934 in Bienville Parish, Louisiana, USA.
Perhaps sadly, the beautiful little Texas town of Rowena can claim the notorious Bonnie Parker as one of their own.
Betty Thomason's writing has been published in Frontier Times, Confederate Veteran Magazine, Good Old Days, Small Town Texas, Parents, Lady's Circle, Alaska, and Mature Living. Betty is a retired RN and lives with her husband, Keith, in west Texas.
Posted January 16, 2015
Join 23 others and favorite this
TAGGED WITH: Popular Culture - 20th Century, Unforgettable Characters

Read stories from people across Texas
Browse All Stories