Hometown Friend
The Texas Story Project.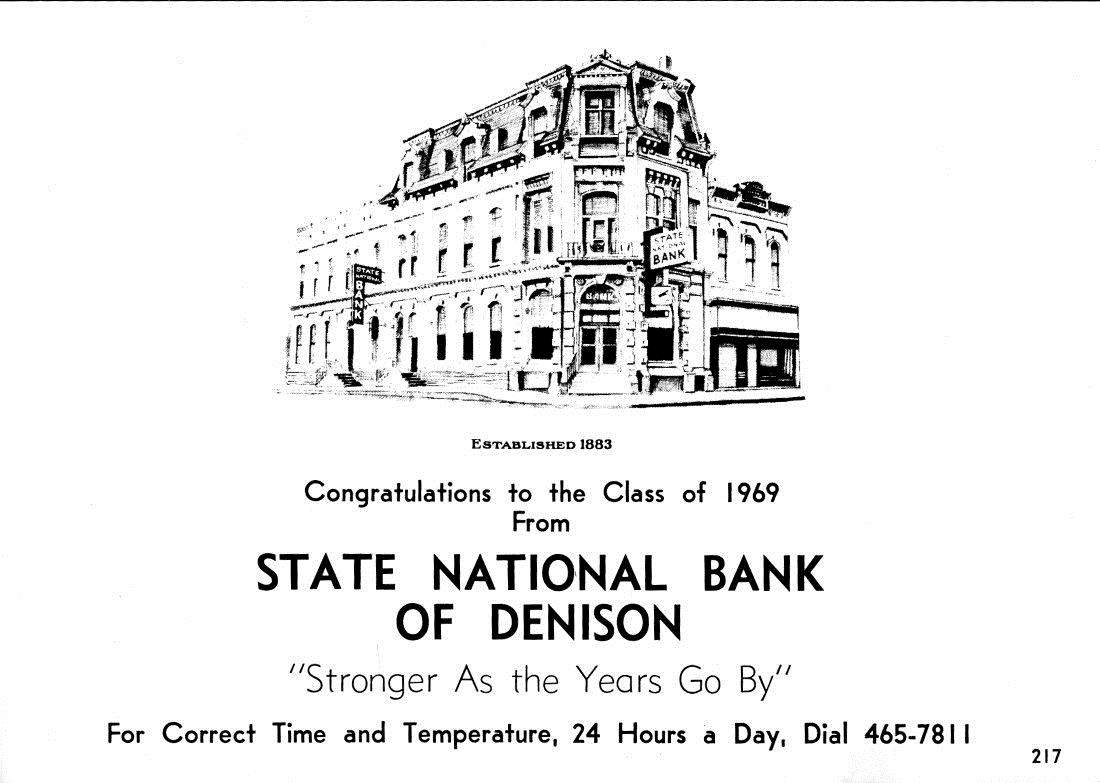 State National Bank Advertisement
The voice on the other end of the line was not, strictly speaking, familiar to me. Although I didn't know who she was, I knew that I had dialed the right number. I let her do the talking. She was, as always, brief and to the point: "The State National Bank of Denison—stronger as the years go by." A different, more robotic voice followed with a recitation of the time and temperature, but I had stopped listening. I already knew the time, and the woman's voice had already warmed me to a more comfortable temperature. The hour was late, I was a long way from home, but I was suddenly a little less lonely.
Beginning in the mid-1970s, I dialed 465-7811 once or twice a year for about three decades. My hometown bank introduced the Time and Temperature number sometime in the 1960s. By the time I went away to college in 1969, I knew it by heart. The only new digits I've had to learn are the area code that changed in 1990.
It was several years before I got the idea to call the number long-distance. I had to leave Texas first. I had to find myself in a place where no one else spoke in the peculiar rhythms and tones of the North Texas Prairie Lands—not quite an East Texas drawl, not quite a West Texas twang. I had to learn, after I had begun to lose my own accent, that it was a part of me I did not want to bid goodbye. And I had to reach a point where I needed to hear that sound at a time when no one back home would be awake. Or perhaps when I simply didn't feel like talking.
The recordings changed over the years. The bank's trademark slogan was supplemented with announcements promoting various financial products or services. Their employees came and went. I never knew when I dialed the number whether I would be greeted by the same voice I had heard the last time. I just crossed my fingers for dialectical continuity, and for thirty years, the bank didn't disappoint.
The last time I called Time and Temperature was a few years ago. I was sitting in the dark on the patio behind our house here in Illinois, late at night, feeling homesick for some now-forgotten reason. I reached for my cell and punched in (903) 465-7811. My heart sank as I listened to the unexpected message: "We're sorry. The number you dialed is not a working number. Please consult your directory and dial again." I felt the sudden loss of an old friend, and there was no one I could call to console me in a voice that would sound the way I used to sound.
Jim Sears is a retired postal worker and Texpatriate, who lives with his wife Patricia and their two dogs in Bloomington, Illinois.
Posted July 22, 2014

Read stories from people across Texas
Browse All Stories