A Quilt for John Nance Garner
The Texas Story Project.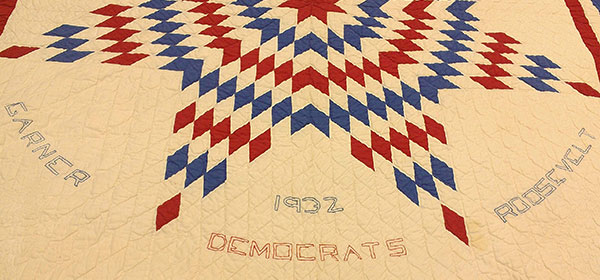 "Texas Star" quilt given to Vice President John Nance Garner.
Texas Star is a quilt with a wry political message. It was gifted to Uvalde's John Nance Garner following his election as vice president under Franklin D. Roosevelt. Garner was the first Texan to have a major impact on Washington, using his political savvy to both muscle and massage the first wave of Roosevelt's New Deal legislation through Congress during the Great Depression.
Minnie Weeden Rucker of Franklin, Texas, made Texas Star in 1932. She pieced rows of red, white, and blue diamonds to create the quilt's eight-pointed star, rows that seem to pulsate from the star's center. The sentiments embroidered above and below the star leave no doubt about Mrs. Rucker's political loyalties and affection for Garner. The quiltmaker sent her quilt to Vice President-Elect John Nance Garner the day after his election in 1932. Mrs. Garner wrote a thank you letter to the quiltmaker, describing Texas Star as "one of the historical treasures of our family." The quilt remained part of the Garner family's possessions, many of which now are part of the Briscoe-Garner Museum's collections.
Minnie Rucker was a lifelong quiltmaker, making quilts for family and friends as well as bedcovers for use in the hotel she managed in Franklin. Not surprisingly, she turned to quiltmaking as her way to express affection for her fellow Texan and pride in his election as Vice President of the United States.
Kate Adams is the curator of the Winedale Quilt Collection at the Briscoe Center for American History, an organized research unit at the University of Texas at Austin.
Posted October 02, 2014
Join 4 others and favorite this
TAGGED WITH: Historic Trades and Crafts, Popular Culture - 20th Century, Texas Art, Texas Political Figures - 20th Century

Read stories from people across Texas
Browse All Stories