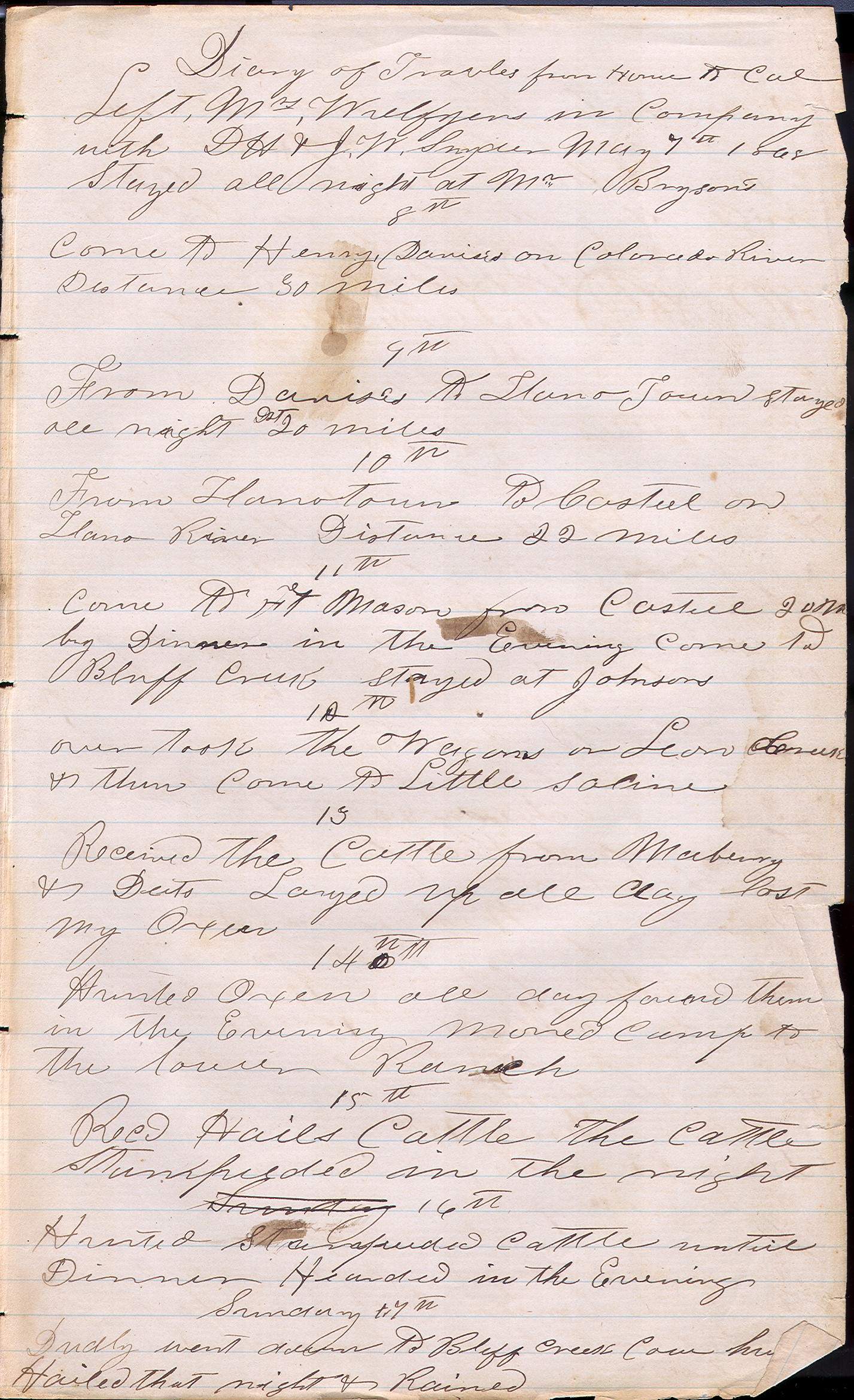 Robert K. McMordie's Diary
Robert K. McMordie's diary begins on April 16th, 1868, three weeks before he sets forth on one of the most famous cattle drives that ever began in Williamson County. After making plans for good-byes and correspondence, he pens two poems: one an effusive expression of his love of the American landscape and the other a conventional romantic rhyme to a false love. The tone changes when the cattle drive begins on May 7th, 1868. He titles this portion of the narrative "Diary of Troubles from Home to Col[orado]." The first entry, shown here, starts with "Left, Mrs. Wulfjens in Company with DH & J.W. Snyder May 7th 1868 Stayed all night at Mr. Bryson's."
D.H. (Dudley) and J.W. (John) Snyder were leading this cattle drive, which is noteworthy for several reasons. One of the earliest cattle drives from Williamson County, it was the first drive by the Snyder Brothers, who would build their operation into one of the largest cattle businesses in Williamson County in the 1870s and 1880s. The drive route crossed the arid plains of Texas to Horsehead Crossing and then followed the Pecos River northward to Fort Union in the northeastern corner of the Territory of New Mexico. This route later became known as the Goodnight-Loving Trail.
McMordie's carefully dated entries succinctly and sometimes cryptically document the trip. He cites the precise names of the creeks, rivers, springs, camps, and ranches where the party stops each night. He estimates the number of miles traveled. He also chronicles the troubles along the trail: lost oxen, two stampedes, hail, and rain storms ("[June] 22 . . . the wind shakes the wagon so that I cant write"), John's illness, his own injury (being hooked by a cow), a lost watch, a broken axle, balking cattle, and more lost oxen. On August 3rd, a little less than two months after the onset of the journey, the cattle are successfully sold and delivered.
McMordie continues his diary as the party visits a gold mine and travels into Colorado. The other cowboys return to their homes in Texas, and McMordie remains in Colorado visiting a friend for at least three more weeks. On one occasion there, he has to run for his life when he encounters a group of American Indians. The log abruptly ends, but the ledger contains much more: the financial records of the Snyder Brothers' 1870 cattle drive to Schuyler, Nebraska, and the balance sheets for himself and other cowboys who worked for the Snyder Brothers from 1868-1870. Housed at the Williamson Museum in Georgetown, the diary is a key artifact in piecing together the history of this important cattle drive.
Joyce Hinds is a Williamson Museum volunteer who has served as a docent, writer, and tour guide, in addition to serving on the museum's Board of Directors (2006-2013).
Posted July 22, 2014

Read stories from people across Texas
Browse All Stories