"Dad, You Have Built All of Texas!"
The Texas Story Project.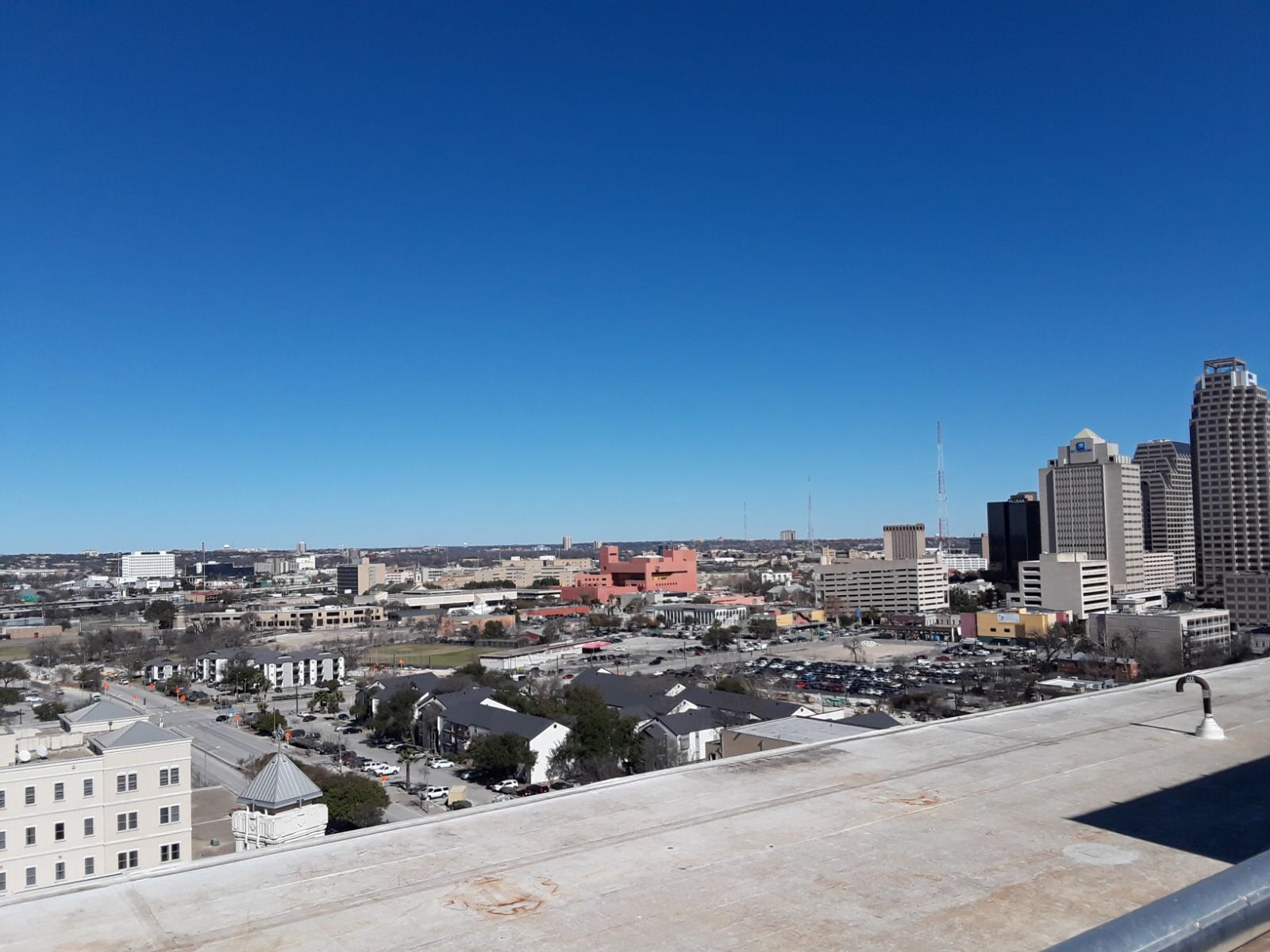 View of the San Antonio skyline. Photo courtesy Alejandra Hernandez.
Every morning, El Rayo wakes up at five a.m. to get ready for work. He grabs a quick breakfast made by his wife and tells his young daughter to hurry up so he can drop her off at practice on his way to work. Once he gets to work, he puts on his helmet and a bright neon vest so he can start working. El Rayo describes his work as unique because, although he is a construction worker, he is always doing something different in a different place. He describes how he likes it when he is at the very top of buildings because there he can see all the city and take the pictures he very proudly shares with me.
One thing that is always with him is his smile. As he is telling me his story he does it with a smile on his face the whole time while at the same time making sure to only focused on the positive aspects of his life. El Rayo works 5-6 days a week from six a.m. to four p.m. just like the average construction worker. He has built and remodeled buildings across San Antonio, but also in New Braunfels, San Marcos, Corpus Christi, and Austin. "Dad, you have built all of Texas!" is the joke his daughter always tells him. And he tells me that at least he is trying to do so.
Besides being a construction worker, El Rayo is also an immigrant and he talks about how it is a struggle to fight the stereotypes that are attached to Hispanic construction workers. He does so by remembering where he comes from and who he is. Identity, he says, is the one thing that can help me defend myself. El Rayo is from Monterrey, Mexico and he describes his city as beautiful, the perfect place to live. He talks about how he never wanted to leave it behind in the first place. He lived there for the first 39 years of his life. It is where he grew up and eventually started his own family. He even got to attend college and graduated with a bachelor's degree in computer science. One thing El Rayo wants me to get straight is that he never meant to come to Texas. But once the drug war in Mexico got rough, he had to find a way to protect his family, and this is the best option he had. However, El Rayo has no regrets and loves his life here in Texas. He talks about how he really likes the culture here and wouldn't change a thing.
El Rayo is just one of the thousands of immigrant workers in Texas who work at construction, restaurants, housekeeping, landscaping, hotels, etc. Their stories are often stereotyped or overlooked, especially these days when they are often classified as a threat to the nation. But here in Texas, we know they are more than that. They are our neighbors, our classmates, our coworkers, our friends, and our family. Although they are not native Texans, they have earned the right to be called Texans as they are part of our history by contributing to it day by day.
---
Para el mejor Papa del mundo, gracia por tanto.
Alejandra Hernandez is a St. Mary's University student with a major on Environmental Science and a minor on Spanish. As an aspiring scientist, Alejandra cares about helping others and through this project she feels her goal has fulfill as she helped a hardworking man to share his story.
Posted March 22, 2018
Join 11 others and favorite this
TAGGED WITH: St. Mary's University, stmarytx.edu

Read stories from people across Texas
Browse All Stories