The Youngest Ranger: A Teen from Georgia Becomes Notorious in Texas History
The Texas Story Project.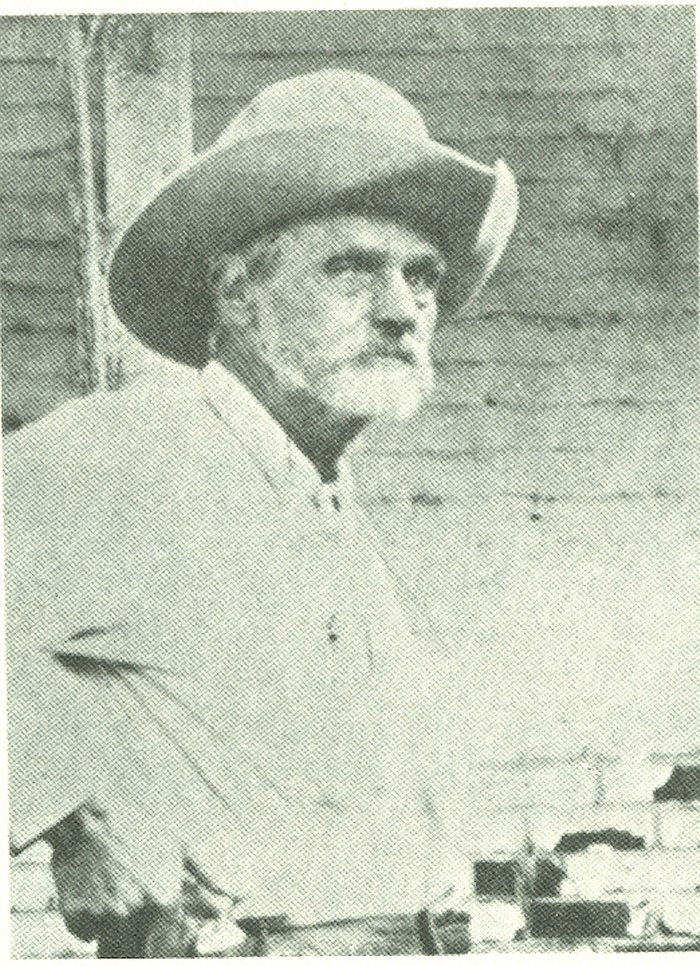 George Durham photographed circa 1930s
Posthumously, my great-great grandfather, Texas Ranger George P. Durham became more famous than he was when he was alive, mostly because he did something only a couple of other 1870s-era Rangers did: he left a memoir.
Records indicate Durham was a Ranger from 1875 to 1877. Ranger Durham told his story to reporter Clyde Wantland, and it was thusly recorded in detail. It is thanks to the resulting book, that we know his story as he served under the legendary leader, Captain Leander H. McNelly.
After the Civil War, George left the state of Georgia in search of a job and some land. He had only his pistol and a horse. He'd heard of Captain McNelly from his father, who had previously fought under McNelly's leadership in Louisiana when McNelly was a Confederate officer during the Civil War. George had hoped to meet McNelly, and as luck would have it, he not only met him, but was later hired, at the young age of 18, to be a part of McNelly's Ranger company. Durham's only living grandson, Lavoyger Durham asserts that at 18 years old, George Durham was the youngest man to ever serve as a Texas Ranger. Lavoyger also attests, "George P. Durham handled over 900 outlaws in his lifetime, when there were not any Crossbar Motels (jails) to hold them."
George Durham's sincere, vulnerable account of his experiences encompassed the enthrall of a good movie, bringing to life harrowing accounts of succeeding against the odds. Details of his narration can be found in the 1962 publication, "Taming the Nueces Strip: The Story of McNelly's Rangers" by George Durham. One excerpt from the book (page 127) captures his humanity: "I'd come to Texas to get me a piece of ground, maybe a few head of stock, build me a house. But what I'd really done was to hire out at thirty-three dollars a month to kill people. That's all I'd done. Kill people. I'd been in Texas about a year, and all I still owned was what I wore from Georgia. Like a land terrapin, all I owned was either on my back or in my belly." The book was eventually scripted and made into a movie, which was released in 2001. Unfortunately, unwarrantable liberties were taken with the script and the movie, in which actor Ashton Kutcher portrayed Durham, and it turned out to be a disappointing flop at the box office.
After his exploits pursuing cattle thieves, pillagers, rapists and murderers, Ranger Durham went to work for Captain Richard King (of the famed King Ranch) as King's bodyguard in 1878. Durham had previously met King when Durham, along with three other McNelly's Rangers, surprised Captain King by riding up on his ranch, with King's previously stolen cattle in tow, following a raid across the Rio Grande to recover them.
While working at the ranch, George greatly impressed Captain King with his work ethic. Durham was to eventually become the general foreman of the El Sauz Ranch Division, during which time he married Caroline Chamberlain, who was Captain and Mrs. King's niece. George had been smitten with her ever since he first saw her at a dinner which King had arranged to thank the Rangers for the recovery of his livestock. George and Caroline lived on the ranch with their 10 children. Their six sons worked on the King Ranch all of their lives. Caroline passed in 1915, around the age of 44. George became the last survivor of the McNelly Rangers, passing at the age of 84 in 1940. Their son, and my great-grandfather, Edward Durham, who later served as the manager of the Norias Division of the King Ranch, wound up on the cover of Life magazine, circa 1957. Ed's son, Lavoyger, was a third generation Norias boss. To date, many articles have been written about the members of the Durham family and their contributions to Texas history and the King Ranch.
---
Cerise Cisneros is a junior and Biology Major at St. Mary's University who is currently pursuing her lifelong dream of becoming a doctor.
Posted September 19, 2019
Join 15 others and favorite this
TAGGED WITH: St. Mary's University, stmarytx.edu

Read stories from people across Texas
Browse All Stories