Corsicana: Accidental Birthplace of the Oil Industry
The Texas Story Project.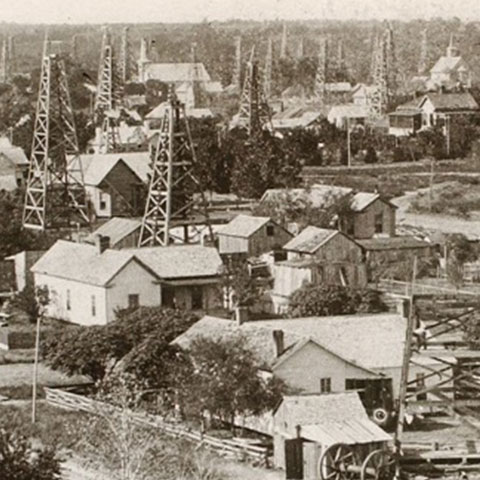 Corsicana, an original oil boom town.
Back in 1894, the city of Corsicana's wells and ponds were essentially running out of water. The city engaged the services of a water well driller to take care of the problem. At a depth of about 1035 feet, the driller hit oil instead of water, much to the city's dismay. At first, officials wouldn't pay the agreed-upon price because the driller didn't produce water, but within a few weeks, he did get his money.
Thus began the oil industry in Texas. Other accidental oil wells had been drilled in the quest for water, but Texas oil wasn't really pursued commercially until the Corsicana well was drilled. This well led to the beginning of Magnolia Petroleum Company (its refinery was in Corsicana), which later became Socony Mobil Oil before merging with Exxon to become ExxonMobil.
Soon, wells proliferated, first in the eastern part of Corsicana and then in eastern Navarro County. Some wells were even drilled in the yards of people's homes. From Corsicana to the east, drilling was rampant in the early 1900s and produced the Powell Oil Field, Tuckertown oil community, Richland Oil fields, Kerens oil fields, and more. From this well in Corsicana, the Texas oil boom ensued. Oil is still produced today from many of the original wells all over the eastern half of Navarro County.
It seems that fate was on the side of Corsicana, Navarro County, and indeed Texas, because there was something unique about where that 1894 well was drilled. Even now, there are no known wells west of the location of the historic well, which sits in what is now downtown Corsicana. A map of the underground strata of oil and water shows that the 1894 well was on the very westernmost edge of where oil could have been discovered. Luck? Maybe.
The Honorable H. M. Davenport, Jr., has been the Navarro County Judge since 2007.
Posted December 01, 2014
Join 17 others and favorite this
TAGGED WITH: Business and Industry , Oil

Read stories from people across Texas
Browse All Stories